September 13, 2017 | Laird Foshay
Rangeland Wines August 2017 News
SUMMER CASE SALE CONTINUES --20% OFF BEFORE CLUB DISCOUNT!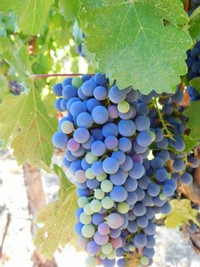 We are continuing our wine case special through the summer, until September 21. You can get 20% off--in addition to your club discount--for any full case (12 bottles) of a single wine or any 12 bottle combination of 2013 Bordeaux varietal wines: Cabernet, Watershed or Limestone Reserve Cab. These Cabernet-based wines are really hitting stride and will age for years. It's a perfect time to stock your cellar for the fall holidays and parties. For example, if you are an Estate Wine Club member and you purchase a case of our delicious 2014 Zinfandel, which retails for $420, your price is $252--a nearly $170 savings, or 40% off. To order cases, please email me, since we have to manually combine the discounts to achieve this special price. Sorry to say we are sold out of our 2016 Flora Rose. However, our delicious 2016 Chardonnay is available and should get you through the hot weather and enhance your Thanksgiving dinner too! For a full list of our current and library wines, go to www.Rangelandwines.com/wines.
BEEF BOXES IN STOCK
Our annual beef club has been packed and shipped. Lisa, our meat packin' mama, says "phew." We have some additional beef club boxes this year, available to all. Your beef, wine or lamb club discount applies to this purchase: $200 for club members, $250 for non-club members. The 25-pound box contains 6 pounds of steaks, 6 pounds of roasts, 8 pounds of ground, and 5 pounds of extras (think stew, kabobs, shanks or shortribs). We even toss in a soup bone or marrow bone package after reaching the 25 pounds. Our steers fattened beautifully on this spring's abundant grasses, and the meat is delicious. Not to mention being a nutrient-dense, anti-inflamatory superfood. To order a beef box, click here.
FREE SHIPPING FOR 20 POUNDS GROUND BEEF
Our tasty ground beef is hard to beat--mouth watering and healthy! We cook it every week--for tacos, burgers and sliders, spaghetti sauce, meatloaf and shepherd's pie. We are offering free shipping on our 20 pound boxes of ground beef (a $32 savings!) during summer, through September 21. Order here.
CATTLE WORK
We had our annual cattle branding last month and now have 54 spring calves on the books. It's a long, hot, two-day process to work all 175 of our cattle, but also a great opportunity to see the herd and assess health. The cattle benefited from our bountiful rainfall and forage this year. We are seeing more red calves from our Red Devon bull, aptly named: Red Bull. Most of the red calves were heifers, many of which we will keep for breeding. So those well-muscled genetics will expand through our herd. At any given time we have three bulls, and every few years we sell our oldest bull and procure a new one, to keep our herd healthy and diverse.
VINEYARD UPDATE
We are glad to report the vineyard is in good health with a moderate crop. This represents a nice recovery from the stressy drought years in which our crop dropped by 50%. Veraison (color change and sugars rising) is rolling through the vineyard. Vineyard manager Patrick and winemaker Paul are dropping some late ripening fruit, getting equipment ready and just starting to test grapes for sugars and pH. Soon they will be planning the first picks. We expect to start picking fruit right around Labor Day, as usual. Harvest should last 5 or 6 weeks.We always look forward to this exciting time of year, when our small, hard working crew is really put to the test of effort and judgement. It still amazes me that each annual harvest launches a wine vintage, and tells a story, that we will enjoy for many years to come.
Comments
Commenting has been turned off.
You know you want to
Sign Up For Our Newsletter
Keep up to date on the latest wine releases, events, and promotions and get 10% off your next order.