February 24, 2017 | Laird Foshay
Rangeland Wines February 2017 News
Drought Buster!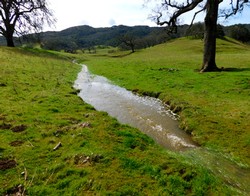 As many of you soggy fellow Californians already know, we can call an end to our historic, 5 year drought. This stressful event included what may have been the driest 4 year period (2012-2015) in more than 1,000 years in Central California. We've now had over 50 inches of rain here at Adelaida Springs Ranch this season, including an astounding 40 inches since January 1. With two months left in our rainy season, this winter will likely become a local legend.
Our lake, which we use for vineyard irrigation and livestock water, is filled to the brim. For the first time since 2012, it's spilling into lively Jack Creek that courses through the ranch on its way down the canyon to the Salinas River and Monterey Bay, 100 miles distant. From the back terrace of our home, we can hear the steady, low roar of many creeks and freshets. Our pastures are saturated and once the sun comes out in force this spring, we expect an abundant grass and wildflower year. As history buffs and weather weanies, we're excited to witness these extraordinary events. As farmers, we'd appreciate less drama in our weather. We are getting tired of rescuing soggy, chilled lambs, clearing fallen oaks and adding to our list of road repairs for the spring. But really, despite Mother Nature's whipsaw from searing drought to flood, we are not complaining about the rain! It bodes very well for the health and fertility of our grapevines and livestock in the years ahead.
Club Updates
Our Lamb Club members will be getting their next shipment (half a lamb, 20 lbs, $200) at the begining of April; so be on the lookout for email regarding shipping dates. Easter is late this year (April 16) so you will definitely have some delicious lamb for your spring celebrations.
Although our half lamb share supply is tight, we expect to have some extra 10 pound boxes of ground lamb available for all--a really delicious, flavorful ground meat. Order now for April delivery.
Our Spring Wine Club will be available at the end of April--contents as yet undetermined, but it will definitely include our newly bottled Flora Rose', always a summer favorite and a perennial early sell-out. Our next newsletter should have the spring line up, and as always, you can make any adjustments (and additions) to your club order by emailing us then. If you can't wait until April for more Rangeland wine, then order some now. Our Bordeaux Special features three great 2013 Cabernet-based wines that are really coming into their own--all for $110 before your club discount. Order here.
Our annual Beef Club will be available the first week in July. We have just a few 2016 club boxes left if you want to reorder now. 2017 should be a great year for our grass-fed beef herd. Plenty of rain and sunshine results in lots of rich, thick grasses and forbs like wild rye, clover, vetch and filaree. Our cattle have spent the winter at a neighboring pasture (Halter Ranch), and will be heading back to Adelaida Springs Ranch in the next week or so. We have already seen a few early calves and should be in full calving mode by March.
Ground Beef Special: 20 lbs for $100
We have some ground beef left over from 2016--here's a great opportunity to fill your freezer for the spring and summer BBQ season at our best-ever price. We're offering our 20 lb boxes of ground beef for just $100 ($5/lb.) --and that's before your club discount. We can ship to your home or office, or you can save the shipping costs and pick up here at the ranch or at J&R Natural Meats in Paso Robles. Order today while supplies last!
Vintage Paso Zinfandel Weekend, March 17-19
We'll be doing tastings by appointment only during Paso's annual Zinfandel Festival, March 17-19, although no food will be served. You are certainly welcome to bring a picnic. Please make an apppointment.
Field Day April 29
Our annual Field Day is scheduled for Saturday, April 29. It should be another fun, relaxing afternoon with a home cooked lunch featuring grass-fed beef and lamb sliders, plus live music, livestock displays, a ranch tour, and wine! This event sells out quickly, so mark your calendar and keep an eye out for more information in our next newsletter. It should be a beautiful spring this year--we expect lots of grass and wildflowers. We hope you can join us!
New Faces
We've had some personnel changes on the ranch--you may have already met some of our new folks. Eddie Burch has worked for us for a couple of years now, doing the bulk of the vineyard tractor work and fixing just about everything. He is now our Ranch Manager, handling all ranch operations, repairs, and overseeing our livestock crew. He hired Alex Karol to take over our lamb program. Alex also helps with our cattle. Alex has been very busy this season with daily rotational grazing and taking care of all our baby lambs and their mothers in very tough winter conditions. Our most recent addition, Patrick Hamilton, joined us in January as Vineyard Manager after previously holding that position at Flowers Winery in Sonoma County. Patrick will manage the farming of the vineyard, working closely with winemaker Paul Hinschberger and our seasonal crews to ensure the health, vigor, and productivity of the vineyard. We're excited to have the extra help, expertise, and energy. Be sure to say hello as everyone will be working at Field Day. To see pictures and read more about our Rangeland crew, go here.
Comments
Commenting has been turned off.
You know you want to
Sign Up For Our Newsletter
Keep up to date on the latest wine releases, events, and promotions and get 10% off your next order.