October 7, 2016 | Laird Foshay
Rangeland Wines October 2016 News
Wine Harvest Update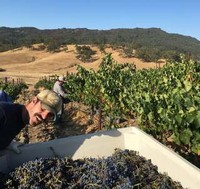 As the smoke cleared from the local Chimney Fire, we began picking grapes before Labor Day. The fire came within 5 miles and charred more that 46,000 acres of rugged coastal mountain terrain and dozens of lakeside homes at Nacimiento. We had no damage on the ranch--except to our nerves. Our heartfelt wishes go out to those who lost much more. Many thanks to the thousands of firefighters, who operated planes, helicopters, dozers, fire engines and shovels to get this monster contained.
Harvest accelerated as September raced by, peaking this week as we picked most of our cabernet after a hot, hot weekend. We have a slightly larger harvest this year, rebounding from last year's drought shortened crop. Our syrah, merlot, petite sirah and zin are already in the tank. Fruit flavors, sugars, colors and aromas are all promising after a good, intermittently hot growing season.
Winemaker Paul Hinschberger has as many as 20 fermenters "cooking" 30+ tons of hand picked wine grapes in our space at Denner Winery. He has just pressed off the first wines to barrel. As many of you know, the photosynthetic power of the green grape leaves generates sugars that accumulate in the fruit over the course of the growing season. In the winery, these sugars are converted by native yeast into alcohol, along with the alluring flavors and aromas of fine wine.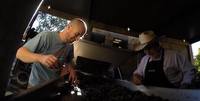 Paul is all over the place: tasting fruit in the vineyard, scheduling picks, overseeing the processing, and taking care of the wines as they ferment. This is the time when a winemaker's experience and artistic vision are really put to the test, setting the course for how the wine will taste in the bottle, many months hence. Vineyard Manager Nathan Stuart is just as busy, keeping up with labor crews, constant tractor movement and trucking fruit. We all help where we can, even as the livestock grazing and wine tastings continue as usual on the ranch. We appreciate the enthusiastic hard work of our folks during this fruitful time. Not to mention the contract labor crews who pick most of the fruit. See more harvest photos on our Facebook/Rangeland Wines page.
Harvest Festival October 14-16
Harvest Festival is right around the corner, and we will be open by appointment Friday, October 14 through Sunday, October 16, from 11 am to 5 pm. We'll be serving grass-fed beef and lamb sliders on Saturday only. All weekend we'll be pouring some new releases and may have some barrel samples on hand as well. To make an appointment for Harvest Festival, click here. Or call and schedule your appointment (805.674.9232). We look forward to seeing you!
Lamb Club and Other Meats: Free Shipping on 20 lbs. Ground Beef
Our fall Lamb Club should be shipped or available for pick up by October 24. Lamb shares are also available to wine and beef club members, even if you don't want to join the Lamb Club for regular shipments. Order here.
Lamb Club members receive two shipments a year, in October and March, for $200 per box (20% off). Each 20 pound box (half a lamb) includes:
Rack of ribs
Loin chops
2 small leg roasts
Shoulder chops
Stew meat and/or shanks
Riblets
1-2 pounds ground lamb
Lamb Club members can apply their 20% discount to all Rangeland products, including our estate wines, grass-fed beef, and events. And Lamb Club members taste Rangeland wines and tour the ranch for free. If you've had the opportunity to taste our delicious sliders on festival weekends or at other Rangeland events, you know how succulent and tasty our lamb is. To join the Lamb Club, click here.
We also have 10 lb. boxers of ground lamb, 25 lb. beef boxes and ground beef in 10 and 20 lb. boxes available. We are offering free shipping on 20 lb. boxes of ground beef. Shop here or send me an email with your order.
Wine Club
Here is the selection for our November 2016 wine club shipment:
2012 Limestone Reserve
2012 The Watershed (Bordeaux blend)
2013 GSM
2013 Petite Sirah
2014 Mistletoe (Cab/Syrah, new release)
2014 Zinfandel (new release)
If you'd like to customize your wine club selection, send me an email with your preference. Clubs will be available for pick up in November, and will be shipped starting November 9. Please update your address and credit card information at www.RangelandWines.com, if necesary. You can use your email address as your user name and retrieve your password that way too. You can also call me (805-674-9232) or email me with your account information changes.
If you are running short of Rangeland Wines and want to restock before the November shipment, you can order here or send me an email.
Pick-Up Party Saturday November 12, Drop-in between 12 - 4 pm
Our favorite party of the year! We love to pour wines and share good local food and visit with our loyal customers. All wine, beef and lamb club members are welcome to attend (with one guest). As usual we will feature our grass-fed beef chili, sausage from J&R Natural Meats, a delicious lamb dish (TBD), and assorted other goodies. You can pick-up your wine or meat club and we'll have some barrel samples from the 2016 harvest for you to taste. We'll also have Beef Club boxes, lamb shares and ground beef/lamb boxes available for purchase. RSVP soon, attendence is limited.
Comments
Commenting has been turned off.
You know you want to
Sign Up For Our Newsletter
Keep up to date on the latest wine releases, events, and promotions and get 10% off your next order.