Beef & Bay Leaves
This year our beef club members will receive a jar of Adelaida Springs Ranch bay leaves in their club box. We have dozens of large, fragrant Bay Laurel trees growing alongside shady creeks and near the natural springs on our ranch. The leaves were picked, dried and packed by Lisa & Courtney. Here's a classic beef stew recipe (adapted from the New York Times) that puts the fragrant bay leaf to good use!
Grass-Fed Beef Stew
Ingredients
1/4 cup all-purpose flour
1/2 teaspoon freshly ground black pepper
2 teaspoons salt
1 lb. grass-fed beef stew meat, cut into 1" pieces
3-5 teaspoons olive oil
2 Tablespoons red wine vinegar
1 cup red wine
3 1/2 cups beef broth
2 bay leaves
1 medium onion, peeled and chopped
5 medium carrots, peeled and cut into 1/4-inch rounds
2 large baking potaotes, peeled and cubed
1 cup frozen peas (optional)
1. Combine flour and pepper in bowl, add beef and toss to coat.
2. On medium setting, heat 3 teaspoons olive oil in dutch oven or large pot. Salt the beef and then add to the pot in batches; don't overcrowd.
3. Cook, turning until browned on all sides, about 5 minutes per batch. Add more oil as needed.
4. Remove beef from the pot and add wine vinegar and red wine. Cook for 1-2 minutes over medium-high heat, scraping to loosen any browned bits.
5. Add beef, broth, and bay leaves. Bring to a boil and then reduce to a slow simmer.
6. Cover and cook until beef is tender, about 1.5 hours. Check occasionally and add more broth as needed.
7. Add onions and carrots and cook 10 minutes. Add potatoes and cook about 20 minutes more until all veggies are tender. Add peas if using, and cook another 5 minutes.
8. Season with salt and pepper to taste. Serves 4-5. Pair with a good bread and any Rangeland wine!
Contents: Beef Club, Mistletoe Scores, Dinner Event, Big Three-Hearted Oak
Beef Club in Process, Price Increase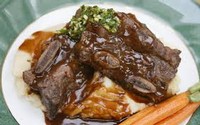 As we sort our cuts and pack our beef club boxes for the 12th year, I am reminded how priviliged we are to grow this wonderful food. We start with well-bred Angus cattle grazing naturally in our home pasture. This produces intensely flavorful and nutritious grass-fed meat that we are happy to eat and proud to serve and sell.
Despite a heavy storm in January, our rainfall was only about half of average this year. Due to drought conditions that limited forage, we've had to reduce our herd and supplement with expensive hay. So we have to raise our prices to sustain our beef production. With this shipment you will see your 25 lb. beef club box rise to $280 (up from $240). The list price of our 25 lb box is now $350, before club discounts. Even with the price increase, club members pay just $11.20 per lb. for this estate raised beef. Order here.
We will be billing our beef club members next week. If you need to update your shipping or billing info, please log into RangelandWines.com. Club pickups begin July 1 at J&R Meats in Paso. Or you can make an appointment to pickup at the Rangeland tasting room by emailing tasting room manager Michelle Minton. We will begin shipping the Beef Club July 12.
Double Gold for Rangeland, Again!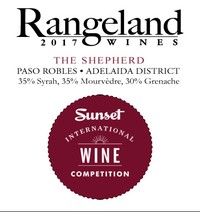 Our 2018 Mistletoe ($29) was blessed with a double gold medal and a 95 point score in the Sunset International Wine Competition. Mistletoe is an utterly Paso blend that includes Cabernet, Syrah, Petite Verdot and Grenache. It's one of the great values in the world of wine. Our 2017 Limestone Reserve Cabernet and 2018 Shepherd blend of Rhone varieties (Grenache, Syrah and Mourvedre) also received gold medals and 90 point scores in this competition. Congrats to Winemaker Paul Hinschberger. You can order these wines here.
Full Moon Dinner July 24
As we ease back to normal, we are beginning to plan events again. We started the Full Moon Dinner series last year because we noticed that our wines show beautifully at this time. We will be hosting an evening dinner on the lawn of the Rangeland tasting room on July 24 from 6:30 to 9:30. The meal will feature our estate-grown beef and lamb, paired with a stellar (lunar?) line up of Rangeland Wines. Tickets are $90 before club discounts. Order here.
Big Three-Hearted Oak Table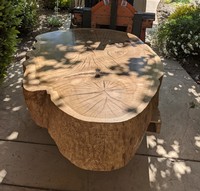 Some of you will remember the huge oak tree that came down in the spring of 2019, just after our last Field Day event. The massive deadfall trunk still lays behind the barn near the tasting room. We had a slice cut out of the stump with a 7 foot chainsaw and made into a massive pub table, which is now on display in our tasting room. It reveals a triple trunked tree with three conjoined hearts. Its compoundly concentric whorls are profoundly beautiful and complex. A rough count of the tree rings indicates the tree was 130 years old when it fell. That means it was a sappling at about the time the train line was first extended south through the Salinas Valley to Templeton. So much has happened since then, both locally and the world over, that we have to call it a true heritage oak. I become reverent and a little wistful in the presence of such a durable, natural reminder of passing time. Stop and pay it homage, the next time you visit Rangeland, and let your conjoined heart swell.
Contents: Fresh New Wine, Doppel Deja Vu, Wine Fest Goodies, Spring Abundance
Announcing El Joven 2020, A Fresh Red Wine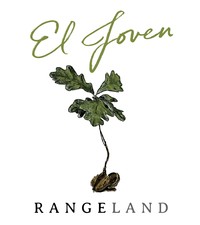 Our winemaker Paul Hinschberger has a new brainchild, inspired by young, unaged Spanish reds (vino joven). These wines are meant to be consumed within 18 months of harvest, traditionally with a casual lunch or picnic. I like the way these Spaniards think: wine for lunch! We are calling our 2020 red blend El Joven (80% merlot, 20% petit verdot, aged 4 months in concrete, screwcap closure). Rough translation: the youngster. Recently bottled, it is tasting as fresh, fruity and lively as the name suggests, with a depth of savory expression that is surprising for a mere wine child. We begin pouring it at the tasting room this week. I've successfully paired El Joven with Rangeland grass-fed beef tacos and with Lisa's wonderful tortilla chicken soup. We love this wine but we are pricing it for early and frequent enjoyment at $20 per bottle before club discounts. Order here. We are also offering an introductory special at $200 per 12 bottle case before discounts. Order by the case here. A wine for the people!
Doppel Deja Vu, New Members Also Invited
It's been a few weeks since most of you received your wine club shipments. You've probably torn into the goodie box and glugged a couple (all?) of your favorites already. So if any of you would like to reorder your club shipment and double it, we are offering an additoinal 10% discount off your usual price. Please note that the 2016 Limestone Reserve Cabenet has sold out, so we'll have to substitute the very nice 2017 Cabernet for that wine. If you haven't yet joined the club, we are extending this offering to new members. You can join the 6 bottle Estate Wine Club (normally a 20% discount) and get a case for 30% off. El Joven is not eligible for the Doppel Club discount. Email Michelle if you want to reorder and double your wine club.
Wine Fest, Butter and Garlic
Paso Robles Wine Festival is this weekend, May 20-23. On Saturday and Sunday, we will be serving a special menu of ranch oak barbecued grass-fed beef tri tip or grass-fed lamb sandwiches on toasted sourdough which has been drown-ded (that's a technical culinary term) in garlic butter. We are heavily booked on Saturday but we have some openings on Sunday. Reserve your seating for an outdoor tasting and food here.
Abundance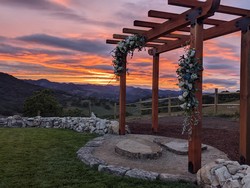 As the grass dries and the season turns toward a likely hot and droughty summer here in Paso Robles, I am reflecting on a spring that was extraordinarily rich in gifts. Spring on the ranch is a fecund time of baby calves and lambs, new green leaves, blooming grapevines and fields of wildflowers. This season seemed especially refulgent as society reopened and the threat of disease began to fade. Happy exposed faces with big smiles are once again becoming the norm as we ease back into freedom.
On a personal note, our eldest son Samuel married his lovely bride Samantha (yup, that's Sam + Sam) on a beautiful April day at the ranch. My son Jackson and daughter Angie (both sometime denizens of the tasting room) were in the small wedding party. All performed with a grace and maturity that left me spellbound and humbled. After hearing the heartfelt and devoted vows, I confessed to Sam that it was a shock for me to realize that he is possibly more of a grown-up than I am. He smiled and said, "Dad, I've known this for a long time." Touché Foshay! Well, we can't be grown-up all the time. So I lost my shit as usual on the wedding dance floor. They had to help me up and retriieve my reading glasses after the "gator." I have been recovering ever since. Click here for a slideshow of spring images, including some short videos, from Rangeland.
Contents: Spring Wine Club, Tasting Room Open, Looming Drought, Small Verse
Spring Wine Club, Doppel Offer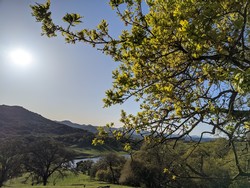 I can't remember a time when so many of our wines were tasting as wonderful as they are right now. Maybe it's the warm spring weather. Or maybe our senses are heightened by optimism that better times lie ahead.
Our Rangeland spring Wine Club selection has several delicious new releases, detailed below. If you are a six bottle or case club member, we are offering an additional 10% off with $1 shipping if you double your order. For example, a 6-bottle, 20% discount Estate Club member would get a full case at 30% off, a savings of about $40 on that case of wine, plus shipping savings. Please let us know by email if you'd like to double your club order.
We will start billling the wine club April 15 and your shipment will be available for pickup starting April 20. We will begin to ship wine clubs the week of April 26. Here are the wines we are planning to include:
2020 Flora Rosé* - new release! (or 2018 Zinfandel for reds only members)
2016 Limestone Reserve Cabernet* (94 pts)
2017 Watershed-new!
2017 Ultramafic Merlot*-new!
2017 Petite Sirah*
2018 Shepherd GSM-new!
*denotes 4-bottle Intro Club selection
Please let us know by email if you'd like to customize your spring shipment. All the available wines are listed here. Please update your credit card and shipping information, if necessary, at www.RangelandWines.com. You can use your email address to retrieve your login password.
Tasting Room Open
We continue to offer outdoor tasting Thursday to Monday, with charcuterie plates available, 11 to 5. We are serving our estate grown grass-fed burgers every Saturday and Sunday, 11 to 4. Reservations recommended.
Anxious Spring as Drought Looms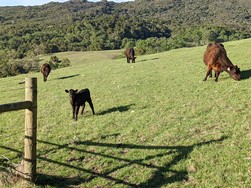 We have had only 1.5 inches of rainfall since January's atmospheric river walloped us with 15 inches in two days. Our total for the rainfall year (July 1 to June 30) is just 18.5 inches, or 54% of average. Cal Poly San Luis Obispo recorded the driest back-to-back Februarys in 152 years of rainfall records. Our central coast region is officially classified as abnormally dry. Much of the rest Califorinia, which did not benefit from a direct hit by the January storm, is already in drought.
So although the hills are green with new grass and fresh oak leaves, we are worried about the looming drought conditions. The grape vines will do fine this year and we have ample irrigation water from a full lake--the one pictured on our wine label. But we will pay higher electrical bills to pump the water to our drip irrigated vines and more labor to monitor and maintain the system.
The cattle and sheep operation is much more impacted by the drought. Our pastures germinated late due to dry and cold conditions. We also lost access to hundreds of acres of neighboring leased pasture over the last couple of years. So we are supplementing our livestock's grass-fed diet with daily rations of expensive hay. We are planning a herd reduction and hoping to hang on to enough cows to keep our beef club viable in the years ahead.
The ranchers life...is not all work and worry though. I get to spend time working outdoors, close to nature, in one the most beautiful places on earth. Here is a little poem I wrote recently to savor one crystaline moment. I call this one:
Spring Morning
Fat doves squat fluffy in the warm gravel road
Great gnarled oaks unfurl their fresh leaves
Silvery green in the morning mist
White tattered feathers of fog part ragged
Revealing the topaz immensity of the California sky
Below is a glimpse into the management style of your slightly deranged Rangeland rancher and vintner. I recently sent this email to my ranch manager.
Dear Dane,
I write to you from a hospital bed in Templeton. This saga began about 6pm yesterday when I went to grab the Ram pickup to feed the sheep.
When I started to load the hay, I found to my dismay and consternation, the tailgate latch handle entirely missing. So I soldiered ahead by loading the 100 lb hay bale _over_ the tailgate. Onward to the sheep, where I climbed up into the truck to toss hay into the pen. I noticed that, between the alfalfa and bare metal pickup bed, I had quite the skating rink underfoot. I also noticed the hay hooks could be stowed more safely. No problem, I surmised, I can handle this. The first flake-toss went smoothly. On the second toss, however, my feet started to go. Soon I was high stepping like Charlie Chaplin on methamphetamine, trying to regain my footing. Then my feet went high and my ass low as I flopped with clunk and a meaty stabbing sound, flat to the truck bed with a hay hook buried in my back.
At this point, I was disoriented from shock and feeling somewhat uncomfortable from the do-dad stuck between my back ribs. I was having trouble catching my breath, probably due to my collapsed lung. I worked my way upright, lowered myself gingerly from the truck bed and began to walk for home. I hadn't gone far when my greatest fear, my worst nightmare was realized. I was slammed forward to the ground from behind.
I saw stars as I hit the ground and felt the gravel grind my forehead to the bone. My limbs and back were being gripped and clawed by four slashing paws of a big cat while his full weight drove the hay hook deeper and pinned me to the ground. The hook ground noticeably against my ribs and perforated my innards further. The cougar's teeth hammered my skull and gnawed relentlessly as I struggled to free my leatherman and open the blade. After a long wrestle, I was able to roll over to my back and--onto the hay hook! The new pain caused me to lurch and scream maniacally as I faced the cat for the first time. Startled by my convulsions, he whipped his blood and slobber-soaked muzzle from side to side, bearing his huge choppers in a blood soaked, demonic snarl. I was exploding now with adrenaline, I jabbed my thumb into his left eye socket while I drove my trusty steel into his neck, just below the powerful jaw. Hot blood burst from his neck and I soon felt the life recede from his powerful body. The lion gurgled his last as I heaved his carcass to the side and lurched to my feet. I staggered home and passed out at Lisa's feet.
The doctors sewed me up with 171 stitches. They think my lung and ruptured liver (toughened by years of enthusiastic alcohol consumption) will eventually heal. Lisa may never forgive me about the blood stains on her white leather Tesla interior as she rushed me to the ER.
This story is based on a real event. The tailgate latch on the pickup was broken. All other events are an elaboration on this rock solid foundation of truth. The moral of this story is, you should always tell your boss if something is broken and see that it is repaired in a timely fashion.
Laird Foshay
Adelaida Springs Ranch, home of preposterously good Rangeland wines and meats
At Rangeland, we often say that our wines are "field crafted." Although indoors winemaking is important, our wine really is grounded in the vineyard, where we grow our delicious grapes. The diverse soils, warm climate, high elevation, southwest facing aspect and coastward location are all particularly special at our Adelaida Springs Ranch estate vineyard, but the human component is just as important. There are 7 critical stages in the yearly life cycle of our vineyard that require management: pruning, bud break, shoot thinning, bloom, canopy management, veraison and harvest.
Pruning: While They are Sleeping...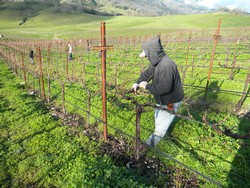 Grapevines are annual plants that shed their leaves in the autumn and fall dormant each winter. They store carbohydrates in their roots, which provide the energy needed to grow in the coming season. We leave the last year's fruiting canes on the vine until they are pruned in February or even March. Pruning involves hand clipping last year's shoots down to neat little spur positions. Since we have about 40,000 vines on 40 acres, and each vine has about 20+ canes, it takes a contract labor crew of a dozen skilled workers about two weeks to complete the job. We also reposition miles of trellis wire lower on their stakes, so they are available to gather the foliage later in the season.
Bud break: Rebirth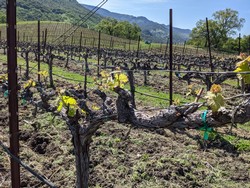 We leave about 12 spur positions on each vine and each spur has two or three buds. These buds, formed the previous year, will be the start of this year's crop. They open up and sprout leaves in the first few weeks of spring. This is what we call "bud break." The vines are coming out of a long winter's nap and starting the yearly cycle. Each bud will grow a 3-4 foot, hopefully fruit-bearing cane, in the coming months.
Shoot Thinning: Taming the Beast
Grapevines are prolific. Despite careful pruning, a healthy vine wants to push extra shoots out, to grow more grapes and seeds for birds (and other critters) to eat, spread and reproduce. So each May, "we" (our labor crew/small army) thin shoots by gently breaking off all of those excess shoots on every plant by hand, allowing the vine to focus its energy on the choice remaining growth. Fine wine grapes need a rough balance between leaves (that act like ripening solar panels) and fruit.
Bloom and Set: Heaven Scent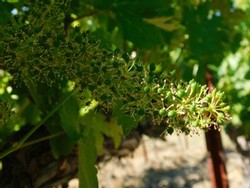 Grapevines bloom in the warm sunshine of May and the scent is subtly heavenly. We hope mother nature cooperates with mild weather that allows the grapes to form properly. The vines "set" little shot size berries on those flower/grape clusters in June. At this time of year, we begin irrigation if necessary and try to keep the weeds (competition) under control through tillage—no herbicides!
Canopy Management: Training the Ballerina
Once the canes are fully grown by about the 4th of July, we have to manage them. First, we need to be able to get the tractor down each row, so we lift the shoots with trellis wires. And secondly, we want the grapes to get enough sunlight to develop color and tannins, but we don't want sunburn or shrivel. We flop and fluff the canopy on the sunny morning side to provide some speckled shade. On the shadier afternoon side, we pin the shoots all the way up with wires to get better sun exposure. Our vines end up looking like a ballerina with one arm stretched gracefully to the side. It is not a perfect science, but we strive for fruit intensity and complexity through sun exposure.
Veraison: The Blushing Change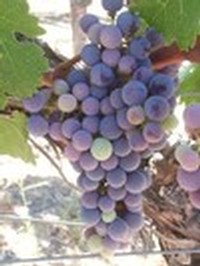 Red wine veraison is when the grapes darken and soften. The fruit's acidity starts to decline and harvest is only 4-6 weeks away. This is a major change, much like puberty for an adolescent, and this is when character and flavor starts to develop. After 2-3 weeks, we do what's called a "green drop", when anything that hasn't turned color yet, is dropped on the ground. This helps the vineyard ripen uniformly. It allows the vine to concentrate its ripening power on the remaining fruit.
Harvest: Off to College
Harvest is the time when the parent vine ships their little grape children off to college so they can learn what they were meant to become! We start measuring grape sugar content and acidity in August, but ultimately I decide when to pick based on fruit flavor. This usually occurs in September and through the middle of October. We hand harvest all of our grapes, and I'm on almost every pick. While the grapes are being picked into the bins, I am standing on the trailer pulling out leaves and under-ripe fruit, while tasting the grapes to see what I want to do with them once they get to the winery. For instance, if there is a lot of tannin in the skins, I might decide to do gentle pump-over during fermentation instead of a more extractive punch down.
Art and Science
This is, of course just a glimpse at the process. Growing good grapes and making fine wine involves a lot technical knowledge and measurement. But ultimately the process is so complex—Laird calls it kaleidoscopic—that the key decisions are artistic. That suits me very well.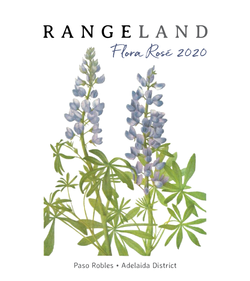 We are releasing our latest Flora Rosé this week, just in time for Valentine's Day. This pale pink, aromatic and refreshing rosé is a blend of Merlot, Zinfandel and Grenache. Our 11th annual Flora Rosé botanical label features a lupine commonly found in Paso Robles and throughout California (Lupinus Polyphyllus). It's a beautiful bottle, a lovely wine, and would make a special gift for someone you love. Checkout our new Rangeland logotype!
Our Flora Rosé retails for $24, but from now until the end of February, we are offering the following specials with $1 shipping (coupon code $1ship). All prices before club discount:
3 bottles for $66, or $22 per bottle, order here
6 bottles for $120, or $20 per bottle, order here
12 bottle case for $216, $18 per bottle, order here
We usually sell out of this wine in the summer, so stock up now and save!
Vacation Rental Available in March
We are booked for February and April, but have a few openings in March. That's a beautiful time of year to visit Paso--so green! This cozy cottage (3 BR, 2 BA, sleeps six), is quiet and comfortable, with good wifi service making it an ideal place to work from "home." Check out availability and see more details here.
Tasting Room Now Open for Wine Tasting Outdoors
California has lifted the stay at home order, so we are now open for outdoor tasting Thursday to Monday, 11-5. Charcuterie plates are available for purchase now and burger service will start again soon (more on that later). Make an appointment here and dress warmly!
Deluge!
Our drought busted wide open Tuesday night and an atmospheric river swept in. We've had a record 15 inches of rainfall in the last 48 hours and it's still raining! We are giddy with relief and storm fever. The creeks are roaring in the coastal mountains. There are some big oaks down, including one that squashed the (empty) chicken coop at the tasting room, much to the alarm of our vacation rental guests. We're grateful no major damage has occurred. Check out the before (January 26) and after (January 28) pictures of the lake at the foot of our vineyard.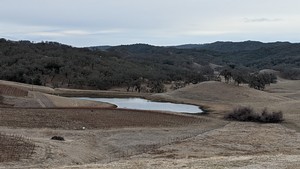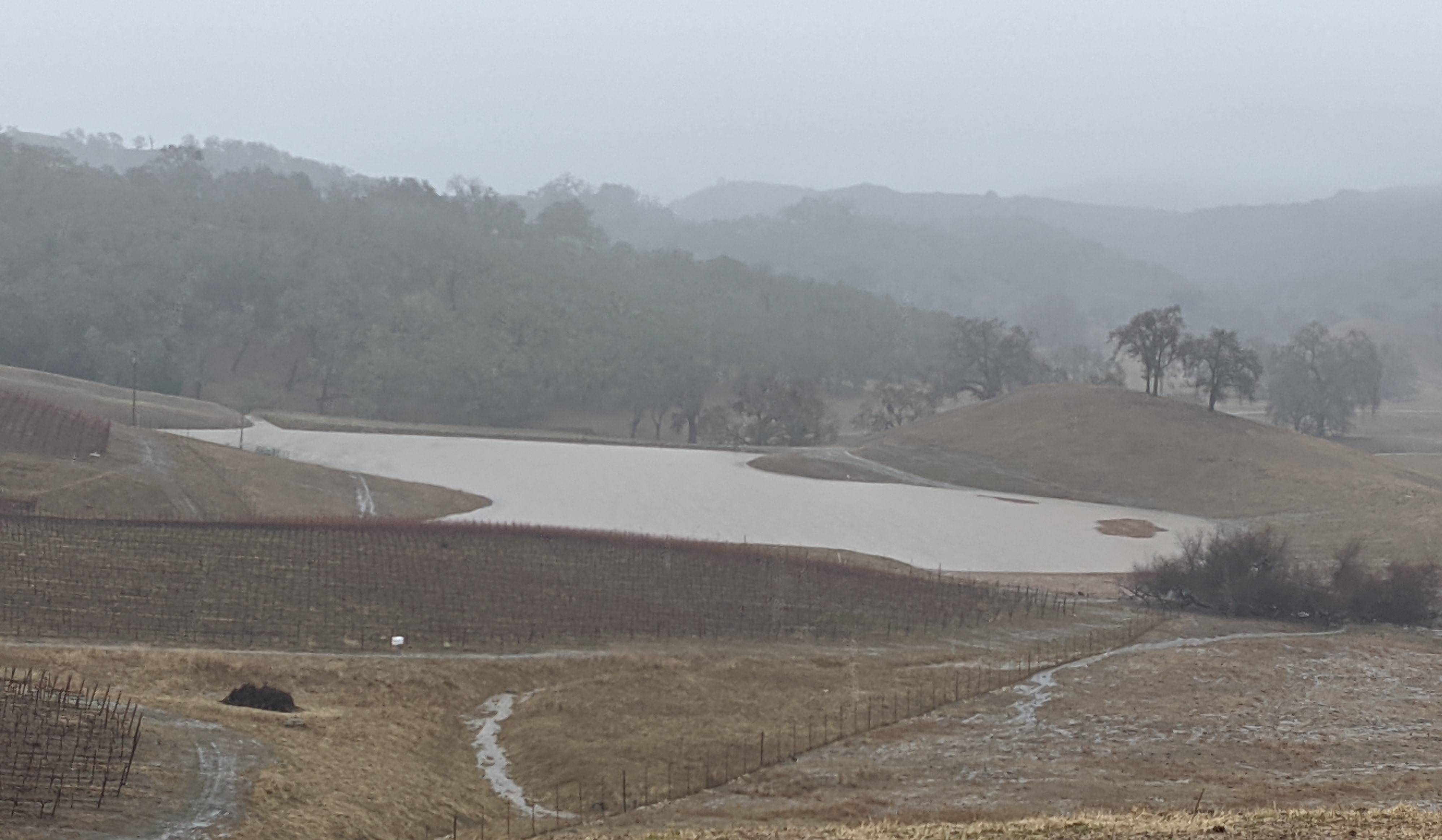 Contents: Accolades, Lockdown Specials Countdown, Tasting Room Bottle Purchases
Wine Enthusiast: Straight "A"s for Rangeland
We recently received a pre-publication notice that Wine Enthusiast magazine has rated the following Rangeland Wines:
2016 Limestone Reserve Cabernet Sauvignon Adelaida District, 94 points. New release!
2016 The Watershed Bordeaux-style Red Blend Adelaida District, 94 points
2019 Sauvignon Blanc Adelaida District, 91 points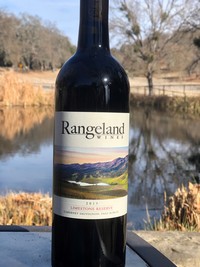 Of course we are very gratified by these 94 point ratings, which are the highest ever for our Cabernet based wines. The 2016 vintage started with very high hopes but took us on a roller coaster plunge when we discovered some smoky aromas and flavors (after bottling!) from the influence of the local, 46,000 acre Chimney Fire. You may remember the smoke-influenced 2016 Mistletoe, which we sold out some time ago at "fire sale" prices. The ripe and powerful 2016 Cabernet Sauvignon (not rated by the Enthusiast) has been a Rangeland family favorite for some time, with no hint of smoke. The Watershed has had a cultish following among our customers for many years, so the 2016 score crowns an obvious champion. Our recent tastings of the 2016 Limestone Reserve raised eyebrows and provoked hedonistic grins. We are super excited about this flagship wine, which is tasting great and should age for a decade or more. Winemaker Paul Hinscherger describes:
Crimson colored and tenaciously focused, this 2016 Limestone is one for the ages. The aroma captivates your senses with dusty cherry, oregano, cigar box, and saffron. Fine tannins and integral acidity accentuates flavors of black currant, plum, graphite, and chocolate. It is sultry, and complex—and definitely deserves to be decanted. 100% Cabernet Sauvignon. Aged 20 months in 50% new French oak, 50% once used French oak
Lockdown Specials Expire January 31
Our Lockdown Specials will last only through the end of January. That means you can order all of our current wines, including our high scoring beauties, as follows:
Order any 3 bottles (you can mix and match) of Rangeland's current selection for $99, just $33 per bottle before your club discount with $1 shipping. Order by email so we can put your special order together with correct pricing.
Order any 6 bottles (you can mix and match) of Rangeland's current selection for $180, just $30 per bottle before your club discount with $1 shipping. Order by email so we can put your special order together with correct pricing.
Order any 12 bottles (you can mix and match) of Rangeland's current selection for $300, just $25 per bottle before your club discount with $1 shipping. Order by email so we can put your special order together with correct pricing.
These may the finest wines available anywhere at these prices, but we wanted to reward our longtime and loyal customers before the world rushes in. Thanks for your support!
Tasting Room Bottle Purchases
Currently we are open for wine bottle and case sales, Thursday to Monday, 11-5. Make an appointment here.
Contents: Lockdown Wine Specials, Tasting Room Update, Rental Cottage Offers
Lockdown Wine Specials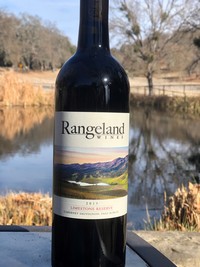 Well it's a New Year but it looks like same ol', same ol" here in Cali as we enter the tenth month of gruesome (rhymes with?) controls over our civil liberties and commercial freedoms. We are also facing a very droughty start to our annual rainy season. We've had only 1.5 inches of rain so far. No green grass has started on our beautiful hills and there is no precip in the forecast. So we are feeding our cattle hay, thinking about winter vineyard irrigation and hoping for wet weather. Tough times at Calamity Ranch. I was going to buy a helicopter to keep up with Kevin Costner in Yellowstone, but I guess that will have to wait! Thing is, we still have our sense of humor, and a cellar full of wine to send to you, so check out these specials.
To stoke the lagging fires of Rangeland commerce during a slow time and, most importantly, to brighten your table and outlook, we are offering our most flexible wine special ever:
Order any 3 bottles of Rangeland's current selection for $99, just $33 per bottle before your club discount with $1 shipping. Order by email so we can put your special order together with correct pricing.
Order any 6 bottles of Rangeland's current selection for $180, just $30 per bottle before your club discount with $1 shipping. Order by email so we can put your special order together with correct pricing.
Order any 12 bottles of Rangeland's current selection for $300, just $25 per bottle before your club discount with $1 shipping. Order by email so we can put your special order together with correct pricing.
Tasting Room Update: Pick Ups Only for Now
Currently we are open for wine pick ups only, Thursday to Monday, 11-5. Make an appointment here. We hope to have more news for you soon about retarting on-site wine consumption and food service.
Vineyard View Cottage Offers
Our beautiful and secluded Vineyard View Cottage (sleeps 6) has many open dates in the next couple of months, so break away from the grind and enjoy the quiet. Stay at our home away from home. Good wifi service makes remote work possible. For booking dates through the end of February, we are offering:
3 nights for the price of two; $400 weekend nights/$350 week nights, before club discount.
One week (7 nights) for the price of 4 nights.
Check out availabilty and see more details here.
You know you want to
Sign Up For Our Newsletter
Keep up to date on the latest wine releases, events, and promotions and get 10% off your next order.