Loving the Life
It was a big surprise to me when, at more than 40 years of age, I fell in love with cattle ranching and raising livestock. I bought my ranch in the year 2000 to grow wine grapes, raise my kids and satisfy a lifelong lust for land ownership. At first we rented our pastures to another cattleman. But once we had bred and raised a few cows, starting with 4H for the kids, we decided to go all in, run the whole ranch and sell grass-fed beef directly to our customers. One of my early memories of cattle ranching was riding horseback behind some cows while we moved them from one pasture to another. It was a mild spring day in Paso and the warm sun was shining on the black backs of our cattle. A sweet aroma rose in waves from the small herd as they jogged with easy athleticism. Smelled like beef. It made me appreciate the 10,000 year bond between our species, human and bovine. I was happy. Not just in the moment but also considering their lives in our beautiful fields and their destiny as nutritious food. I like the whole experience and process, but it is not always easy.
One of the essential parts of running a cow-calf operation is the provision of a sound bull to breed the cows. You need to bring in a fresh sire every few years to maintain genetic diversity. It's not a great practice to have fathers breeding their daughters. Typically these new bulls are purchased at specialized auctions held annually: The Bull Sale.

Growing up in suburban Northern California, I had never been to an auction. After we moved to Paso Robles, we were literally swimming in a sea of auctions. Auctions for school fundraisers. Auctions for community projects. Auctions for farm equipment. Horse auctions. Auctions for the NRA. Once, at a Ducks Unlimited auction, with my daughter in tow and urging me on, I "won" a labrador. She was a beautiful little black pup we named Lucky. She proved notoriously unlucky. Nuther story... But for me, the granddaddy of auction experiences is the livestock auction. And the bull sale is the super version. It even has a catalog full of pictures, stories and technical data about each animal.

Bull Sale!
At the bull sale in 2020, there was also free bbq and beer. So as the sale started, my ranch manager and I gulped down some tri tip, grabbed an extra Budweiser and went inside to see the action. I identified some likely targets in the catalog with high scores in calving ease and feed efficiency. We have smaller mother cows and I wanted a bull that would "throw" light calves that were easy on the mother. Well, an auction is a heady event, especially for a beer-addled rookie like me. The noise and the action come fast and furious. Dozens of buyers are stacked into the steep bleachers. A bull is trotted out with remarks on its splendid form, awesome genetics and likelihood of profit. There's a very loud, talented auctioneer who is trying to separate you from your wallet with relentless coaxing and yodeling: "hummuna, hummuna, sold!" There are enthusiastic spotters scouring the crowd for bids. The slightest twitch by an audience member can render a sale. Here's what it looks and sounds like.

After a few minutes, Lot 12 came around, which was one of our targets and he looked great. As the auctioneer boasted, "The kind that would just stay in the herd and keep producing great calves." I was juggling my phone (taking pics and vids) and a beer and the catalog and a bidders paddle. I got a little confused about the bidding level and just missed buying no. 12. Lost him to a higher bidder. Another bull trotted out immediately, LUCKY NUMBER 13. He seemed a little jacked up...but so was I: bulls, beers, auctions...exciting! A too quick glance at the catalog showed he had great numbers too: 4 star calving ease, 5 star feed efficiency! Next thing I knew my paddle was up, again and again. "Ha!", said the spotter. "Sold!", said the auctioneer.

Disposition 2.8
Now that the deed was done, I began to study the catalog entry for Number 13. Hmmm, what's that "disposition" score of 2.8? More thorough reading of the catalog showed that all the bulls in the sale were of mild disposition, scoring 3, 4 or 5, whatever that means. But my LUCKY NUMBER 13 had a 2.8 disposition. Seems like he kinda barely didn't make the cut, but did. Anyway, I owned him, so it was time to load him up and haul him back to the ranch. So we backed the trailer up to the gate for loading and got out to watch. The boys in the sale yard were having a little trouble back there amongst the alleys and gates. Some dust was rising high and the curses higher, then around the corner here comes LUCKY NUMBER 13 headed straight for the loading gate at high speed--which was still closed. He was head high and full of thunder. A real beauty. I'm expecting to see him come to a stylish stop and maybe snort at us a little due to the general excitement of the occasion. But he don't. He went nearly full speed into the steel gate with a crash and rebounds, nose bleeding. Right then I remembered that 2.8 score but I thought his current performance was more like a 1.75. He was like a cougar on a leash. Like a snarling raccoon with a face full of jam jumping out of the refrigerator at your face. Like seeing TJ Watt coming at you, unblocked, when you've already been sacked 10 times today. Well, you get the idea.

We got him loaded on the third try and headed for home. It was a couple of hours drive back to the ranch, so plenty of time to think and chat. What were we going to name him? Name of Lucky came right to mind, but due to that to that "nuther story" experience with an auctioned dog we called Lucky, that name was out. Chance! We'll call him Chance. We'll flip the script on that LUCKY Number 13 and 2.8 curse. We'll give him a chance to reform his disposition in our picturesque world of hills, oaks, rich pastures and shiny, breedable cows.

Meet the Legend
Back at the ranch, Chance unloaded a lot quieter than he loaded. Low hurdle. The bleeding had stopped. He trotted off quietly to check out his new fenceline. We gave him a couple of weeks in a field by himself to get accustomed. Since we were able to walk him to new pastures without too much excitement, things were looking up for our feisty miscreant. Then we put him in with his mentor, the big easy, Legend. Why was our older bull named Legend? He had bred 50+ cows a year for a few years. That entails a lot of work and dedication to the craft. Plus, he was as quiet as a drugged elephant at the circus. Introducing new bulls into a herd can be dicey. Some bulls like to fight for dominance and this can lead to damage for both bulls and property. Fences and gates can buckle like licorice twists. But these two settled right in together. Maybe because Legend outweighed his 18 month old little buddy Chance by about 800 pounds, there wasn't much room for real conflict.

Chance Goes to Templeton
After a few weeks with "the boys" living together I noticed that Legend was standing alone in the field and I asked our ranch manager whether he had seen the youngster lately. The answer was no. A full search of the ranch yielded no results. With miles of 100 year old fenceline, some of which is deep in the woods or brushy canyons, our ranch is not a perfect enclosure. Maybe he had tried his luck challenging Legend one day and had gone off to sulk. Maybe the scent of some luscious cow wafted up the canyon and stimulated his hair-trigger hormones. Maybe he just got curious. Who can say? Soon a call came from the stock sales yard in Templeton. "We have your fancy young bull here." Turns out Chance had been found jogging a couple of miles west of our ranch near Vineyard Drive and another cattlemen had corralled him, then taken him to town for retrieval. I would have liked to have seen that rodeo.

Big Turn Out
Back on the ranch for the rest of the winter and into spring, Chance was growing and bulking up by hundreds of pounds. Most local ranches strive for fall calves that will be sold the following summer into "the system" which ends in a feedlot. We strive for spring calves so we can keep steers on the ranch for two-plus years. That allows them to grow "grass-fat" in the home pasture with their family. So we turn out the bull with the cows around May 1. Since cows gestate for about 9 months, like humans, that means we'll have most of our calves the following February, March and April, during the heart of California's relatively early springtime.

Now a young bull in springtime is ready to go and get with those cows. A common phrase in the cattle biz is to say that the bull is being "turned out" with the cows for breeding. This is not to be confused with "turned on." The bull is horny all the time, even if he has no horns. He'll stand there, bellowing in the breeze, his nose running with raw lust, hoping for his big chance. Merle Haggard is playing in his head "Turn me loose and set me free, somewhere in the middle of _a cowherd!_" If no cow presents itself, he'll turn and butt heads with the other bull(s) out of sheer frustration. It's more a question of access, hence "turned out." As far as the cows, the females, go, they are worse. When their baby is about 2 months old and their cycle comes around again, they are just crazy for the bull and any friendly abuse he has to offer. First the cows like to play-hump with each other. Sometimes it looks like a crazy conga line out there, with one cow riding another and ten more waiting. Even the young-uns get involved. I mean they are just animals. When the moment arrives and a cow is really ready to breed, sometimes called "standing heat," she just saunters--sometimes she literally runs--up to the bull, then presents her hind end and waits in a state of cow-eyed dreaminess. One good snuffle by the bull and the next thing you know the deed is done. Gawd, nature is beautiful.

Somepin' Ain't Right
Well, when the time came, we turned out the young stud with his cow fan club and everything seemed to go swimmingly. No pun intended. He must have looked like Brad Pitt to Thelma and Louise out there. Young Chance was bobbing up and down in that sea of cows just like a pumpjack in an oilfield. Everybody seemed happy and I was thinking my Chance was paying off. One day, however, I was checking a water trough when Chance mounted a cow as easy as a gymnast on a pommel horse. This caught my attention so I stopped to watch the performance, I mean, to see if the bull performed well. Did his job. You understand. Then, a shudder went through me. What was that? Did I just see a kink in his rocket? That looked wrong. Nah, probably just has a weird one. I seen shit like that on the internet. I let it slide.

Two weeks later I get a text from my Spanish speaking ranch manager, "The bull has his part very inflamed." Out of a sense of delicacy and discretion (rare for me, I know), I will not include the photo. I immediately flashed back on the kinky rocket incident. I knew my Chance had suffered the greatest of mishaps. An incomprehensible malady. Nevertheless, I was ready to throw good money after bad, anything to stave off the inevitable destiny of LUCKY NUMBER 13. I called in the veterinarian. He pulled no punches. The diagnosis was: hematoma of the penis. Oouf. Accompanied by a serious pizzle-kink. He had a busted dick. Surgery was possible but not recommended. Would be a bad investment. "It would likely just rupture again." Oh trajedy! Aiyeehhhhhhhhhhhhh! As a fellow male and the investor of $6500 in his very virility, I wept bitter tears for Chance. For weeks I felt the need to constantly rearrange my crotchal region for what reassurance I could find there. I was going to miss that spastic stud.

Destiny
So Chance met his destiny not as a champion in the field of fertility, but only as sustenance for the hungry. A noble but diminished outcome. We harvested him for hamburger. Some of you may feel I have exploited this animal's suffering merely to construct this tail, I mean tale, of woe and humor. All kidding aside, I loved that fiery little 1500 pound son of a cursed cow as much as any animal I have ever shared time with. I was very upset by his suffering and to have to put him down. I identified with him. His furiously lustful approach to life was very much like my own and my tribe. By tribe I mean my family and the human race. Sometimes we tend go at it with too much ardor and not enough careful consideration. Sometimes our disposition falls well below 3. We try too hard. We sometimes fail. We get hurt. Not necessarily right where it counts, but still. You get the point. Hence our informal motto, "More enthusiasm than skill." I still believe this is better than the alternative: "Too much caution and not enough action." Maybe there is a middle way...
It had all started so innocently, with a "can or two" of Budweiser. I was responsible right down to the last. I personally hauled Chance to meet his destiny. I was there when he drew his last with a great bovine heave. As I left, I turned to the harvest crew and rendered this rude wisdom: "Be careful boys. Don't breed with too much enthusiasm. It can be fatal."

Laird Foshay
Adelaida Springs Ranch
In this issue: Wine Specials, Beef Specials, Holiday Hours, Swan Songs & Futures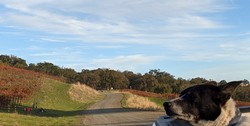 As Thanksgiving approaches, the curtain is closing on another vintage, another year. Thanks to some early rains, it's also a season of renewal, with green grass covering the hills of Paso Robles. We look foward to 2022, which promises more growth for Rangeland. We are so thankful for your support and ardent appreciation.
2018 MISTLETOE CASE SALE--THE PERFECT GIFT
Naughty or nice, you can give yourself a case of alluring 2018 Mistletoe (95 points, Sunset International Wine Competition). I have been calling it the best $29 bottle of wine in America. But at this special case price--$250 (that's $20.83 per bottle before your club discount)--it's just a crazy value for a wine so packed with appealling fuit and complexity. You can take care of everyone on your Christmas list or hoard it for your owns! $1 shipping (use coupon code $1ship). This wine is sold out :(.
CABERNET VERTICAL SPECIAL


Our 2017 estate Cabernet features opulent fruit, and the 2017 Limestone Reserve Cab is hitting stride with characteristic zest and sharp focus. By contrast, the 2018 Rangeland Cabernet (93 points, Wine Enthusiast) tends toward savory elegance and sagey complexity. These 3 Cabernets make a fascinating and delicious tasting array for your friends and family for the holidays. Or stuff your cellar with these beauties for the long winter and the years to come. We're offering these 3 bottles for $100. You save $30 before club discounts and just $1 shipping (use coupon code $1ship). Order here.
RED AND WHITE GIFT SPECIAL
For loved ones who are "Rangeland worthy," how about two bottles of fine wine: a 2018 Shepherd (Rhone Blend) and a 2020 Grindstone (Sauv Blanc blend), both Rangeland favorites, for $60 before club discounts and just $1 shipping (use coupon code $1ship). Order here.
BEEF SPECIAL: $1 SHIPPING
Hard-to-shop-for, but important people on your holiday gift list? How about a 10 pound box of grass-fed ground beef ($120) or 20 pounds ($220). Or go all-in for a 25 lb. beef club box of mixed cuts (steaks, roasts, ground and extras, $350). Club discounts apply. You're giving the gift of health--delicious, nutrient-rich grass-fed beef--that will be enjoyed well into next year. $1 shipping (use coupon code $1ship). We will ship all meat orders in January, after the holiday package rush, but we can send a gift card for you in December. Place your order here.
CLOSED CHRISTMAS AND NEW YEARS
We will be closed from December 25 through January 2.
Walnut Swan Song, New Chapter
As many of you know, our winery and tasting room property on Peachy Canyon Road includes a 28 acre walnut orchard. We just completed the annual harvest of walnuts and we invite you to purchase a few of these wonderful dry-farmed, organic nuts in the shell, available at the tasting room.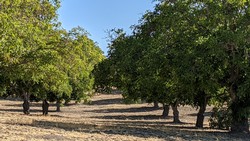 In 2018, we took a deep breath and bought the property to give Rangeland a tasting room with more exposure to Vineyard Drive traffic and also to provide a permanent home for our winemaking. We had spent more than ten years making wine in shared, rented facilities, so it has been hugely satisfying to have our own cellar space. But the ultimate source of value in the property is still undeveloped: it's a vineyard site with tremendous potential. Tucked in the northwest corner of the Paso Robles Willow Creek District American Viticultural Area (AVA) and blessed with loamy, calcareous soils, our goal is to develop this property to provide Rangeland Wines and maybe a few lucky neighbors with world class wine grapes.
So we have made the Big Decision: we are removing 500 handsome, old (but not very productive) walnut trees in preparation for vineyard development. Work will start before year-end. We hope to use some of the tree trunks (black walnut rootstalk) in the fabrication of trays, cutting boards and furniture. More to come on that. Next year we will begin soil testing, site preparation ("dirt work") and vineyard design. We hope to plant in 2023. It takes so long! The star varieties of the Willow Creek AVA are Grenache and Syrah, so we'll probably lead with those. We'll also plant white wine varieties and more Cabernet. Our new winemaker Alex Kemp is very excited and will lead the design effort. Onward!
We often speak of terroir and the 'sense of place' it brings to wine. Terroir is used to describe a particular region or site's climate, soil, terrain, and tradition; such as the rusticity of a Northern Rhone syrah or the earthiness of a Burgundian pinot noir. Paso Robles wines are known for their fruit-forward power and structure, also the vibrancy that reflects the community that makes them. At Rangeland, we strive to craft wines that best represent this terroir of Paso Robles and our Adelaida Springs Ranch (ASR), but it's a complex story.
Our ASR estate vineyard contains several soil types, slopes, and elevations that make it challenging to harvest. Our lowest elevation blocks of grapes are planted in droughty sandstone soils that ripen early--a rarity in Paso Robles. Sandstone brings broad-shouldered structure to the wines, as well as considerable depth and power. The highest elevation blocks contain limestone soils that are typical of Paso's westside terroir and are later ripening. Limestone wines tend towards a precise and energetic structure. The middle elevation of the vineyard is planted on a mixture of these soils and includes gravelly, stressy outcrops of serpentine. This mélange of soils requires frequent fruit sampling (for sugar and acid levels) and tasting. To pick the grapes at optimum ripeness, harvesting often takes multiple hand-picked passes within a single block.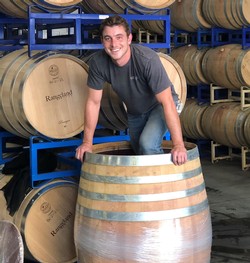 Once the fruit is in the winery, we strive to preserve authentic terroir by practicing minimal intervention winemaking. You might say we shepherd rather than make the wine. First, the fruit is carefully sorted across a vibrating table to remove raisins, then mostly machine destemmed prior to fermentation. For Rhone varieties like syrah and grenache, we sometimes include stems in "whole cluster" lots to add aroma, tannic structure and complexity to the wine. Prior to fermentation, we stomp the grapes or lightly tread on them, breaking breakiing most of the grape skins to get some juices flowing for our cold soak. Although stomping may sound old-school and inefficient, leaving some of the berries unbroken or whole will encourage more aromatic complexity and refined textures. No need to overwork the grapes; we let them speak for themselves.
Next, cold soaking is the traditional, pre-fermentation process of coaxing color and flavor from the grapes at cool temperatures, while not extracting harsh tannins. Cold soaking also allows the native yeast, present on the grape skins in the vineyard, to develop a healthy population that is strong enough to complete fermentation. Yeast is the biological workhorse that will convert grape sugars into alcohol. We shun commercial yeasts because the native type will enhance Rangeland's unique sense of place.
Once fermentation has commenced, usually after a couple days, we turn to delicate pump-overs to promote fragrance and minerality rather than brash opulence. Pump-overs use the juice from the bottom of the fermenting vessel to soak the floating cap of grape skins and aerate the developing wine. Throughout fermentation, we monitor sugar levels and temperature while constantly tasting for the right amount of extraction and flavor before pressing.
When the fermentation is almost complete, we drain the wine off the skins and put it into barrels to encourage oak integration. This wine is called the "free run" and is typically the softest and most aromatic portion of the fermentation. We then take the grape skins and press off the remaining "press run" wine, which will provide us with more extraction and richness. The wines then settle in barrel while completing primary (yeast) and secondary (malolactic) fermentation. Later we'll evaluate the expression of terroir and the vintage in the next best season of the year: blending.
Contents: Wine Harvest Update, Cab Special Countdown, Fall Wine Club, Lamb Club, and Events:
Harvest Fest, Full Moon Dinner, and Pick Up Party
Rangeland Harvest 2021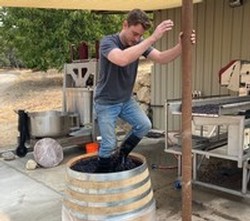 Drought conditions prompted our wine grape harvest to take off at a gallop earlier this month. We have already harvested 30 tons of grapes with Sauv Blanc, Merlot, Syrah and Grenache leading the charge. Most of these picks have been at night to keep the fruit cool. We just started to bring in Cabernet and will likely be done picking by mid-October. New winemaker Alex Kemp is all over the vineyard sampling fruit, directing picks and toting bandejas (luggers of grapes) at all hours. He is trucking fruit down the back roads of the Adelaida almost daily. In the winery, he is trying some new things for us, including barrel fermentations (versus bins or tanks). He is a habitual grape stomper and has Tom Sawyered my son Jackson into the stompfest as well. Alex is using our new glycol pump and jacketed tanks to temperature-tune the rate of fermentation. We are striving (and investing!) for more refinement in the wines while trying to retain our Rangeland energy and sense of place. Stay tuned for the next generation of Rangeland wines. Check out the harvest photo gallery here.
Cabernet Special and The Ticking Clock!
Time is running out on our popular Cabernet special. Order any six or more bottles of these Cabernet-based wines (2017 Limestone, 2017 Cab, 2017 Watershed and 2018 Mistletoe) and receive 10% off your order (in addition to your club discount) and $1 shipping. You can mix and match. The special runs through September. Expired.
Fall Wine Club Selection and Doppel Offer
Our fall wine club selection is detailed below. If you are a six bottle or more club member, we are offering an additional 10% off with $1 shipping if you double your order. For example, a 6-bottle, 20% off Estate Club member would get a full case at 30% off, a discount of about $40 on that case of wine, plus shipping savings. If you would like to take advantage of this fantastische offer to stockpile a little wine for the holidays, please email us.
We will start billling the wine club October 25, but they are available for pickup now. We will ship wine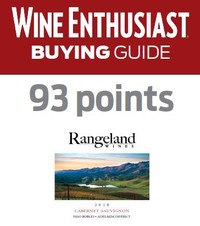 clubs starting November 2. Here is the fall selection:
2020 Grindstone, Sauvignon Blanc and Semillion
*2018 Cabernet, 93 points, Wine Enthusiast, new release
*2017 Limestone Reserve Cabernet
*2018 Petite Sirah
*2018 Mistletoe, 95 points, Sunset Intl. Competition
2018 Zinfandel
*denotes 4-bottle intro club selection
Please let us know by email if you'd like to customize your fall shipment. All the available wines are listed here. Please update your credit card and shipping information, if necessary, at www.RangelandWines.com. You can use your email address to retrieve your password to login.
Lamb Club
We have a limited supply of lamb this fall and will not be able to supply all of our club members. We will contact Lamb Club members by email about this shipment in the weeks ahead.
Harvest Festival, October 15-17, 11-5
We'll be serving grass-fed beef and lamb sliders on Saturday, October 16 and Sunday the 17th from 11 to 4. Charcuterie plates are available Thursday to Monday every week. We'll be pouring some new wine releases too--maybe even a barrel sample. Make a reservation now as this is always a busy weekend. We look forward to seeing you!
Full Moon Dinner, October 23, 6-9 pm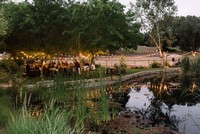 We'll be hosting another full moon dinner at the Rangeland tasting room hosted by Laird, Lisa and our new winemaker Alex Kemp. The menu will feature our delicious, homegrown, grass-fed beef skewers and lamb shanks, as well as tasty sausage and smoked meats from J&R Meats. All paired with Rangeland wines, of course. Seating is limited. Buy tickets here. $100 per guest.
Fall Pick-up Party, Saturday November 13, Noon to 2pm
It's been two years since our last pick-up party, and we've missed this annual gathering. We'll be serving a buffet of treats in the winery: our grass-fed beef chili, some delicious charcuterie, grilled lamb, and Lisa's famous cookies, of course. We'll be pouring the Fall Wine Club lineup, so you can taste, fall in love, and add to your order when you pick up your shipment. For club members only. Reserve your complimentary ticket. Space is limited.
Harvest 2021, Game On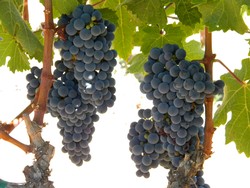 Do you ever feel trampled by the March of Time? Seems like we were just settling into summer, now our 2021 wine harvest has arrived! The Sauvignon Blanc grapes we purchase from Parrish Family Vineyards will be picked next Monday. Red varieties from our Adelaida Springs Ranch estate vineyard will start coming in the first half of September. So begins a 6 to 8 week harvest cycle that usually includes some long, anxious interludes of anticipation punctuated by peak days of overwork. Despite drought conditions, the vines are thriving and the crop looks good. We'll see what else Mother Nature serves us this year.
Wine Special: 10% Off 6+ Bottles of Cabernet
Cabernet Sauvignon comprises half of our 40 acre Adelaida Springs Ranch estate vineyard. Dark, energetic, and complex, Cabernet is the foundation and pivot point for several Rangeland wines, including our:
2017 Limestone Reserve Cabernet (100% Cab), $50
2017 Cabernet Sauvignon (93% Cab), $40
2017 Watershed Bordeaux-style blend (32% Cab), $40, 91 points, Wine Enthusiast
2018 Mistletoe (35% Cab + Syrah and more), 95 points, Sunset International Wine Competion, $29
As autumn nears, we start dreaming about savory, oven braised lamb stews and beef briskets--paired with Cabernet. Enable your dreams with the purchase of any six or more bottles of these Cabernet-based wines and receive 10% off your order (in addition to your club discount) and $1 shipping. You can mix and match. The special runs through September. Order by email.
Introducing Alex Kemp, Rangeland Winemaker
Our former winemaker Paul Hinschberger and his young family have moved to Hood River, Oregon. Paul leaves behind a six year saga of 90+ wine scores and many fond memories for Rangeland's crew and customers.
We are excited to introduce our new winemaker, Alex Kemp, formerly the assistant winemaker at Denner Vineyards. Alex studied wine and viticulture at Cal Poly San Luis Obispo. He is a ten year veteran of Paso harvests, having interned or worked at Eberle, Sextant, Brecon and Alta Colina. He has also worked harvests on a few continents, including Australia, New Zealand, and South America. You will notice his intensity and enthusiasm right away. Welcome aboard Alex for harvest 2021!
Fall Event Schedule
We are planning for fall events, hoping the world continues to right itself. Here's what's on the calendar:
Harvest Festival, October 15-17, 11-5
We'll be serving grass-fed beef and lamb sliders on Saturday and Sunday only from 11 to 4. Charcuterie plates are available every day. We'll be pouring some new wine releases too--maybe even a barrel sample. Make a reservation now as this is always a busy weekend. We look forward to seeing you!
Full Moon Dinner, October 23, 6-9 pm
We'll be hosting another full moon dinner at the Rangeland tasting room. The menu will feature our delicious, homegrown, grass-fed beef and lamb, as well as tasty sausage and smoked meats from J&R Meats. All paired with Rangeland wines, of course. Seating is limited. Buy a ticket here. $100 per guest.
Fall Pick-up Party, Saturday November 13, Noon to 2pm
It's been a couple of years since our last fall pick-up party, and we've missed this annual gathering. We'll be serving a buffet of treats in the winery: our grass-fed beef chili, some delicious charcuterie, grilled lamb, and Lisa's famous cookies, of course. We'll be pouring the Fall Wine Club lineup (more on that later), so you can taste, fall in love, and add to your order when you pick up your shipment. Reservations will be required, and space is limited. Save the date and watch our next newsletter for reservation details.
Beef & Bay Leaves
This year our beef club members will receive a jar of Adelaida Springs Ranch bay leaves in their club box. We have dozens of large, fragrant Bay Laurel trees growing alongside shady creeks and near the natural springs on our ranch. The leaves were picked, dried and packed by Lisa & Courtney. Here's a classic beef stew recipe (adapted from the New York Times) that puts the fragrant bay leaf to good use!
Grass-Fed Beef Stew
Ingredients
1/4 cup all-purpose flour
1/2 teaspoon freshly ground black pepper
2 teaspoons salt
1 lb. grass-fed beef stew meat, cut into 1" pieces
3-5 teaspoons olive oil
2 Tablespoons red wine vinegar
1 cup red wine
3 1/2 cups beef broth
2 bay leaves
1 medium onion, peeled and chopped
5 medium carrots, peeled and cut into 1/4-inch rounds
2 large baking potaotes, peeled and cubed
1 cup frozen peas (optional)
1. Combine flour and pepper in bowl, add beef and toss to coat.
2. On medium setting, heat 3 teaspoons olive oil in dutch oven or large pot. Salt the beef and then add to the pot in batches; don't overcrowd.
3. Cook, turning until browned on all sides, about 5 minutes per batch. Add more oil as needed.
4. Remove beef from the pot and add wine vinegar and red wine. Cook for 1-2 minutes over medium-high heat, scraping to loosen any browned bits.
5. Add beef, broth, and bay leaves. Bring to a boil and then reduce to a slow simmer.
6. Cover and cook until beef is tender, about 1.5 hours. Check occasionally and add more broth as needed.
7. Add onions and carrots and cook 10 minutes. Add potatoes and cook about 20 minutes more until all veggies are tender. Add peas if using, and cook another 5 minutes.
8. Season with salt and pepper to taste. Serves 4-5. Pair with a good bread and any Rangeland wine!
Contents: Beef Club, Mistletoe Scores, Dinner Event, Big Three-Hearted Oak
Beef Club in Process, Price Increase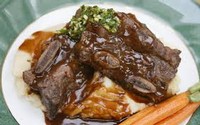 As we sort our cuts and pack our beef club boxes for the 12th year, I am reminded how priviliged we are to grow this wonderful food. We start with well-bred Angus cattle grazing naturally in our home pasture. This produces intensely flavorful and nutritious grass-fed meat that we are happy to eat and proud to serve and sell.
Despite a heavy storm in January, our rainfall was only about half of average this year. Due to drought conditions that limited forage, we've had to reduce our herd and supplement with expensive hay. So we have to raise our prices to sustain our beef production. With this shipment you will see your 25 lb. beef club box rise to $280 (up from $240). The list price of our 25 lb box is now $350, before club discounts. Even with the price increase, club members pay just $11.20 per lb. for this estate raised beef. Order here.
We will be billing our beef club members next week. If you need to update your shipping or billing info, please log into RangelandWines.com. Club pickups begin July 1 at J&R Meats in Paso. Or you can make an appointment to pickup at the Rangeland tasting room by emailing tasting room manager Michelle Minton. We will begin shipping the Beef Club July 12.
Double Gold for Rangeland, Again!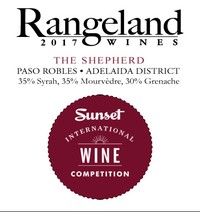 Our 2018 Mistletoe ($29) was blessed with a double gold medal and a 95 point score in the Sunset International Wine Competition. Mistletoe is an utterly Paso blend that includes Cabernet, Syrah, Petite Verdot and Grenache. It's one of the great values in the world of wine. Our 2017 Limestone Reserve Cabernet and 2018 Shepherd blend of Rhone varieties (Grenache, Syrah and Mourvedre) also received gold medals and 90 point scores in this competition. Congrats to Winemaker Paul Hinschberger. You can order these wines here.
Full Moon Dinner July 24
As we ease back to normal, we are beginning to plan events again. We started the Full Moon Dinner series last year because we noticed that our wines show beautifully at this time. We will be hosting an evening dinner on the lawn of the Rangeland tasting room on July 24 from 6:30 to 9:30. The meal will feature our estate-grown beef and lamb, paired with a stellar (lunar?) line up of Rangeland Wines. Tickets are $90 before club discounts. Order here.
Big Three-Hearted Oak Table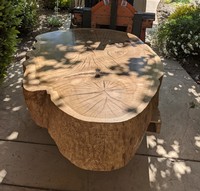 Some of you will remember the huge oak tree that came down in the spring of 2019, just after our last Field Day event. The massive deadfall trunk still lays behind the barn near the tasting room. We had a slice cut out of the stump with a 7 foot chainsaw and made into a massive pub table, which is now on display in our tasting room. It reveals a triple trunked tree with three conjoined hearts. Its compoundly concentric whorls are profoundly beautiful and complex. A rough count of the tree rings indicates the tree was 130 years old when it fell. That means it was a sappling at about the time the train line was first extended south through the Salinas Valley to Templeton. So much has happened since then, both locally and the world over, that we have to call it a true heritage oak. I become reverent and a little wistful in the presence of such a durable, natural reminder of passing time. Stop and pay it homage, the next time you visit Rangeland, and let your conjoined heart swell.
Contents: Fresh New Wine, Doppel Deja Vu, Wine Fest Goodies, Spring Abundance
Announcing El Joven 2020, A Fresh Red Wine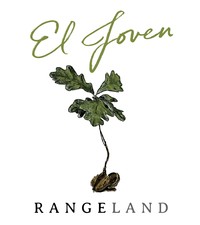 Our winemaker Paul Hinschberger has a new brainchild, inspired by young, unaged Spanish reds (vino joven). These wines are meant to be consumed within 18 months of harvest, traditionally with a casual lunch or picnic. I like the way these Spaniards think: wine for lunch! We are calling our 2020 red blend El Joven (80% merlot, 20% petit verdot, aged 4 months in concrete, screwcap closure). Rough translation: the youngster. Recently bottled, it is tasting as fresh, fruity and lively as the name suggests, with a depth of savory expression that is surprising for a mere wine child. We begin pouring it at the tasting room this week. I've successfully paired El Joven with Rangeland grass-fed beef tacos and with Lisa's wonderful tortilla chicken soup. We love this wine but we are pricing it for early and frequent enjoyment at $20 per bottle before club discounts. Order here. We are also offering an introductory special at $200 per 12 bottle case before discounts. Order by the case here. A wine for the people!
Doppel Deja Vu, New Members Also Invited
It's been a few weeks since most of you received your wine club shipments. You've probably torn into the goodie box and glugged a couple (all?) of your favorites already. So if any of you would like to reorder your club shipment and double it, we are offering an additoinal 10% discount off your usual price. Please note that the 2016 Limestone Reserve Cabenet has sold out, so we'll have to substitute the very nice 2017 Cabernet for that wine. If you haven't yet joined the club, we are extending this offering to new members. You can join the 6 bottle Estate Wine Club (normally a 20% discount) and get a case for 30% off. El Joven is not eligible for the Doppel Club discount. Email Michelle if you want to reorder and double your wine club.
Wine Fest, Butter and Garlic
Paso Robles Wine Festival is this weekend, May 20-23. On Saturday and Sunday, we will be serving a special menu of ranch oak barbecued grass-fed beef tri tip or grass-fed lamb sandwiches on toasted sourdough which has been drown-ded (that's a technical culinary term) in garlic butter. We are heavily booked on Saturday but we have some openings on Sunday. Reserve your seating for an outdoor tasting and food here.
Abundance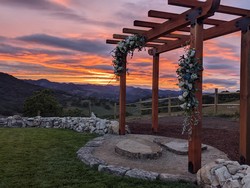 As the grass dries and the season turns toward a likely hot and droughty summer here in Paso Robles, I am reflecting on a spring that was extraordinarily rich in gifts. Spring on the ranch is a fecund time of baby calves and lambs, new green leaves, blooming grapevines and fields of wildflowers. This season seemed especially refulgent as society reopened and the threat of disease began to fade. Happy exposed faces with big smiles are once again becoming the norm as we ease back into freedom.
On a personal note, our eldest son Samuel married his lovely bride Samantha (yup, that's Sam + Sam) on a beautiful April day at the ranch. My son Jackson and daughter Angie (both sometime denizens of the tasting room) were in the small wedding party. All performed with a grace and maturity that left me spellbound and humbled. After hearing the heartfelt and devoted vows, I confessed to Sam that it was a shock for me to realize that he is possibly more of a grown-up than I am. He smiled and said, "Dad, I've known this for a long time." Touché Foshay! Well, we can't be grown-up all the time. So I lost my shit as usual on the wedding dance floor. They had to help me up and retriieve my reading glasses after the "gator." I have been recovering ever since. Click here for a slideshow of spring images, including some short videos, from Rangeland.
Contents: Spring Wine Club, Tasting Room Open, Looming Drought, Small Verse
Spring Wine Club, Doppel Offer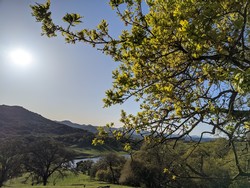 I can't remember a time when so many of our wines were tasting as wonderful as they are right now. Maybe it's the warm spring weather. Or maybe our senses are heightened by optimism that better times lie ahead.
Our Rangeland spring Wine Club selection has several delicious new releases, detailed below. If you are a six bottle or case club member, we are offering an additional 10% off with $1 shipping if you double your order. For example, a 6-bottle, 20% discount Estate Club member would get a full case at 30% off, a savings of about $40 on that case of wine, plus shipping savings. Please let us know by email if you'd like to double your club order.
We will start billling the wine club April 15 and your shipment will be available for pickup starting April 20. We will begin to ship wine clubs the week of April 26. Here are the wines we are planning to include:
2020 Flora Rosé* - new release! (or 2018 Zinfandel for reds only members)
2016 Limestone Reserve Cabernet* (94 pts)
2017 Watershed-new!
2017 Ultramafic Merlot*-new!
2017 Petite Sirah*
2018 Shepherd GSM-new!
*denotes 4-bottle Intro Club selection
Please let us know by email if you'd like to customize your spring shipment. All the available wines are listed here. Please update your credit card and shipping information, if necessary, at www.RangelandWines.com. You can use your email address to retrieve your login password.
Tasting Room Open
We continue to offer outdoor tasting Thursday to Monday, with charcuterie plates available, 11 to 5. We are serving our estate grown grass-fed burgers every Saturday and Sunday, 11 to 4. Reservations recommended.
Anxious Spring as Drought Looms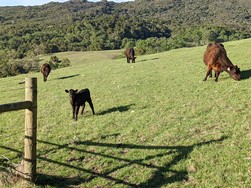 We have had only 1.5 inches of rainfall since January's atmospheric river walloped us with 15 inches in two days. Our total for the rainfall year (July 1 to June 30) is just 18.5 inches, or 54% of average. Cal Poly San Luis Obispo recorded the driest back-to-back Februarys in 152 years of rainfall records. Our central coast region is officially classified as abnormally dry. Much of the rest Califorinia, which did not benefit from a direct hit by the January storm, is already in drought.
So although the hills are green with new grass and fresh oak leaves, we are worried about the looming drought conditions. The grape vines will do fine this year and we have ample irrigation water from a full lake--the one pictured on our wine label. But we will pay higher electrical bills to pump the water to our drip irrigated vines and more labor to monitor and maintain the system.
The cattle and sheep operation is much more impacted by the drought. Our pastures germinated late due to dry and cold conditions. We also lost access to hundreds of acres of neighboring leased pasture over the last couple of years. So we are supplementing our livestock's grass-fed diet with daily rations of expensive hay. We are planning a herd reduction and hoping to hang on to enough cows to keep our beef club viable in the years ahead.
The ranchers life...is not all work and worry though. I get to spend time working outdoors, close to nature, in one the most beautiful places on earth. Here is a little poem I wrote recently to savor one crystaline moment. I call this one:
Spring Morning
Fat doves squat fluffy in the warm gravel road
Great gnarled oaks unfurl their fresh leaves
Silvery green in the morning mist
White tattered feathers of fog part ragged
Revealing the topaz immensity of the California sky
Below is a glimpse into the management style of your slightly deranged Rangeland rancher and vintner. I recently sent this email to my ranch manager.
Dear Dane,
I write to you from a hospital bed in Templeton. This saga began about 6pm yesterday when I went to grab the Ram pickup to feed the sheep.
When I started to load the hay, I found to my dismay and consternation, the tailgate latch handle entirely missing. So I soldiered ahead by loading the 100 lb hay bale _over_ the tailgate. Onward to the sheep, where I climbed up into the truck to toss hay into the pen. I noticed that, between the alfalfa and bare metal pickup bed, I had quite the skating rink underfoot. I also noticed the hay hooks could be stowed more safely. No problem, I surmised, I can handle this. The first flake-toss went smoothly. On the second toss, however, my feet started to go. Soon I was high stepping like Charlie Chaplin on methamphetamine, trying to regain my footing. Then my feet went high and my ass low as I flopped with clunk and a meaty stabbing sound, flat to the truck bed with a hay hook buried in my back.
At this point, I was disoriented from shock and feeling somewhat uncomfortable from the do-dad stuck between my back ribs. I was having trouble catching my breath, probably due to my collapsed lung. I worked my way upright, lowered myself gingerly from the truck bed and began to walk for home. I hadn't gone far when my greatest fear, my worst nightmare was realized. I was slammed forward to the ground from behind.
I saw stars as I hit the ground and felt the gravel grind my forehead to the bone. My limbs and back were being gripped and clawed by four slashing paws of a big cat while his full weight drove the hay hook deeper and pinned me to the ground. The hook ground noticeably against my ribs and perforated my innards further. The cougar's teeth hammered my skull and gnawed relentlessly as I struggled to free my leatherman and open the blade. After a long wrestle, I was able to roll over to my back and--onto the hay hook! The new pain caused me to lurch and scream maniacally as I faced the cat for the first time. Startled by my convulsions, he whipped his blood and slobber-soaked muzzle from side to side, bearing his huge choppers in a blood soaked, demonic snarl. I was exploding now with adrenaline, I jabbed my thumb into his left eye socket while I drove my trusty steel into his neck, just below the powerful jaw. Hot blood burst from his neck and I soon felt the life recede from his powerful body. The lion gurgled his last as I heaved his carcass to the side and lurched to my feet. I staggered home and passed out at Lisa's feet.
The doctors sewed me up with 171 stitches. They think my lung and ruptured liver (toughened by years of enthusiastic alcohol consumption) will eventually heal. Lisa may never forgive me about the blood stains on her white leather Tesla interior as she rushed me to the ER.
This story is based on a real event. The tailgate latch on the pickup was broken. All other events are an elaboration on this rock solid foundation of truth. The moral of this story is, you should always tell your boss if something is broken and see that it is repaired in a timely fashion.
Laird Foshay
Adelaida Springs Ranch, home of preposterously good Rangeland wines and meats
You know you want to
Sign Up For Our Newsletter
Keep up to date on the latest wine releases, events, and promotions and get 10% off your next order.