Beef & Bay Leaves
This year our beef club members will receive a jar of Adelaida Springs Ranch bay leaves in their club box. We have dozens of large, fragrant Bay Laurel trees growing alongside shady creeks and near the natural springs on our ranch. The leaves were picked, dried and packed by Lisa & Courtney. Here's a classic beef stew recipe (adapted from the New York Times) that puts the fragrant bay leaf to good use!
Grass-Fed Beef Stew
Ingredients
1/4 cup all-purpose flour
1/2 teaspoon freshly ground black pepper
2 teaspoons salt
1 lb. grass-fed beef stew meat, cut into 1" pieces
3-5 teaspoons olive oil
2 Tablespoons red wine vinegar
1 cup red wine
3 1/2 cups beef broth
2 bay leaves
1 medium onion, peeled and chopped
5 medium carrots, peeled and cut into 1/4-inch rounds
2 large baking potaotes, peeled and cubed
1 cup frozen peas (optional)
1. Combine flour and pepper in bowl, add beef and toss to coat.
2. On medium setting, heat 3 teaspoons olive oil in dutch oven or large pot. Salt the beef and then add to the pot in batches; don't overcrowd.
3. Cook, turning until browned on all sides, about 5 minutes per batch. Add more oil as needed.
4. Remove beef from the pot and add wine vinegar and red wine. Cook for 1-2 minutes over medium-high heat, scraping to loosen any browned bits.
5. Add beef, broth, and bay leaves. Bring to a boil and then reduce to a slow simmer.
6. Cover and cook until beef is tender, about 1.5 hours. Check occasionally and add more broth as needed.
7. Add onions and carrots and cook 10 minutes. Add potatoes and cook about 20 minutes more until all veggies are tender. Add peas if using, and cook another 5 minutes.
8. Season with salt and pepper to taste. Serves 4-5. Pair with a good bread and any Rangeland wine!
We often get questions regarding how to cook the tougher or less well-known cuts of both our lamb and beef. Last night we made braised lamb shoulder chops and neck chops and the results were outstanding! We used one package (2 chops) of lamb shoulder chops, and one package (2 smaller pieces) of neck, about 2.5 pounds of meat. The long braise made for a fall-off-the-bone, tender meat. We made this in our favorite cast iron dutch oven, but you could easily put this on low and cook all day in your crock pot. Enjoy!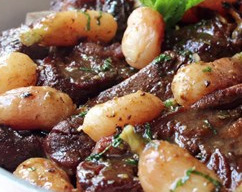 Braised Lamb Shoulder Chops and Neck Meat
1 Tablespoon olive oil
2-3 pounds shoulder chops and/or packaged neck slices (we used one package, of each, a total of 4 pieces)
Salt and freshly ground black pepper
1 small yellow onion, sliced
4 garlic cloves, minced
1 Tablespoon chopped fresh rosemary (or to taste, we used less)
1 cup beef broth
1 cup red wine (we used Rangeland Zinfandel!)
6 ounces fingerling potatoes (we used Yukon gold)
2 Tablespoons cornstarch
1/2 cup water
1 Tablespoon Worcestershire sauce
1. Preheat oven to 300 degrees F.
2. In dutch oven or large skillet, heat olive oil over medium high heat. Season lamb with salt and pepper. Sear lamb in hot oil until browned, 1-2 minutes per side. Remove chops to a plate, reserving pan drippings.
3. Saute' onion in reserved drippings until tender, about 4 minutes. Add garlic and stir for one minute. Remove onion mixture to a small bowl.
4. Return lamb to dutch oven, or, if cooking in crock pot, place in crockpot. Add onion mixture and sprinkle rosemary over the chops. Pour beef broth and red wine into dutch oven or crockpot and cover.
5. Place dutch oven in oven and cook for 3 hours. About 2 hours 45 minutes, add potatoes, stirring in (the potatoes don't have to be fully emerged in liquid to cook). When potatoes or tender, remove pot from oven.
6. Remove lamb and potatoes to a serving platter; cover and keep warm.
7. Heat remaining liquid and onions on stovetop over medium heat. Beat cornstarch and water together in a bowl using a whisk to assure no lumps remain. Stir into liquid in pot. Add Worcestershire sauce and cook until the liquid thickens into a gravy, about 10 minutes. Serve gravy with lamb and potatoes.
We had a great turn out for our first ever Library Vertical tasting last Saturday. It was a fun and lively group and the wines and the weather could not have been better. We had many requests for the lunch recipe, which is in the link below. I used this recipe for both the lamb and beef pies. For the beef pies I used stew meat and a top round roast. For the lamb pies, I used shoulder chop meat, stew meat and shanks. Enjoy!

http://www.bonappetit.com/recipe/beef-bourguignonne-pot-pie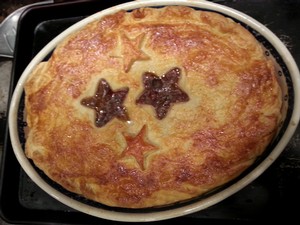 We loved having club members out to our pickup party last Saturday--the weather was warm and beautiful, the wine was tasty and the company was terrific. We had several requests for recipes, so here they are. We hope you enjoy!
MINTY LAMB POPS
For this recipe we used rack meat, cut into individual chops. We marinated the chops overnight.
Ingredients
1/2 cup best olive oil
1/2 cup freshly squeezed lemon juice
1/4 cup honey
4 cloves garlic, minced
1/2 small onion, minced
1/4 cup minced mint leaves
1/4 cup minced parsley leaves
1 teaspoon minced rosemary leaves
1 teaspoon minced oregano leaves
2 pounds of chops
Salt
Freshly ground black pepper

Directions
1. in a non-reactive bowl, combine the olive oil, lemon juice, honey, garlic, onion, mint, parsley, rosemary and oregano. Add the lamb and toss to coat well. Marinate in the refrigerator at least 4 hours. (Can be marinated in gallon ziplocks).

2. Remove the meat from the refrigerator 30-60 minutes before cooking. Preheat the grill or a grill pan on high.

3. Salt and pepper chops, and then grill to the desired doneness, about 3-4 minutes per side for medium to medium rare. Serve immediately.


MARINATED LEMONY LAMB KABOBS
For this recipe we used leg meat, cut into 1-inch chunks. O-bone chops, stew meat or shoulder chops could also be used. The marinade tenderizes these tougher cuts of lamb.

Ingredients
1 pound plain yogurt (regular or lowfat)
1/4 cup good olive oil, plus more for brushing grill
1 teaspoon lemon zest
1/4 cup freshly squeezed lemon juice
5 Tablesppons fresh whole rosemary leaves
1 teaspoon kosher salt
1/2 teaspoon ground black pepper
2 pounds lamb meat, cut into 1" cubes

Directions
1. Combine the yogurt, olive oil, lemon zest, lemon juice, rosemary, salt and pepper in a large, non-reactive bowl. Add the lamb chunks, and stir to make sure every piece is covered. Cover with plastic wrap and refrigerate overnight.

2. Soak wooden skewers (if using) for 30-60 minutes before cooking.

3. Thread 3-5 pieces of lamb per skewer, alternating with vegetables of your choice.

4. Salt and pepper both sides. Place on hot grill and cookr for 6-8 minutes, turning 2-3 times, until the lamb is medium rare.


Beef and Lamb Now Available
For the first time in more than a year, we have both beef and lamb available for sale on our website. We've changed our beef club format to once a year, which allows us to serve more customers. You can order (or reorder) any time, while supplies last. Our 25-pound beef box is $225 and our 20 pound lamb share is $250, before club discounts; your beef or wine club discounts automatically apply to all purchases. We also have plenty of ground beef available, which continues to be a best-seller. We offer the ground beef in 10 and 20 pound boxes, to be picked up at J&R in Paso, at the ranch by appointment, or shipped anywhere in CA.
Mistletoe 2012 Wins Best of Cabernet Blends
Our 2012 Mistletoe won Gold at the Central Coast Wine Competition—Best of Cabernet Blends! It was featured at the Mid-State Fair by the glass and is newly released and available on our website. 2012 was a hot year, resulting in a fruity, powerful wine with more vivid tannins than any other vintage thus far. It's drinking beautifully and is a real crowd-pleaser. We have also released the 2012 GSM and Zinfandel, which share the exuberant personality of the vintage. Think Big. Think Fun. But these wines are still balanced by that trademark Rangeland acidity and freshness. You can order any of our wines from www.rangelandwines.com/Wines.
Rangeland Winemaker Dinner at Second Press in Paso Robles, August 7
Second Press Restaurant, on the park in downtown Paso, is hosting a Rangeland winemaker dinner at 6pm on August 7. The 4 course meal will feature fresh, estate raised grass-fed lamb, paired with Rangeland wines. Winemaker Shannon Gustafson and Chef Ryan Swarthout will host the dinner, and Laird and Lisa Foshay will be there to explain our growning practices and enjoy your company. Cost is $60/person, $50 for wine club members. Contact Second Press for reservations at 805-226-7500.
Vineyard Update
Veraison is occurring throughout the vineyard as we write. Veraison, a French term meaning "onset of ripening", marks the transition from berry growth to berry ripening, from green, hard grapes to soft purple clusters. Drought conditions mean smaller berries, which raises the ratio of skins--which carry much of the wine flavor, color and texture--to juice. So expect another dark, powerful vintage from 2014. Because we've had a hot, dry year, we expect to be harvesting full steam in September.
Drought Report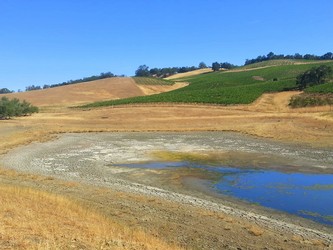 Naturally the drought has had an effect on our ranch and our businesses. Our lake, pictured here, is the lowest it's ever been. This was the first year since we've bought the ranch in 2000 that the lake didn't spill over during winter and, by local legend, the first year it did not fill since it was built in the 1940s. We've using it for irrigation all season, and even though we're pumping well water back into the lake continuously, it hasn't been able to keep up with use and evaporation. All year we've been developing new spring water sources and hope to get through to grape harvest and winter without further livestock herd reductions or expensive hay purchases. We are hoping for a rainy winter, and looking forward to complaining about the wet for a change. Bring it, Mother Nature!
This year's drought forced us to sell about 30 cows in January, since we didn't have enough feed for our entire herd. The drought coincided with a beef club waiting list of more than 100 people, which caused us to rethink our Beef Club. Rather than delivering club boxes twice a year (July and November), we are now offering the beef club only once a year, right after the beef harvest in July.
We had a rushed and exhausting harvest this year; it arrived early and was particularly relentless. In other years we've picked grapes for a few days, then had a few days "off," then picked some more--harvest usually strolls along like that for about 6 weeks. But this autumn, we picked day after day after day, followed by night after night in the winery. I hardly had time to feel sad about my youngest child's move to UC Santa Barbara. Thankfully she was very organized about gathering the essential goods and packing. We dropped her off on a stunningly warm and beautiful Sunday in late September.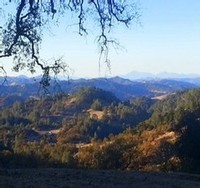 Angeline came home for the Thanksgiving holiday Tuesday night, and Wednesday afternoon we went for a long stroll on the west side of the ranch. We were searching for botanicals for the 2013 Flora Rose' label. We had a few plants in mind and set out to find some good samples to photograph. I had Laird's small Nikon and Angie had her trusty iphone. Last year's winning picture of Bay Laurel for our Rose' label was taken with her phone--technology is pretty amazing. We were hoping to get pictures of plants in the field and to collect some for more photographing against a white background at home.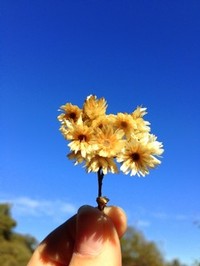 So about wine labels: every label must be approved by the federal government before it can be printed and applied to a bottle of wine. Naturally, organizing our work around the approval of the sluggish Bureau of Alcohol and Tobacco Tax and Trade (TTB) can be frustrating. Usually we set our two bottling dates (early April, late August) months in advance, and work backwards from there to get the label ready. There is often a backlog at the Bureau, anywhere from several weeks to several months, making label approval one more thing our winemaker Shannon has to worry about. For most of our varietals, the label changes are very minor: just updating the year on the front label, the percentage of alcohol, and the percentage breakdown of any blends. But with the Flora Rose' we change the picture and the description on the back label each vintage, and are almost always surprised that it is once again that time of year--a scramble to select a botanical for the label.
Throughout the year I try to take pictures of wildflowers so that we have plenty to choose from; we have a pretty good selection on the computer. But this year we had other plans. There aren't many flowering plants in the winter, but we knew of a few that we particularly love. Pearly Everlasting (anaphalis margaritacea) blooms in summer and bears many clusters of small white blossoms. They dry out in the fall and are a sturdy, pretty, cream-colored dry flower (hence the everlasting). They also have a distinctive butterscotchy, brown sugar fragrance when you crush the flowers in your fingers. It's a food plant for butterflies and was used by Native Americans as a salve for burns. Angeline and I found several specimens on the rocky, sagebrush trail to our springs. We experimented with photographing the plant as it stands, and holding it up against the blue sky.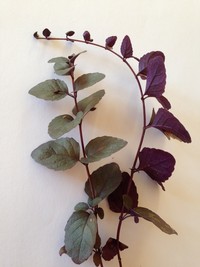 We were also looking for Yerba Buena (Clinopoduim douglasii), a native mint plant that grows under oaks and alongside shady creeks, low and runner-like in the rich soil. Yerba Buena is the common name, which means good herb in Spanish. The first we came upon were dried and gray; the drought has definitely affected the plant life on the ranch this year. But once we got to our springs, where the sunlight barely filters in and lush ferns and madrone grow, we found some beautiful samples. The leaves are almost heart shaped, and a vivid purple on the underside. The plant has a strong minty scent and was used medicinally by natives. Laird and Nathan had been cutting wood earlier in the week, beneath an oak, and Laird had waxed poetic about the cool sunny day, with the scent of crushed mint wafting up from beneath their boots. That's what gave me the idea to hunt this plant down and possibly feature it on our label.
While at the springs we checked the level of Lake Rufus, which was quite low. This lake (a small pond, really) was named after our now departed chocolate lab, who spend many summer up there while Laird and the boys developed our water system. Rufus was always game for a wet fetch or swim. The water level was way down, but even so Arrow, our tireless fetcher, could not be persuaded to get his pretty white feet wet. There were dozens of fat goldfish swimming around, the survivors of a bucket of cheap goldfish that Angie and her cousin doled out in every trough and pond one long ago summer. They are surprisingly hearty.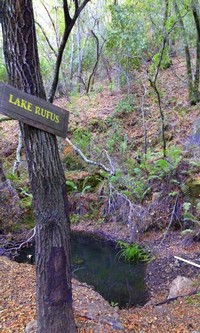 We tromped back to the car with our samples and Angeline held them carefully as we drove home. We hope you'll like our new label when Rangeland's Flora Rose' 2013 is released next spring.
This is a Foshay family favorite, and a perfect winter dish. It's also a really good way to use some of the tougher cuts of the beef: think chuck, clod, or round roasts, and boneless chuck steaks. If the roast is large enough, you can cube it and perhaps double the recipe--one for dinner, and one for the freezer. You can skip the chive crust and use a puff pastry sheet from your freezer; I almost always go that route. One sheet, defrosted and lightly rolled out, will cover a 9x13, making this dish even easier to assemble. If you do set one aside for the freezer, don't add the crust until you're ready to bake. Defrost the pie in your refrigerator for the day before you pop it in the oven.
http://www.myrecipes.com/recipe/beef-leek-potpie-with-chive-crust-10000001714572/
Late in the afternoon I decided to walk to our little rental house to check on the garden. I pulled my cowboy boots on (baby snake season!) called Silver the dog and we set off on our 2 mile jaunt. The clover and vetch on the way down to the lake was thick and buzzing with bees. We came right upon a huge ground squirrel mound with the squirrel sitting right at the "door". Silver couldn't quite believe his luck; in his second of hesitation the squirrel dove into his hole. Silver went after him, squirrel squeaking, Silver digging and tossing aside clumps of sod with his mouth. I kept on down the hill and finally had to call him off the hunt.
Right in the middle of the road I found two halves of a fragile, palest blue bird egg. I put a half on each of my thumbs, so I wouldn't crush them while I walked.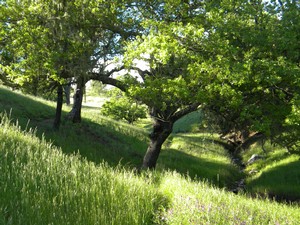 The grass on the flats was tall and green, and the wind was blowing slightly. I took a shortcut to the house across the field and over the little creek. The grasses were soft and waving in the breeze and came up to my thighs. I was reminded of the scene in Gladiator when Maximus is walking towards his home, through the golden grain fields, haunting music, his hand brushing the grass. It felt very sacred and still as I walked with my fingers spread. But with my thumbs up---the egg shells! At the little house the garden had gone wild with weeds; the roses, left unpruned this year, are going nuts too. Maybe the secret to the perfect garden is a little bit of neglect?
As I walked back home up the big, big hill, huffing and puffing a little, the rams and young male lambs in the pasture below the house greeted me. On the very last push, up the bank to the patio, I saw my one and only snake. A baby king snake about 6 inches long, starkly black with white bands, the width of a pencil. He squiggled up the hill as my shadow crossed his path.

We have harvested, dry-aged and boxed our first lamb crop from the Ranch. Based on early sampling, the meat is mild, lean and succulent. We are now offering our Lamb Shares (half a lamb). If you are a wine or beef club member, your 20% club discount will apply to each 20 lb. Lamb Share box ($225 list price), which will include:
1 rack
1 loin, cut into 1" chops
sirloin and shoulder chops
2 leg roasts
2 shanks
riblets and stew meat
a few lbs. of ground lamb and sausage, in 1 lb. packages
The lamb can be pickedup starting April 28 at Field Day and can be picked-up at J&R or shipped starting April 29.
You know you want to
Sign Up For Our Newsletter
Keep up to date on the latest wine releases, events, and promotions and get 10% off your next order.