Contents: Wine Special, Vacation Rental, Winemaker Dinner
Rangeland vs. Inflation
Our government thinks it can reduce inflation by spending more, but I have a better idea. I'm going to lower prices on some remaining 2018 Rangeland cases to brighten up your August. This will help put some power back in our sails, no pun intended, which are fluttering slightly in the recessionary headwinds. Also it makes me feel like an inflation fighting superhero.
2018 Limestone Reserve ($55/bottle list price), just $399 per 12 bottle case or just $33.25 per bottle, before your club discount. Exotic aromas, dark fruit flavors, trademark acidity and a haunting finish. Pow! Shipping included. Order here.
2018 Watershed ($45/bottle list) $360 per 12 bottle case or just $30 per bottle, before your club discount. Savory scents, herbal complexity and a vividly tannic finish are highlights of this rustic beauty. Hiyah! Shipping included. Order here.
2018 Ultramafic Merlot, ($45/bottle list) $360 per 12 bottle case or just $30 per bottle, before your club discount. Welcome to the dark side of Merlot: brooding, supple, lingering. Kablooee! Shipping included. Order here.
All kidding aside, these are wonderful wines at outstanding prices. Full cases only. This offer is valid only through Labor Day, September 5. Order here.
Vineyard View Vacation Rental: Open Dates!
We have a few openings in August, September and October. Our 3BR, 2BA Vineyard View Cottage has a spacious deck and lawn, outdoor BBQ and hot tub, and lots of room inside for relaxing with a glass of Rangeland wine. And, you have access to the grounds of our tasting room during and after hours--coffee by the pond? Wine at the top of the hill? Whatever you desire! Book here.
Winemaker Dinner October 15
We have changed the date for our next winemaker dinner from September 11 to Saturday, October 15, from 6-9pm. Join Winemaker Alex Kemp and the Rangeland crew on the tasting room lawn next to the pond. We'll be serving estate raised, ranch oak seared, grass-fed beef tenderloin steaks accompanied by seasonal greens and root veggies. These will be preceded by a few appetizers including grilled J&R Meats local sausage. Dessert to be determined. Rangeland wines will paired throughout. $100 per guest before club discounts. Purchase tickets here.
Mistletoe Release Special
Years ago I was making wine from my new vineyard in the family cellar. We bottled a curious blend at a holiday party and a great time was had by all. Good cheer, a feeling of love and some actual lust ensued. We called the wine Mistletoe in appreciation of the season and the countless local oak trees that bear the picturesque bundles of this hemiparasite. Look it up. Myth would have it that mistletoe bestows fertility, protects against poisons, wards off evil spirits, and is an aphrodisiac. But I wouldn't know anything about that, baby.
Well, people have been asking about our 2019 Mistletoe. Our tasting room manager Michelle has had to ward off hundreds of inquiries since the 2018 Mistletoe sold out in a blaze of glory last year. So we are bringing a little Christmas cheer to July and unleashing the 2019 Mistletoe kraken.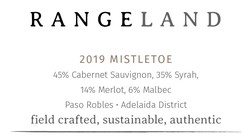 As in previous vintages, the 2019 Mistletoe includes Cabernet and Syrah, which is the unconventional hero among Paso blends. It was awarded a gold medal and 93 points in the prestigious Sunset International Wine Competition. Its beautiful dark garnet color yields sagey aromas. A mid-palate of raspberry compote is energized by vivid acidity. It finishes with silky tannins and savory notes of baking spice. I recently brought a case home to trial. My family and guests wiped it out in a matter of days, with the following profound commentary: "Yummm."
For July only, we are offering a 12 bottle case of Rangeland 2018 Mistletoe for $300, shipping included, plus your club discount. That's just $25 per bottle versus the list price of $35, plus your discount. Order here.
Contents: Quiet Time?, Dinner June 18, Watershed Terroir, Beef Club News, Vineyard Vacay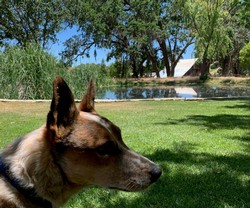 Summer has a different rhythm at Rangeland. The tasting room is quieter while customers are elsewhere with graduations, weddings and vacations. Our team stays busy with many behind-the-scenes projects. Winemaker Alex Kemp is prepping for a big July 1 bottling of our 2020 red wines. He's racking, sampling and blending. He's ordering supplies like bottles, corks, labels, nitrogen tanks and more. The wines have been tasting beautiful and they are ready to bottle age. We have to make room in the barrels and tanks for the upcoming harvest. In the vineyard we're mowing, tilling, irrigating, shoot thinning, lifting trellis wires and working on the vine canopy. Not to mention the endless battle against rodents. Lisa and I will spend a few days in the meat shop sorting and packing our beef into club boxes and shipping to customers. We should probably delegate this task but my wife is a meat packin' mama and she won't let go. Love her for that. In July we'll gather all our cattle for the annual calf branding and health check. Theorectically we'll get a chance to kick back before grape harvest, which will likely commence by Labor Day, but I ain't countin' on it.
Full Moon Dinner, June 18 6-9 pm at the Ranch
We still have a few seats available for the Full Moon Dinner at our Adelaida Springs Ranch ranch--you'll enjoy a great meal featuring our own beef, lamb, some tasty J&R meats, and of course our delicious wines. Since June's full moon is called the strawberry moon, expect some berry fine desserts! Dress is casual, the 50 mile views of the Coast Range are magnificent--we hope to see you there! Tickets are $100/guest, before your club discount. Order tickets here.
The Watershed 2018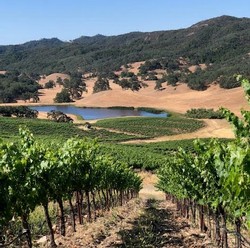 The name of our Bordeaux-style cabernet blend derives from our vineyard location, which is planted on a divide, or watershed, between the Jack Creek and Las Tablas Creek drainages. That's appropriate, because we are crafting a wine that expresses our vineyard and environs. A wine of place. Our Adelaida Springs Ranch is just inside the Santa Lucia Coast Range, on the far western frontier of Paso Robles Adelaida District. The 2018 Watershed, like the hills around the vineyard, is redolent of bay and chaparral. It echoes the vibrancy of our calcareous limestone soils and the suave, dusty richness of our sandstone soils. The Watershed is rustically tart, textural and energetic on the palate. It notably complex, with dark fruit and herbaceous highlights, woven all the way through the sassy, lingering finish. It's a very good tasting wine and an outstanding food wine. It's a transcendently worthy dinner companion when paired with roasted or grilled pasture-fed meat, like we produce here at Rangeland. When people ask me what's my favorite Rangeland wine, I often say, "It's like my children, depends on how they are behaving." Tasting Room Manager Michelle likes to tease my son Jackson, who also pours, by saying, "The Watershed is Lisa's favorite child." It's also the favorite wine of many customers. You can tap into the Rangeland Watershed zeitgeist and terroir with the following offer: Order 3 or more bottles of The Watershed 2018 and get 10% off (plus your club discount), shipping included. Order here.
Beef Club Coming Soon!
We are very pleased with our grass-fat beef this year, which came in a little heavier than usual. We'll begin processing beef club orders on June 22 for pick up in early July and delivery mid-July. If you haven't already, please update your credit card, shipping or pickup information using your email as login at RangelandWines.com. If you have enjoyed our grass-fed burgers at the tasting room and considered joining the beef club, now's the time! The 25 box includes 6 lbs steaks, 6 lbs roasts, 8 lbs ground and 5 lbs assorted cuts (stew meat, short ribs, etc.) The cost is $280 for club members--you can't beat the price. Expand your culinary horizons, enjoy our delicious pasture-fed beef year-round, and know that your meat is raised sustainably and ethically. Sign up for the beef club here or order a box a la carte here.
Summer at the Vacation Rental--A Few Weekends Open!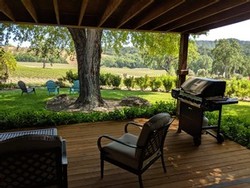 If you're looking for a peaceful, relaxing spot in the middle of westside Paso wine country, we've got you covered. Our 3BR, 2BA Vineyard View Cottage has a spacious deck and lawn, outdoor BBQ and hot tub, and lots of room inside for relaxing with a glass of Rangeland wine. And, you have access to the grounds of our tasting room during and after hours--coffee by the pond? Wine at the top of the hill? Whatever you desire! Book here.
It's All Here, Right Now
Lisa and I took a short driving tour to celebrate our 34th anniversary, plus the five bonus years, for 39 total years of sweet cohabitation. (Applause.) Thank you, thank you. And thank you, Lisa, for putting up with me.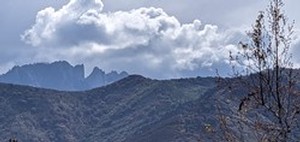 Our trip was an homage to our 1988 honeymoon from Lake Almanor to Sequoia National Park, down the highway 49 trail, into and out of the ravishing mountains, forests and fields of California.This time we went from south to north, starting in Sequoia on a 20 degree May morning, with a speckling of snow. We had a blast. We saw big trees skirted by blooming dogwoods. We saw granite domes perched over yawning chasms. The canyon walls were draped with diverse foliage, gradiated by altitude from darkest forest green to desert pale. As we progressed north over several days, we saw the snow-fed rivers watering thousands of farms in the Great Valley. They rush from a dozen roaring gaps, with songlike names: the Kaweah, Kings, San Joaquin, Merced, Tuolumne, Stanislaus, Mokolumne, Cosumnes, American, Yuba, Feather (ah, Plumas County), Truckee (goes east!) and, not least, the impressive Sacramento. We saw snow capped peaks, including the sublimely sawtoothed Sierra Buttes. The mountain ranch meadows were grazed by uncountable cattle and many deer, belly deep in lush grass and wildflowers. We even saw a herd of bison, lazing around in the afternoon sun with a flock of Canada geese in the foreground and miles of piney mountains rising behind them. We saw a badger and a coyote. The latter emerged from a Dixie Fire-ravaged forest, crossed the dirt logging road into a field of golden wildflowers, loping lightly, his thick coat billowing in the breeze, looking back with cautious curiosity. We see these animals at home too, but we witnessed all these scenes with the fresh eyes of Travelers.
We read the plaques and visited small museums that told the history of California: native abundance for thousands of years, pioneer hardship, native tragedy, as well as the insane determination and exploits of the immigrant gold miners and railroad builders. Did you know that Sierra Valley, north of Tahoe is the largest alpine valley in North America? It contains the tiny town of Beckwourth and is flanked by Beckwourth Peak, named for America's most famous black mountain man. James Beckwourth sold Rocky Mountain furs to John Jacob Astor. He lived in the Crow Nation, becoming a chief and later had a trading post on the Santa Fe Trail. When he came to California in 1848, he was the pathfinder of the lowest pass through the Sierras, which allowed immigrants to avoid the travails of Donner Pass.
We saw some other travelers, especially European visitors to the national parks. We saw a few hikers, cyclists and fishermen, but the two lane roads were almost completely free of traffic, once we were outside of the metros and the big parks. We had the vista points all to ourselves. As we headed back, we saw the familiar grit of roadside trash, high fuel prices and homeless people encamped by the freeways. Approaching home, I began to tense-up about returning to work (like writing this newsletter) and my many self-inflicted responsibilities. We all have dreams of achievement and fulfillment. Our dreams empower us but they also burden us. Once home, after a long day on the road, I noticed the roses were blooming in the garden. Pendulous oak limbs were waving slightly in the spring breeze. I unwound with a glass of good wine, sinking into the moment. There was a riot of bird calls from many species--just like there often is at the Rangeland tasting room. A cow bellowed in the woods.
It is fashionable now to dump on California, even to leave the state because of its many problems. We have a lot to worry about but also so much to appreciate, right now. At Rangeland we are focused on the best of California. We are in the appreciation business: of fine wine in good company, natural pasture-fed meats and the sweet, slightly wild hills of Paso Robles. And we feel very fortunate to share that with you. Click here for a photo travelogue.
Contents: Wine Specials, Wine Fest, Ground Lamb and Beef, Full Moon Dinner, Here & Now
Doppel Deja Vu, New Members Also Invited
It's been a few days or weeks since most of you received your Spring wine club selections. You've probably torn into the goodies and quaffed a couple (all?) of your favorites already. So if any of you would like to reorder your club shipment and double it, we are offering an additoinal 10% discount off your usual price. If you haven't yet joined our wine club, we are extending this offer to new members. You can join the 6 bottle Estate Wine Club (normally a 20% discount) and get a 12 bottle case for 30% off. Email Michelle if you want to reorder (or join) and double your wine club.
Rosé Special Still Live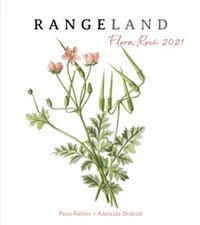 Our 2021 Flora Rosé ($30) is a beautiful rendition of a perennial customer favorite. A blend of 53% Mourvedre, 27% Zinfandel and 20% Grenache, this year's light pink rosé has a floral bouquet with hints of citrus. Nectarine fruit flavors and mouth watering acidity yield a crisp finish. It's the perfect accompaniment to fresh oysters or a summer salad. Drink now or over the next year.
Last year's Rosé sold out before the summer was over, so you may want to stock up at this price: 6 bottles for $150 plus club discounts, shipping included. Order here.
Wine Festival: Lamb and Beef Sliders
Paso Robles Wine Festival is this weekend, May 21-22. We will be serving a special menu of grass-fed beef and lamb sliders, pasta salad and Lisa's cookies from 11 to 4, Saturday and Sunday. Reserve your seating for an outdoor tasting and food here.
Ground Beef and Lamb Available!
The lambs we harvested this spring were extra fat, so that gave us a small surplus to offer. We have lamb shares (20 lb boxes of mixed cuts, $350 before club discount) and ground lamb (10 x 1 lb packs, $120 before discounts.) Free shipping. We also have have ground beef (10 and 20 lb boxes) and bull beef patties available. Your wine, beef or lamb club discount applies to everything Rangeland. Free shipping on the lamb and ground beef through June 15. Order here.
Full Moon Dinner, June 18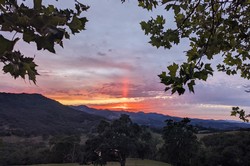 We are serving dinner at our home place, Adelaida Springs Ranch, on Saturday, June 18, from 6 to 9pm. Enjoy the 50 mile coastal mountain views at sunset, as well as our estate-grown beef and lamb, seared scallops, sausage, salads and fresh coastal strawberries, paired with a stellar (lunar?) line up of Rangeland wines. $100 per guest. Club discounts apply. Order tickets here.
Contents: Springtime, Field Day, Wine Club, Winemaker Tastings, Tock Reservations
Springtime at our Adelaida Springs Ranch means tiny lambs are hopping with excitement across the green hillside. New calves suckle their mothers, whitefaced with milk. And new grape shoots are reaching for the sky, growing several inches per week. In the winery, Alex is sampling barrels from vintage 2020 and blending with increasing urgency as bottling time nears. Wildflowers, budding oak trees and rolling coastal mountains form the scenic backdrop for all this activity. We hope you can recall and savor some of this when you sip our wine and taste our meat. Our products are truly an expression of this rare place and our efforts to capture the magic. Click on the images below for more photos.

Don't Miss Field Day, April 23
There is no better way to appreciate Rangeland and the beauty of rural Paso Robles than at Field Day, our spring party in the pasture. Join us April 23, 12pm to 3pm, for wine, copius good local food, great music and livestock on display in the field next to the tasting room. We blew our entertainment budget wide open by booking Moonshiner Collective, featuring lead singer and guitarist Dan Curcio. A barbecue lunch will include estate beef and lamb, local sausage from J&R Meats, a salad, Lisa's fab cookies and more. Order: $80 per person, $50 for kids 5 to 20. Club discounts apply.
Wine Club + Doppel Offer
Our Rangeland spring Wine Club selection has several delicious new releases, detailed below. The 2021 Flora Rosé is the first release from our new winemaker Alex Kemp. It's wonderfully aromatic, fruity and still crisply dry. If you are a six bottle or case club member, we are offering an additional 10% off with $1 shipping if you double your order. For example, a 6-bottle, 20% discount Estate Club member would get a full case at 30% off, a savings of about $40 on that case of wine, plus shipping savings. Please let us know by email if you'd like to double your club order.
We will start billling the wine club April 14 and your shipment will be available for pickup starting April 18. We will begin to ship wine clubs the week of April 25. Here is wine club selection:
2021 Flora Rosé - new release! (or 2018 Ultramafic Merlot for reds only members)
2018 Limestone Reserve Cabernet* -new!
2018 Cabernet Sauvignon* - 93 points Wine Enthusiast
2018 Watershed*, Bordeaux blend - new!
2019 Zinfandel* - new!
2018 Shepherd, Rhone blend
*denotes 4-bottle Intro Club selection
Please let us know by email if you'd like to customize your spring shipment. All the available wines are listed here. Please update your credit card and shipping information, if necessary, at www.RangelandWines.com. You can use your email address to retrieve your login password.
Private Winemaker Tasting, Any Day of the Week
We are now offering private tastings with our winemaker Alex Kemp, any day of the week, by appointment, including Tuesday and Wednesday, when our tasting room is normally closed. Alex will personally pour the wines, explain our approach and give you a taste of the future with some barrel sampling. The cost is $50 per person and the minimum party is size is 4. Schedule your tasting by email .
Tasting Room Reservations with Tock
If you are a Rangeland club member making a tasting appointment reservation on TOCK, please use the email address associated with your membership. The system will automatically comp the appropriate number of tastings.
Content: Wine Releases and Specials, Field Day, Club News, Winter?
New Zin and Rosé!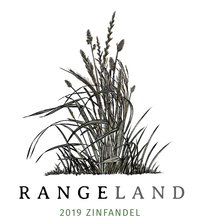 We are releasing our 2019 Zinfandel and 2021 Flora Rosé. You can taste and buy them now at the tasting room or, if you can't make it to Paso, take advantage of the specials detailed below.
The 2019 Zin ($45) is our best in many years, maybe our best ever. It exudes ripe plum and spice aromas. The mouthfeel is round and suave, with a decadent finish of mocha and raspberry. Pair with grilled pork chops or your favorite barbecue dish. You'll notice our new Rangeland logo and label format. Our special release pricing: 6 bottles for $199, plus club disounts and $1 shipping included. Order here.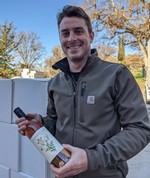 Our 2021 Flora Rosé ($30) is another beautiful rendition of a perennial customer favorite. It's also the first release from our new winemaker Alex Kemp. Congrats Alex! A blend of 53% Mourvedre, 27% Zinfandel and 20% Grenache, this year's light pink rosé has a floral bouquet with hints of citrus. Nectarine fruit flavors and mouth watering acidity yield a crisp finish. It's the perfect accompaniment to fresh oysters or a spring salad. Drink now or over the next year.
Last year's Rosé sold out before the summer was over, so you may want to stock up at this introductory price: 6 bottles for $150 plus club discounts, shipping included. Order here.
Field Day Returns
After a two year hiatus due to THAT BUG and the government restrictions it inspired, we are ready to have our spring party in the pasture again. Join us April 23, 12pm to 3pm, for wine, good food, great music and livestock on display in the field next to the tasting room. We blew our entertainment budget wide open by booking Moonshiner Collective, featuring lead singer and guitarist Dan Curcio. A barbecue lunch will include estate beef and lamb, local sausage from J&R Meats, a salad, Lisa's fab cookies and more. Order: $80 per person, $50 for kids 5 to 20. Club discounts apply.
Club News
We'll be releasing our spring Wine Club in April and shipping will begin later in that month. More details to come in the April newsletter. We are planning to ship Lamb Club in April as well and will email a notice to club members. Beef Club will begin shipping in late June or early July as usual. If you can't wait until summer, we still have a few 25 pound Beef Club boxes and ground beef boxes available, as well as 5 lb boxes of bull beef patties. Order here.
Missing Winter
Winter came in like a lion, with heavy rains and stormy weather throughout December that filled our lake and painted the pastures green. Despite the fallen trees, damaged roads and eroded fields, we thrilled to the sound of flowing water in our valley. Since then, winter has laid down like a basking lamb, with spectacular sunny weather and a shocking lack of precipitation in the heart of our rainy season. We are anxiously watching the forecast and hoping for some drought relief this spring. After more than fifty years in sunny California and twenty plus years of ranching, I have developed a psychopathological interest in our climate. We cannot escape the weather, with its capricious beauty and erratic moods. When we bought the ranch, planted the grapes and developed the cattle herd, we bet on our land. That bet has paid off in flavorful, nutritious meats and inspiring wines. The land, however, needs Mother Nature's wet kiss to blush and flourish, to produce. We can accept the annual summer drought of our Mediterranean climate. Summer brings rhythmic heat and the sweet scent of drying grass and chaparral, every year. But now our winters are dwindling and unreliable. We need our winter back. I can remember winter in the 1970's. There were long gray weeks of constant rain, the puddles rising in the bike racks as I stared out the window of my junior high classroom in Palo Alto. As a boy I longed for better weather, the sunny fields and games of summer. Now I hunger for the dark, nurturing, wet days of winter. Don't leave us hanging Mother.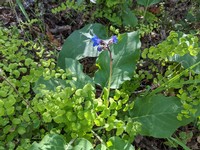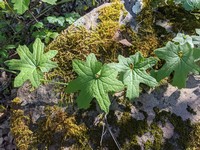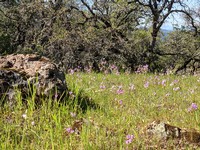 Above: hound's tongue and maiden hair, wild grapes and moss, shooting stars in field.
Photos by Lisa. See a few more Rangeland photos here.
Contents: Appreciation, Wine Specials, Bull Burger, Cellar Sale, March Dinner
Valentine's Day is for lovers and also, I contend, a mutual appreciation day among friends. It's about love and fondness, but you don't want to confuse these two categories. Otherwise you spend too much time in bed with too many different people. The day just gets away from you. I'm for wine, beef and flowers to friends all around, but in most cases, keeping your pants on. Happy Valentine's Day from your appreciative, but fully clothed friends at Rangeland.
Wine Specials for February
Our 2017 Closeout Special has been a big hit, and we are now sold out of the 2017 Cabernet and Ultramafic. We still have some 2017 Watershed bordeaux style blend ($40 list) and Limestone Reserve Cab ($50 list), so we are going to continue with the Closeout Special through February 28: buy six bottles in any combination of these 2 wines and get 10% off plus your wine club discount with $1 shipping. Or buy any 12 bottles or more of these wines and get 15% off, plus club discount and $1 shipping. While supplies last. Order by email.
Our 2020 El Joven was styled as a fresh wine with no barrel aging. We sold most of this alluring blend (merlot and petit verdot) to Valentine's enthusiasts but we have a few cases left and want to sell it while it's still fresh. We are offering this young wine at $150 per case (just $12.50 per bottle, no additional club discounts apply), while supplies last, shipping included. Order here.
Bull Burger Patties
We are still offering 5 lbs. of grass-fed beef bull meat for $50 before club discount. The meat is vacuum sealed and frozen as 1/4 lb. hamburger patties in 1 lb. packages. Free shipping. Order here.
Cellar Sale This Saturday, February 19
We have been tasting some cellar wines and many are aging beautifully. We will be pouring half a dozen wines from 2008 to 2015 and offering a dozen or more for sale. Cabs, zins, petite sirahs, blends and more. For a $20 tasting fee (free to club members), you can taste and buy rare, discounted Rangeland library wines and snack on charcuterie. Saturday February 19, 10am to noon. Reserve your spot here.
Full Moon Winemaker Dinner, March 19
Menu plans are shaping up for our Full Moon Winemaker Dinner in the Rangeland Barn, March 19, 6-8pm. We'll be serving (subject to change):
Crab cake canape
Imported paté appetizer
Local J&R Meats sausage appetizer
Estate grass-fed beef bourguignon main course
Enhanced mashed potatoes
Green salad with lemon vinaigrette
Chocolate stout cake
All paired with a selecton of Rangeland wines. $100 per guest. Club discounts apply. Reserve your tickets now.
Contents: Winter Green, Wine Special, Bunch a Bull!, 2022 Event Schedule, Walnut Wood
The holidays are well behind us and 2022 (gasp) is off at a steady jog. December storms brought near-record rainfall to Paso Robles. With 21 inches recorded at Adelaida Springs Ranch, we've already had more precip than the entire previous rainfall year. So the livestock are enjoying the green grass and cool weather, as are we, the peoples.
2017 Vintage Closeout Special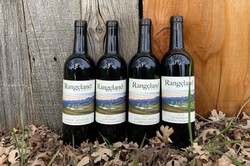 Holiday fun (and guests) can really deplete your wine cellar. On the supply side, at Rangeland, we are hoping to move on from our delicious 2017 wines, so we can dig into the intriguing 2018s. So we've decided to clear out the limited quantity of remaining 2017s with the following offer: buy six bottles in any combination of these 4 wines (see list below) and get 10% off plus your wine club discount with $1 shipping. Or buy any 12 bottles or more of these wines and get 15% off, plus club discount and $1 shipping. While supplies last.
2017 Cabernet Sauvignon, $40 list, lusciously fruity and vibrant
2017 Limestone Reserve Cabernet, $50 list, polished, food friendly and age worthy
2017 Watershed bordeaux blend, $40 list, dark and complex, a customer and staff favorite
2017 Ultramafic 100% Merlot, $45 list, brooding with dark fruit and a little earthiness
Bunch a Bull!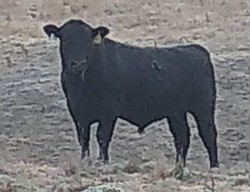 We had a mishap last year that lead to harvesting our young bull, Chance, before his time. I've written a story about it, The Short Unsuccessful Life of Chance the Bull. It's all true. I swear. It's full of humor and pathos, but It's too long to include in this newsletter. You can read it here.
So aside from the story, we have a lot of bull to unload. Bull meat is a favorite for many discerning beefeaters. It's lean and firmly textured with more aroma than steer or cow meat. It's a super version of grass-fed beef. Makes a killer hamburger and pairs wonderfully with a glass of Cabernet or your favorite red. We are offering 5 lbs. of grass-fed bull meat for $50, vacuum sealed and frozen as 1/4 lb. hamburger patties in 1 lb. packages . Free shipping. Order here.
Rangeland Events 2022
Here is a slate of planned events for the year. Most are still in the "save the date" planning phase, but we thought you'd like to know what is coming.
Cellar Sale, February 19, Saturday of President's Weekend, 10am-12pm. For the price of a tasting fee (free to club members), you can taste and buy rare, discounted Rangeland library wines and snack on charcuterie. Reserve your spot here.
Spring Release Weekend (formerly Zinfandel Festival), March 18-20
Full Moon Winemaker Dinner in the Rangeland Barn, March 19
Field Day/Spring Pick up Party, April 23, wine, music and food in the pasture
Paso Wine Fest Weekend, May 20-22
Full Moon Winemaker Dinner at Adelaida Springs Ranch, June 18
Full Moon Winemaker Dinner at the tasting room, September 11
Harvest Festival Weekend, October 21-23
Fall Pick up Party, November 12
Full Moon Winemaker Dinner in the winery, December 3
Walnut Trunks For Sale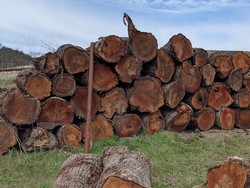 Except for a few remnant trees, our 30 acre walnut orchard has been removed to make way for vineyard planting beginning in 2023. We saved hundreds of trunks of black walnut rootstock. Each one is 3 to 6 ft. long and 18 to 24 inches in diameter. We are offering these raw logs of walnut for $2.00 per board ft. or approximately $100 to $200 per log, only at the winery. Club discounts apply. Please email me if you'd like to inspect and purchase this wood.
Loving the Life
It was a big surprise to me when, at more than 40 years of age, I fell in love with cattle ranching and raising livestock. I bought my ranch in the year 2000 to grow wine grapes, raise my kids and satisfy a lifelong lust for land ownership. At first we rented our pastures to another cattleman. But once we had bred and raised a few cows, starting with 4H for the kids, we decided to go all in, run the whole ranch and sell grass-fed beef directly to our customers. One of my early memories of cattle ranching was riding horseback behind some cows while we moved them from one pasture to another. It was a mild spring day in Paso and the warm sun was shining on the black backs of our cattle. A sweet aroma rose in waves from the small herd as they jogged with easy athleticism. Smelled like beef. It made me appreciate the 10,000 year bond between our species, human and bovine. I was happy. Not just in the moment but also considering their lives in our beautiful fields and their destiny as nutritious food. I like the whole experience and process, but it is not always easy.
One of the essential parts of running a cow-calf operation is the provision of a sound bull to breed the cows. You need to bring in a fresh sire every few years to maintain genetic diversity. It's not a great practice to have fathers breeding their daughters. Typically these new bulls are purchased at specialized auctions held annually: The Bull Sale.

Growing up in suburban Northern California, I had never been to an auction. After we moved to Paso Robles, we were literally swimming in a sea of auctions. Auctions for school fundraisers. Auctions for community projects. Auctions for farm equipment. Horse auctions. Auctions for the NRA. Once, at a Ducks Unlimited auction, with my daughter in tow and urging me on, I "won" a labrador. She was a beautiful little black pup we named Lucky. She proved notoriously unlucky. Nuther story... But for me, the granddaddy of auction experiences is the livestock auction. And the bull sale is the super version. It even has a catalog full of pictures, stories and technical data about each animal.

Bull Sale!
At the bull sale in 2020, there was also free bbq and beer. So as the sale started, my ranch manager and I gulped down some tri tip, grabbed an extra Budweiser and went inside to see the action. I identified some likely targets in the catalog with high scores in calving ease and feed efficiency. We have smaller mother cows and I wanted a bull that would "throw" light calves that were easy on the mother. Well, an auction is a heady event, especially for a beer-addled rookie like me. The noise and the action come fast and furious. Dozens of buyers are stacked into the steep bleachers. A bull is trotted out with remarks on its splendid form, awesome genetics and likelihood of profit. There's a very loud, talented auctioneer who is trying to separate you from your wallet with relentless coaxing and yodeling: "hummuna, hummuna, sold!" There are enthusiastic spotters scouring the crowd for bids. The slightest twitch by an audience member can render a sale. Here's what it looks and sounds like.

After a few minutes, Lot 12 came around, which was one of our targets and he looked great. As the auctioneer boasted, "The kind that would just stay in the herd and keep producing great calves." I was juggling my phone (taking pics and vids) and a beer and the catalog and a bidders paddle. I got a little confused about the bidding level and just missed buying no. 12. Lost him to a higher bidder. Another bull trotted out immediately, LUCKY NUMBER 13. He seemed a little jacked up...but so was I: bulls, beers, auctions...exciting! A too quick glance at the catalog showed he had great numbers too: 4 star calving ease, 5 star feed efficiency! Next thing I knew my paddle was up, again and again. "Ha!", said the spotter. "Sold!", said the auctioneer.

Disposition 2.8
Now that the deed was done, I began to study the catalog entry for Number 13. Hmmm, what's that "disposition" score of 2.8? More thorough reading of the catalog showed that all the bulls in the sale were of mild disposition, scoring 3, 4 or 5, whatever that means. But my LUCKY NUMBER 13 had a 2.8 disposition. Seems like he kinda barely didn't make the cut, but did. Anyway, I owned him, so it was time to load him up and haul him back to the ranch. So we backed the trailer up to the gate for loading and got out to watch. The boys in the sale yard were having a little trouble back there amongst the alleys and gates. Some dust was rising high and the curses higher, then around the corner here comes LUCKY NUMBER 13 headed straight for the loading gate at high speed--which was still closed. He was head high and full of thunder. A real beauty. I'm expecting to see him come to a stylish stop and maybe snort at us a little due to the general excitement of the occasion. But he don't. He went nearly full speed into the steel gate with a crash and rebounds, nose bleeding. Right then I remembered that 2.8 score but I thought his current performance was more like a 1.75. He was like a cougar on a leash. Like a snarling raccoon with a face full of jam jumping out of the refrigerator at your face. Like seeing TJ Watt coming at you, unblocked, when you've already been sacked 10 times today. Well, you get the idea.

We got him loaded on the third try and headed for home. It was a couple of hours drive back to the ranch, so plenty of time to think and chat. What were we going to name him? Name of Lucky came right to mind, but due to that to that "nuther story" experience with an auctioned dog we called Lucky, that name was out. Chance! We'll call him Chance. We'll flip the script on that LUCKY Number 13 and 2.8 curse. We'll give him a chance to reform his disposition in our picturesque world of hills, oaks, rich pastures and shiny, breedable cows.

Meet the Legend
Back at the ranch, Chance unloaded a lot quieter than he loaded. Low hurdle. The bleeding had stopped. He trotted off quietly to check out his new fenceline. We gave him a couple of weeks in a field by himself to get accustomed. Since we were able to walk him to new pastures without too much excitement, things were looking up for our feisty miscreant. Then we put him in with his mentor, the big easy, Legend. Why was our older bull named Legend? He had bred 50+ cows a year for a few years. That entails a lot of work and dedication to the craft. Plus, he was as quiet as a drugged elephant at the circus. Introducing new bulls into a herd can be dicey. Some bulls like to fight for dominance and this can lead to damage for both bulls and property. Fences and gates can buckle like licorice twists. But these two settled right in together. Maybe because Legend outweighed his 18 month old little buddy Chance by about 800 pounds, there wasn't much room for real conflict.

Chance Goes to Templeton
After a few weeks with "the boys" living together I noticed that Legend was standing alone in the field and I asked our ranch manager whether he had seen the youngster lately. The answer was no. A full search of the ranch yielded no results. With miles of 100 year old fenceline, some of which is deep in the woods or brushy canyons, our ranch is not a perfect enclosure. Maybe he had tried his luck challenging Legend one day and had gone off to sulk. Maybe the scent of some luscious cow wafted up the canyon and stimulated his hair-trigger hormones. Maybe he just got curious. Who can say? Soon a call came from the stock sales yard in Templeton. "We have your fancy young bull here." Turns out Chance had been found jogging a couple of miles west of our ranch near Vineyard Drive and another cattlemen had corralled him, then taken him to town for retrieval. I would have liked to have seen that rodeo.

Big Turn Out
Back on the ranch for the rest of the winter and into spring, Chance was growing and bulking up by hundreds of pounds. Most local ranches strive for fall calves that will be sold the following summer into "the system" which ends in a feedlot. We strive for spring calves so we can keep steers on the ranch for two-plus years. That allows them to grow "grass-fat" in the home pasture with their family. So we turn out the bull with the cows around May 1. Since cows gestate for about 9 months, like humans, that means we'll have most of our calves the following February, March and April, during the heart of California's relatively early springtime.

Now a young bull in springtime is ready to go and get with those cows. A common phrase in the cattle biz is to say that the bull is being "turned out" with the cows for breeding. This is not to be confused with "turned on." The bull is horny all the time, even if he has no horns. He'll stand there, bellowing in the breeze, his nose running with raw lust, hoping for his big chance. Merle Haggard is playing in his head "Turn me loose and set me free, somewhere in the middle of _a cowherd!_" If no cow presents itself, he'll turn and butt heads with the other bull(s) out of sheer frustration. It's more a question of access, hence "turned out." As far as the cows, the females, go, they are worse. When their baby is about 2 months old and their cycle comes around again, they are just crazy for the bull and any friendly abuse he has to offer. First the cows like to play-hump with each other. Sometimes it looks like a crazy conga line out there, with one cow riding another and ten more waiting. Even the young-uns get involved. I mean they are just animals. When the moment arrives and a cow is really ready to breed, sometimes called "standing heat," she just saunters--sometimes she literally runs--up to the bull, then presents her hind end and waits in a state of cow-eyed dreaminess. One good snuffle by the bull and the next thing you know the deed is done. Gawd, nature is beautiful.

Somepin' Ain't Right
Well, when the time came, we turned out the young stud with his cow fan club and everything seemed to go swimmingly. No pun intended. He must have looked like Brad Pitt to Thelma and Louise out there. Young Chance was bobbing up and down in that sea of cows just like a pumpjack in an oilfield. Everybody seemed happy and I was thinking my Chance was paying off. One day, however, I was checking a water trough when Chance mounted a cow as easy as a gymnast on a pommel horse. This caught my attention so I stopped to watch the performance, I mean, to see if the bull performed well. Did his job. You understand. Then, a shudder went through me. What was that? Did I just see a kink in his rocket? That looked wrong. Nah, probably just has a weird one. I seen shit like that on the internet. I let it slide.

Two weeks later I get a text from my Spanish speaking ranch manager, "The bull has his part very inflamed." Out of a sense of delicacy and discretion (rare for me, I know), I will not include the photo. I immediately flashed back on the kinky rocket incident. I knew my Chance had suffered the greatest of mishaps. An incomprehensible malady. Nevertheless, I was ready to throw good money after bad, anything to stave off the inevitable destiny of LUCKY NUMBER 13. I called in the veterinarian. He pulled no punches. The diagnosis was: hematoma of the penis. Oouf. Accompanied by a serious pizzle-kink. He had a busted dick. Surgery was possible but not recommended. Would be a bad investment. "It would likely just rupture again." Oh trajedy! Aiyeehhhhhhhhhhhhh! As a fellow male and the investor of $6500 in his very virility, I wept bitter tears for Chance. For weeks I felt the need to constantly rearrange my crotchal region for what reassurance I could find there. I was going to miss that spastic stud.

Destiny
So Chance met his destiny not as a champion in the field of fertility, but only as sustenance for the hungry. A noble but diminished outcome. We harvested him for hamburger. Some of you may feel I have exploited this animal's suffering merely to construct this tail, I mean tale, of woe and humor. All kidding aside, I loved that fiery little 1500 pound son of a cursed cow as much as any animal I have ever shared time with. I was very upset by his suffering and to have to put him down. I identified with him. His furiously lustful approach to life was very much like my own and my tribe. By tribe I mean my family and the human race. Sometimes we tend go at it with too much ardor and not enough careful consideration. Sometimes our disposition falls well below 3. We try too hard. We sometimes fail. We get hurt. Not necessarily right where it counts, but still. You get the point. Hence our informal motto, "More enthusiasm than skill." I still believe this is better than the alternative: "Too much caution and not enough action." Maybe there is a middle way...
It had all started so innocently, with a "can or two" of Budweiser. I was responsible right down to the last. I personally hauled Chance to meet his destiny. I was there when he drew his last with a great bovine heave. As I left, I turned to the harvest crew and rendered this rude wisdom: "Be careful boys. Don't breed with too much enthusiasm. It can be fatal."

Laird Foshay
Adelaida Springs Ranch
You know you want to
Sign Up For Our Newsletter
Keep up to date on the latest wine releases, events, and promotions and get 10% off your next order.