L​amb Club--Special Charter Offer
We are pleased to introduce our Lamb Club, featuring our Adelaida Spings Ranch grass-fed lamb. Our flock of grass-fat ​d​orper sheep is growing and we had more than 175 lambs last spring. So we finally have a steady supply of good lamb to support a club offering. Lamb Club members will receive two shipments a year, in October and March, for $200 (20% off).The 20 pound box (half a lamb) includes:
Rack of ribs
Loin chops
2 small leg roasts​
Shoulder chops
Riblets
Stew meant and/or shanks
1-2 pounds ground lamb
Sign up now ​and you ​will receive an extra 5 pounds of ground lamb in your first box—a $50 value. If you've had the opportunity to taste our grass-fed ground lamb at events at the ranch, you won't want to miss out on this limited time offer.

Lamb Club members can apply their 20% discount to all Rangeland products, including our estate wines, grass-fed beef, and events. And Lamb Club members taste​ Rangeland Wines and tour the ranch for free. To join the Lamb Club, click here.
Harvest Report
​W​e picked our first grapes on September 3 and our new winemaker Paul Hinschberger is busy ​tasting fruit, scheduling picks, overseeing the processing, and taking care of the wines as they ferment in our new winery processsing "home" at Brecon Estate on Vineyard Drive. ​Our crop has gotten progressively smaller during the 4-year drought, with yields at a dramatic new low this year​, less than 50% of our 2010 peak​. On the bright side, we're confident ​that drought conditions are creating intense flavors and bright acidity. We just won't have as much of our beautiful wine to sell in the next couple of years. As much as we'd like to stop talking about the drought, it continues to dominate our lives. We are sympathetic to all farmers and ranchers trying to raise crops and animals under these historic, harsh conditions.
Bordeaux Special: Two Cabs and a Watershed for $100
We have a killer deal on our beautiful Bordeaux wines—​two 2012 Cab Sauvignons and ​a 2012 Watershed for $100, and that's before you apply your club discount! These ageworthy wines are completely drinkable now and, if you plan to cellar ​them, they will develop beautifully in the bottle over the next few years, or even longer. Click here to order.

Harvest Festival-Set Your Appointment!
​We will be open by appointment only for Harvest Wine Weekend, October 16 to 18, so please plan ahead. We'll be serving grass-fed beef and lamb sliders on Saturday October 17 only! ​Request a reservation online or give us a call​ at 805-674-9232. ​
​​
Save the Date: Pickup Party November 14
Our annual pick-up party for wine, beef, and lamb club members is scheduled for Saturday, November 14 from 12-4. Please save the date! You'll be hearing more about this party in late October. We're planning to serve grass-fed beef chili, a lamb dish, and assorted other goodies. We may have some barrel samples from vintages not yet bottled.

You'll be able to pick up your fall wine club, lamb club, and/or your beef orders at the party. It's also a perfect time to do a little wine shopping before the holidays. This is our favorite event of the year—we love to pour wine and cook for our club members. We look forward to seeing you!
Here Comes the Beef Club!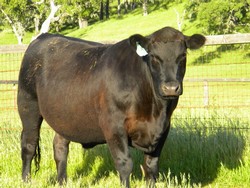 We are busy packing beef club boxes for the season. Beef Club members can pick up at J&R Meats in Paso Robles beginning the week of June 29. For those Beef Club members from out of the area, we will begin shipping on July 6. If you are on the Beef Club wait list, we should have enough meat to serve you. You will receive an email in the next week or so regarding all the details.
Beef Club members (including new members from the wait list) can order addtional 25 pound boxes, while the supply lasts. You can also order extra ground beef in 10 or 20 pound boxes. Send us an email with your order or to make any special arrangements for pick-up/shipping.
Our harvest steers were beautifully finished this spring, thanks to the extra forage they received at Halter Ranch last fall, as well as the abundant pasture feed that grew on our ranch this winter. Although we had below average rainfall (again), we did get well timed rainstorms that nurtured a rich pasture crop. We are pleased with our "grass fat" steers and we think you will be too!
Unfortunately, we have to raise the price of our beef this year. The added drought costs of renting pastures and buying hay have made our past prices untenable. Our 2015 beef club box price is now $250 ($10/lb)--still just $200 or less with your club discount. Our 20# ground beef box is now $160 before discount, and the 10# ground beef box is $90 before discount. We deeply appreciate your ongoing support of our beef program.
Introducing Winemaker Paul Hinschberger
Our original winemaker Shannon Gustafson left this spring to make Pinot Noir in Oregon—we wish her all the best. We were fortunate to find Paul Hinschberger, who was most recently the assistant winemaker at Denner Vineyards right here in Paso Robles. Paul's passion for wine began early (age 19) when his family opened a restaurant in Idaho. At the time, he was getting a business degree from The University of Montana, but in his spare time he read about (and drank) the world of wine. After graduating, he went to sommelier school to learn even more. The experience sparked his craving for knowledge and traveling, and he has logged harvests in Washington, Sonoma, Oregon, New Zealand, Sebastopol and Paso. We are looking forward to our first harvest with Paul and excited to see (and taste) what he crafts with our fruit.
Lamb Special: Free Shipping this Summer!
We still have both lamb shares and ground lamb available. The 20-pound lamb share ($250 before wine or beef club discount) includes:
1 rack
1 loin, cut into 1" chops
Sirloin and shoulder chops
2 leg roasts
Shanks
Riblets and stew meat
1-2 pounds ground lamb
We are also now offering a 10 pound box of ground lamb in convenient 1 pound packages. If you've ever had our lamb sliders, you know how delicious ground lamb can be. Order ground lamb or a lamb share from us before Labor Day and we will ship to you for free (in CA only), a $30 value. To place your order at this special rate, send us an email.
Rosé and Bordeaux Specials
Our new 2014 Flora Rosé is a lovely field blend of 7 red varietals. Just a little sweet ("off dry"), but crisp, acidic and refreshing, and perfect for summer BBQs and picnics. We're also featuring a Bordeaux special which will pair nicely with BBQ meats. Here are our specials:
3 pack 2014 Flora Rosé for $50 (before club discount)
3 pack 2012 Bordeaux special (2 Cabs and 1 Watershed), $100 before club discount
If you buy a case of any Rangeland wines this summer, we'll cut the price of shipping in half
​Send us your order by email to receive the special discounts.
Rangeland Field Day 2015: Saturday, April 25, 12-3 pm
We are excited about hosting our second Field Day, which was canceled last year due to drought conditions. Field Day 2015 will include wine tasting, food, live music, educational and livestock displays in our beautiful pasture on the ranch flats, as well as an afternoon tour. Here are the details:
Wine: taste Rangeland Wines, including our new 2014 Rosé, and enjoy a glass with your lunch
Food: grass-fed beef and lamb sliders • grilled sausages • salads • baked goodies • gelato • cold lemonade
Music: local, live acoustic band
Ranch and Vineyard Tour: led by owner Laird Foshay at 2:30 to 3:30pm.
Tickets: $40/person, club discounts apply for members and their guests (when purchased by the club member). Children are welcome, and children 12 and under are free. Click here to purchase tickets.
Attendance is limited to 100 guests and the ranch tour has only 30 seats and will fill up fast, so reserve your spot now on our website. If you are a wine club member, you can pick up your spring shipment at the event.
Spring Lamb and Ground Meats Available
Many families traditionally enjoy a lamb dinner during spring time. We have some Adelaida Springs Ranch lamb shares for sale now, so you can serve the very best in humanely handled, pasture-fed lamb--paired with your Rangeland Wines! Your wine or beef club discount applies. Each 20 pound Lamb Share ($250 list price) includes:
1 rack
1 loin, cut into chops
Sirloin and shoulder chops
2 leg roasts
Riblets, shanks and stew meat
A few pounds of ground lamb in 1 pound packages
To place your Lamb Share order, click here.
Ground lamb and beef are still available in 10 lb boxes. We ship anywhere in California or you can pick up your meat either at J&R Meats in Paso Robles, or by appointment at the ranch. All ground meats are vacuum sealed in convenient, 1 lb. packages. Please visit our website to place your order.
We hope to have more 25 lb. Beef Club boxes by the end of June. Join the Beef Club waiting list here.
Spring Wine Club Shipment
We will begin shipping our spring wine club during the week of April 27, so if you have any address or credit card changes, or other special requests, please email us now. This spring wine club will include the following:
2014 Flora Rosé , newly released
2012 Limestone Reserve Cabernet
2012 Watershed (Bordeaux blend)
2012 Zinfandel
2012 Cabernet Sauvignon
2012 GSM

About that Drought
We are counting our blessings for the 18 inches of rain we've received since last fall. We have rich green pastures right now to feed our livestock. Our lake nearly filled with runoff this winter, and that is a critical soure of irrigation water for our grapevines. Nevertheless--barring a very wet April-- this marks the fourth consecutive year of below average rainfall. One thing we've noticed is that the summers haven't really gotten hotter, but the the onset of spring and summer conditions is occurring ealier. Our grapevines, which used to bud-out in April are peeking out in March (some even in February) and are in full growth now. Same for the wild oak trees and domestic plants. We already have our first roses blooming in the garden. These drought conditions have been shrinking our grape and livestock harvest, but thanks to your support, our wine and meat sales are still growing. So are our hopes for better, wetter years to come.
Upcoming: Paso Wine Festival, May 15-17
Our gates will be open Friday to Sunday, May 15 to 17. We'll be serving grass-fed beef and lamb sliders on Saturday and Sunday only.
Limestone Cab Release and a Special Offer
We are just now releasing our 2012 Limestone Reserve Cabernet Sauvignon, which reflects the dry (60% of average rainfall) and hot (107% of average heat) 2012 vintage. Described as " ripe, sexy and voluptuous" by Robert Parker's Wine Advocate, our flagship Reserve Cabernet also has our trademark acidity and fine tannic structure. This is a wine to enjoy now and set aside for years to come.
Now that the holidays are past you may want to re-order some wines to fill your seasonally depleted wine racks. Here is a list of the released 2012s and the few 2011 wines (all with less than 20 cases left) we still have in stock:
| | | | |
| --- | --- | --- | --- |
| 2012 | | 2011 | |
| Cabernet Sauvignon | $40 | Cabernet Sauvignon | $35 |
| GSM | $35 | GSM | $32 |
| Limestone Reserve Cabernet | $50 | Syrah | $32 |
| Mistletoe | $28 | Watershed | $35 |
| Petite Sirah | $45 | | |
| Zinfandel | $35 | | |
For orders of six or more bottles of any of these wines, we are offering a 10% discount, in addition to any wine or beef club discount you already receive. To take advantage of this offer please email your order selection to laird@rangelandwines.com. The offer expires on February 14.
Rangeland Rising
We recently received some excellent scores from Robert Parker's prestigious Wine Advocate. Although we are confident in our "field crafted" philosophy and we personally love the wines we make, it's nice to get validation from the critics. Reviewer Jeb Dunnuck highlighted our winemaker Shannon Gustafson, noting that "Her entire lineup is loaded with outstanding wines." That's what we've been saying all along!
2011 Cabernet Sauvignon, 90 points
2011 Limestone 90 points
2011 Petite Sirah, 91 points
2012 Cabernet Sauvignon (barrel sample), 89-92 points
2012 GSM, 90 points
2012 Limestone Reserve Cab (barrel sample), 91-93 points
2012 Mistletoe, 90 points
Upcoming Events
Vintage Paso: Zinfandel+, March 20-22
The festival season in Paso kicks off in March with Vintage Paso - Zinfandel and Other Wild Wines (formerly known as Zin Fest.) Our gates will be open March 20-22, from 11-5. We invite you to come up and taste our wines, chat with us, enjoy grass-fed beef sliders and barbecued lamb (food served Saturday and Sunday only). You're welcome to bring a picnic and feast on the best views in the Adelaida. As always, wine club members and their accompanied guests taste for free.
Field Day, Saturday April 25
We had to cancel Field Day last year because of the drought, but we're hopeful we'll get plenty more rain this winter and be able to continue this tradition. Our second annual Rangeland Field Day will include wine, food, live music, educational and livestock displays, and tours. We'll be serving grass-fed beef and lamb sliders, salads, homemade baked goodies, lemonade and iced tea, along with wine of course. You can enjoy your lunch in the shade of a giant oak while listening to local musicians. Tickets are $40/person, and will go on sale in March.
Wine Festival, May 15-17
We will open our gates from 11-5, Friday through Sunday and have food for sale on Saturday and Sunday.
Lamb Shares, Ground Lamb and Beef Available
We still have some lamb shares available for $250 (club discounts apply of course!). We can ship our meats anywhere in California. These 20 pound boxes contain half a lamb, which includes:
one rack
loin chops
shoulder and sirloin chops
2 leg roasts
shanks, riblets and stew meat
a few pounds of ground lamb
For the first time, we have ground lamb available in 10 lb. boxes of 1 lb. packages ($100, club discounts apply). Our ground lamb is lean and delicious--if you've ever had our lamb sliders, you know. We have a limited supply, so place your order today!
Although our beef club boxes are out of stock until June harvest, we still have 10 lb and 20 lb boxes of ground beef available.
The Worst and Best of Times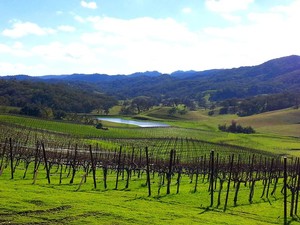 We have a long way to go to return to "normal", but we are thankful for 10 inches of early December rain that helped germinate grass and bring much needed drought relief to the ranch. Our lake, after being nearly empty last fall, is now about half full. It's great to see our country turn green on the normal seasonal schedule and we're hoping for more rain this winter.
Having said that, we are still recovering from 2014 and effects of the drought--which may not be over. Last winter started dry and we were looking at the possibility of selling most of our cattle and sheep herds. We did sell a couple of dozen cows last year, but were lucky when spring rains allowed us to hang on to most of our animals. We were also fortunate to lease neighboring Halter Ranch for fall grazing, after our home ranch pastures were depleted. We are very grateful for the opportunity, so if you are a friend of our ranch please also be a friend to Halter by buying their fine wines. Moving our stock to Halter required building fences and troughs there and moving all the animals by truck. This spread our people and equipment over two ranches, requiring extra planning and one very exciting cattle drive to bring the cows home. Ranch manager Nathan Stuart presided over all these activities with enthusiasm and many extra hours of labor. We are grateful for his work ethic and his passion for raising grass-fed animals.
Over the last 15 years we have put a number of pots on the stove: farming grapes, making wine, raising grass-fed cattle and sheep, as well as processing and selling packaged meats. All these projects seemed to come to a boil in a scorching and extraordinary 2014: we doubled our wine case count and expanded our wine distribution in Southern California through Wine Warehouse. We increased club members and sales for both wine and beef. So 2014 was one the toughest and most rewarding years of our lives, thanks to your support. Raise a glass of Rangeland wine to a wet and prosperous 2015!
Rangeland Wines in San Luis Obispo October 15 and 16
We'll be pouring 3 wines at Novo Restaurant on Wednesday, October 15 from 5-7 pm. Stop by and have a complimentary glass! Winemaker Shannon Gustafson and Rangeland proprietor Laird Foshay will be on hand, offering our 2013 Flora Rose', and the just released 2012 Mistletoe and 2012 GSM. Novo is located at 726 Higuera Street, and has a lovely creekside patio. You just might want to stay for dinner.
The following evening Shannon and Laird will be pouring at Central Coast Wines from 6-9 pm during SLO's famous Farmer's Market. Conveniently located on 712 Higuera Street, just north of Broad Street, this well-stocked wine shop features high quality, hard to find Central Coast wines. We will be pouring 4 wines from our current lineup; all featured wines are 10% off at shop for the entire week. Please stop by and say hello.
Gates Open for Harvest Wine Weekend October 17-19
Harvest Fest is just around the corner and we are in the mood to celebrate since we just finished picking grapes this week! See this video of harvest action footage, shot by multi-talented vineyard manager Nathan Stuart. We will be pouring wines at the ranch Friday October 17 through Sunday October 19. We'll be offering some newly released 2012 Rangeland wines and some freshly fermented samples from our 2014 harvest. We'll also have outstanding wine specials. On Saturday and Sunday only, we'll be grilling our grass-fed beef and lamb sliders for purchase. You're free to dine here on our sliders or bring your own picnic. Club members and their guests, as always, taste for free.
If you've not yet joined either our wine or beef clubs, please consider it! You'll receive a 20% discount on all ranch products—wine, beef, lamb, events, and who knows what else we'll think of. Our gate will be open Friday-Sunday, from 11 am to 5 pm, no appointment necessary. Please check our website for directions. We hope to see you then!
Rangeland Pick-up Party
On Saturday, November 15, we'll host our third annual Rangeland fall pick-up party at our home and ranch headquarters. Please plan to come out to the ranch and pick up your November wine club, lamb share or ground beef order. You'll enjoy some home-cooked food and live music. We'll be pouring wine, serving grass-fed beef chili and some delectable lamb dish, and will have lots of other goodies to nosh on. If weather permits, you can tromp through the vineyards or visit our animals. But really, we hope it's a RAINY day! We look forward to opening our home and celebrating with you, our loyal club members. You'll receive an email invitation at the beginning of November with more details.
November Wine Club
Our fall wine club is an exciting list, including several newly released 2012s. These 2012 wines display intense fruit and vivid structure from that hot, dry vintage. Here is the club lineup for this fall, which will be available for pickup November 15 and will ship the week of November 17:
2011 Mistletoe
2012 Mistletoe
2012 GSM
2012 Watershed
2012 Cabernet
2012 Petite Sirah
If you'd prefer to customize your order, just send us an email. As always, you're free to add more wines (while they last) to your wine club order. Just in time for the holidays!
Lamb & Mistletoe Holiday Special
We are offering a terrific special for fall—a 20 pound lamb share with 3 bottles of 2012 Mistletoe for just $300 ( (plus $51 shipping in CA only, or pick-up for free) before club discounts. The lamb share is one half a lamb—wonderful meat for special occasions and holidays, and also a great gift for your foodie friends and family. It retails for $250. The 2012 Mistletoe is a lush, easy drinking blend, retailing for $28/bottle. This offer gives you 10% off regular prices before you apply your wine or beef club discount—an unbeatable deal. The lamb share includes:
1 rack
1 loin, cut into 1" chops
Sirloin and shoulder chops
2 leg roasts
Shanks
Riblets and stew meat
Ground lamb and/or sausage in 1 pound packages
Harvest and Drought Update
Our people, livestock and vineyard have been under tremendous pressure in this third and most severe year of California's drought. Nonetheless, we got through the harvest with good quality fruit which promises to produce some intense wines. Our harvest started earlier than ever and was extremely compressed; we picked our first grapes on September 1 (ironically, Labor Day!) and within two weeks had picked about 85% of the vineyard. Our last grapes were harvested October 7.
Because of the drought, we'll be making less wine than last year, and also had less fruit to sell to our grape customers, since the vineyard produced only about 60% of its potential. We pumped our lake nearly dry and ran our generator 2,000 hours this summer in an effort to keep the irrigation system going. The costs (in time, money and stress) were steep as we spent much of the season chasing water and repairing the systems that deliver it. And unlike most wineries, we also need water for our cattle (150 head) and sheep (250 head). According to Laird, we "farmed our asses off," paying extraordinary attention to our vines and animals, with much less to show for it. We're cautiously optimistic about a rainy winter and a return to normal.
Our entire team really steps up hard at harvest but nobody works harder this time of year than our winemaker Shannon. She is an extreme juggler with hundreds of details to keep track of. In late August Shannon orchestrated the bottling of 1100 cases of our 2012 wines, and then we began harvest 5 days later. She does fruit sampling, measuring sugar and acid content for Rangeland Wines and for other wineries that buy our grapes. She "calls the pick" for each vineyard block (often just a few rows at a time), a critical judgment call that incorporates sampling data, flavors, trends in weather and past experience. She oversees all the grape processing and fermentation, involving dozens of tanks in various stages, then presses and barrels every lot of wine. All of this activity is tracked in worksheets and emails transmitted from her laptop at the winery. Although we like to describe our wines as field-crafted, they surely do not make themselves. We are extremely grateful to Shannon for her incredible work ethic and the beautiful, terroir-driven wines she produces.
Just Bottled: 2013 Rosé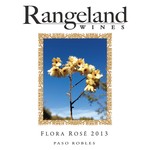 We just bottled (April 3rd) our 2013 Flora Rosé, which has more bright fruit and zesty acidity than ever. We are offering free shipping for case orders of this wine (12 bottles), so you can stock up for summer picnics and parties. Wine and beef club discounts apply, of course. Click here for this special offer.
We also bottled our first red wines from the dry, hot 2012 vintage. These wines (GSM, Zinfandel and Mistletoe) are bigger bodied and riper than past Rangeland vintages. While they still exhibit our distictive acidity and fine tanins, they are a little more hedonistic and "Paso" in style. We'll be releasing these exciting wines later this spring.
Let it Rain, Let it Rain
After a historic and scary dry spell to start the winter, a more typical pattern of winter rains returned to the Central Coast in early February. We've had over 10 inches of rainfall here at Adelaida Springs Ranch since then. This wetter weather has been a huge relief to us and the countryside. Our pastures and vineyard have that familiar green shimmer and we see some wild flowers developing. Nevertheless, the grass is short for this time of year and our rainfall is still about 35% of normal. As a result, we are considering some drastic moves to rest and restore our pastures, such as moving livestock to an "away" pasture or selling a significant part of our breeding stock.
April Field Day Cancelled
Considering everything, we have decided to cancel our Field Day pasture celebration, which had been scheduled for Saturday, April 26. We hope to resume with this spring event in 2015. We will be open as usual for tasting and tours by appointment. Please give us as much advance notice as possible.
Spring Wine Pick-ups: by Appointment
Our spring Rangeland wine club ship will be ready for pick-up by appointment beginning Saturday, April 26. Come see us and enjoy the spring scenery. Tastings and tours are free to wine and beef club members and their guests. We will send the club to our "ship-to" customers the week of April 28. Please let us know if you have any special instructions or requests.
Our Spring 2014 Rangeland Wine Club shipment will include:
2013 Rose, zesty acidity, just bottled!
2010 Syrah/Mourvedre, the last of our inaugural Rhone style wine
2011 Syrah, maturing nicely
2011 Petite Sirah, another exotic favorite, reorder soon before it's gone
2011 Watershed, our beautiful Bordeaux blend
2011 Limestone Reserve Cabernet, already drinking nicely for a "baby" Cabernet

Beef and Lamb Update
We have over 100 baby lambs kicking up their heels and dozens of calves as well. It has been challenging to keep the herds fed and happy through the dry spell, but our animals are in good health and enjoying the spring forage. We'll expect to have enough beef for club members and we may be able to meet the wait list demand with our spring and summer harvest, but it will be close.
Wine Festival Coming Up
Our ranch gates will be open May 16-18th, 11-5 for Paso Robles Wine Festival.
We'll be serving estate raised, grass-fed beef and lamb sliders on Saturday and Sunday.
February Wine Specials: Two from Column B(ordeaux)
We just released our 2011 Limestone Reserve Cabernet and 2011 Watershed. These wines, bottled last August, are still just babies, but are already drinking nicely. 2011 was a very cool and wet year that pushed our Cabernet harvest into early November. The long "hang time" produced mellow tanins with moderate alcohols and nicely resolved fruitiness. Get one of each during February for the special price of just $72 (list price $80). There is no limit on quantity and your wine or beef club discounts apply, of course. Valid during February only. Now is the time to get a jump start on these perennial favorites, which are sure to become more integrated and expressive with age. We have traditionally sold out of the Limestone and Watershed every year; why not give the gift of great, rare wine on Valentine's Day? Shop here.
February Wine Specials: Three from Column R(hone)
Wintertime finds us reaching for our Rhone wines, when cooler cellar temps promote a certain liveliness and heightened perception of acidity in our Syrah-dominated wines. These wines are a wonderful accompaniment to heartier winter meals like stews and roasts. In honor of winter (and hoping we have a LOT more winter), we're offering a 3-pack of Rangeland Rhones for just $75 (retail $96). This special includes our 2010 Syrah/Mourvedre, 2011 Syrah, and 2011 GSM. Club discounts apply, as always. Shop here.
Rangeland Wine Awards for 2013: 90s All Around
We were thrilled when our 2010 Watershed won a gold medal and Best of Class with a score of 94 points in the limited production category for Bordeaux Blends at the Los Angeles International Wine & Spirits Awards. Justin Vineyards won Best of Class in the same category for larger wineries with their 2010 Isosceles, a wine which includes a significant fraction of grapes from our Adelaida Springs Ranch estate vineyard. A win-win!
Both our 2011 Watershed and 2011 Limestone Reserve also received 90 points from Stephen Tanzer's International Wine Cellar report. In addition, he gave our 2011 Mistletoe and 2011 Petite Sirah 90 points, and our 2011 Cabernet Sauvignon an 89. We are encouraged that our wines, which are not typical of Paso Robles' "big fruit" style, are gaining visibility and prestige in the world of wine. Congratulations to our young Winemaker Shannon Gustafson, who embraces our "field crafted" mission to deliver wines of consistently stunning purity and terroir.
Ground Beef Available
If you haven't tried our succulent, grass-fed ground beef, you're in for a treat. We still have some ground beef available from 2013, frozen fresh in 1lb. vacuum packages. We sell the ground beef in 10 lb. ($75) and 20 lb. ($130) boxes. The meat is packed in convenient 1lb. packages that fit easily in most freezers. Your wine and beef club discounts apply, and we can either ship to you in CA or you can pick up your beef at J&R Meats in Paso Robles or here at the ranch by appointment. Shop here.
Beef Organ Meat Boxes (10 lbs) Available for $50
For the more adventurous cooks, we have 10 lb. boxes of beef organ meats, which include beef heart, a whole tongue, kidney, and 1 pound packages of sliced liver. The meat is frozen and vacuum packed, and available for pick up in Paso Robles or can be shipped anywhere in California. Shop here.
Beef Prices Increasing
We've kept our prices level since starting our beef business in 2010, which are well below market prices for grass-fed beef. We are under pressure from rising costs so, beginning with our June beef harvest, our prices will increase from $8/lb. to $9/lb. Our beef club box, currently $200 before club discounts, will increase to $225.
Spring Events
Our ranch gates will open for tasting Friday March 14 through Sunday the 16th, 11 to 5, for this year's Zin festival, which is titled: Vintage Paso: Zinfandel and Other Wild Wines. Saturday and Sunday, join us for lunch as we will serve a tasty selection of our estate grown grass-fed beef and lamb sliders.
Our second annual Field Day is scheduled for Saturday, April 26. If we don't get any rain to freshen up our pastures with green growth, however, the event will be moved to the house. You'll have an opportunity to pick up your wine club early, enjoy some grilled beef and lamb sliders, hear some music, and pick up your lamb share as well.
Dry, Real Dry
As many of you know, we are in the grip of an historic drought. If drought conditions continue, it will affect our ability to raise livestock naturally here on the ranch. Our wine grape crop, which fell short last year by 25%, could be substantially reduced as well. We will keep you informed about any change in availability of our meats as the situation unfolds. For more thought provoking commentary on droughts and natural forces, see Laird's blog.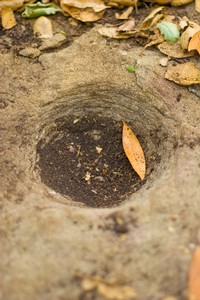 We usually have new green grass covering the ranch by Christmas time, with livestock and wildlife nibbling hungrily the new growth. 2014 has arrived without freshness or seasonal relief. The ranch is dry and all but barren of fodder. We are feeding hay to our cattle daily for the first time, which is an expensive and anxious pastime. Our once-independent beeves now crowd any white pickup truck they see, raising a cloud of dust and bellowing for their daily meal.
As many of you know, Central California, from Los Angeles to San Francisco, is in the grip of an historic drought. 2013 was the driest year on record, going back to 1849 in San Francisco. At least one scientist believes this is the driest year since 1580. The city of Paso Robles received just 1.9 inches of rain for the calendar year. Here at rain-favored Adelaida Springs Ranch, much higher and closer to the coast, we received only 4.33 inches of precipitation. Both totals are just 15% of the average annual rainfall.
Something about living through an historic event like this makes me feel connected to the past: taut threads vibrating with familiar patterns of nature, love, pain and achievement. Such ruminations also trigger visions of an uncertain, but probably familiar future, in which we strive and struggle with natural forces.
Since I could first read, I have been interested in tales and patterns of history. The first newspaper headline I remember seeing announced the death of Winston Churchill, as I carried the daily paper through our front hallway to my parents in January of 1965. I thought his famous, heroic round face looked so familiar. In truth, my historical interest started before I could read. As a small boy in Nova Scotia, I listened to adults discuss people and times past. They told stories of pioneers, architects, pianists, shopkeepers, of charming losers and unpublished poets. They told stories of great wars and gutted steel ships towed into harbor, of walks down country lanes and hunting in birch bark canoes.
Twenty years later, I was watching Palo Alto transform itself from a sleepy college town into the brain of Silicon Valley. I studied history at U.C. Santa Barbara, 1977 to 1981, during which time I never heard of a personal computer. Then I spent the next ten years publishing magazines about software development for PCs. I think they call that a paradigm shift. History was unfolding at an accelerated pace all around me, from transistors to integrated circuits in the 1960s, large computers to microprocessors in the 1970s, isolated personal computers to the all-connected internet in the '90s. I was a very small player, but I met the Bill Gates' and Steve Jobs' and many more who were envisioning, inventing and selling the future.
In the 1990s I published investment newsletters on the newly commercial Internet and rode the dotcom wave to ownership of Adelaida Springs Ranch in 2000. As I stepped out of the rushing tide, history swept forward: wireless networks and mobile phones are now everywhere. We routinely hold media-rich communications devices capable of accessing almost all of written history and visual media almost anytime, anywhere.
How interesting and wrenching it has been to step out of that world. My ranch life shares as much in common with prehistoric herders and wine growers as it does with Silicon Valley. I had a re-awakening to the joys and painful burdens of physical life. I changed focus from intangibles to a vividly tangible life of soil and sun, plant and animal, rain and drought. Our new life features old rhythms that peak with the birth of calves and lambs, the annual regrowth of the vines, or the pressing of a newly harvested wine. We reach mournful lows with the loss of animals or crops or water sources. One thing hasn't really changed from our past lives or from those who preceded us in history: we feel the unrelenting anxiety of pioneering ventures and uncertain outcomes.
When we host wine tastings and ranch tours, a change will often come over our guests. Our scenery evokes a blossoming recognition of the natural world, as if they have re-discovered something. People sometimes tell us about their family's farm in another part of the world, another time. We speak of homesteaders and ranchos in the old west. The threads of history begin to attach to our guests. The lowing of cattle and braying of sheep are Old Testament familiar, reaching back to the Fertile Crescent and before. "Previous, previous" as Van Morrison sings it. As they sip Rangeland wine, they see the native artifacts: arrowheads, grinding stones and bowls. These prehistoric tools of sustenance suggest a connection spanning thousands of years, and the web of history gains density. As we look over the ancient hills, we discuss their tectonic formation: the great conveyor of the Pacific plate crushing eastward under our very feet at the astonishingly slow (or fast?) rate of 3 inches per year. The stones and soil samples we display are old beyond comprehension, but the distinctive, lively minerality of our red wines reveals a sliver of the story. The dark, vivid flavors of our pastured meats offer the same delight and connection.
My family prospered helping to build, in a small way, the future. Of course we still rely on the internet to run our business, pursue our entertainment and connect with the world. But I am convinced that our future prosperity—and your enjoyment--here on the ranch relies more on an awareness of natural and human history than it does on technical innovation.
Free Shipping on Wine Orders
Your Rangeland Wines stock may be getting low and our next wine club shipment is about 2 months away. Now is the time to order some more wine! We're offering free shipping on Rangeland Wines orders (3-bottle minimum) through October 15. Just go to our website (www.RangelandWines.com) and place the order, no coupon required.
Early Harvest
We picked our first grapes of the season—Grenache and Syrah—on September 5, which is the earliest start to harvest we've had in several years. We've harvested almost every weekday since then. The winery is now packed with active fermentation tanks. With rainfall at 60% of normal, and this grape growing season the hottest on record, we're seeing a lot of early ripeness in the vineyard. Small grape berries are producing dark colors, tangy acids and grippy tanins that may make 2013 a particularly vivid vintage. We will likely be finished picking grapes by Harvest Festival (October 18-20), which will really put us in the mood to celebrate!
A typical harvest day begins with vineyard manager Nathan rolling out on clanking caterpillar tractor at 6:30 AM. He has a trailer with empty bins and a picking crew in tow. By mid-day, tons of fruit has been hand-picked by us or labor crews into lug boxes and then dumped into 1000 lb bins. We then truck the fruit, using the family pickup and a flatbed trailer, to nearby Thacher Winery, where we process our wine.
During the afternoon, the fruit is mechanically de-stemmed and then hand sorted by all of us on a vibrating stainless-steel table. It is then crushed by rollers into tall plastic tanks where fermentation can begin converting the sugars to alcohol. Winemaker Shannon oversees all the work: sampling the grapes, calling the pick, blending some lots at birth for co-fermentation, measuring sugars and acids, moving tanks into the sun to speed up fermentations or cooling them in the barrel room—and 100 other details on dozens of lots of wine. All these tanks are punched down manually two or three times a day, which can be a real test of endurance. After a couple of weeks "on the skins", the fermentations are typically complete and Shannon presses the wine with a hydraulic basket press and puts it in tanks, then barrels for aging. (We are pressing our first 2013 lot this weekend.) At the end of the day, often at sundown, we begin cleaning equipment for the next day's harvest. The next day we get up and do it again, amen.
Harvest Festival October 18-20
We will be pouring exclusively out at the ranch during Harvest Festival on Friday October 18 through Sunday October 20. We plan to offer tastes of our unreleased 2011 Rangeland wines along with freshly fermented samples from our 2013 vintage. On Saturday and Sunday only, we will also have grilled grass-fed beef and lamb sliders on hand for purchase. You're free to dine here on our sliders or bring your own picnic. If you've never been out to the ranch, this is a perfect opportunity to see where we grow our grapes and raise our cattle, sheep, and honey bees. Club members taste for free. If you join our wine club or beef club, you'll receive a 20% discount on all ranch products. Our gate will be open Friday-Sunday, 11-5 pm. Check our website for directions. We hope to see you then.
Lamb Shares Available
There are only a few lamb shares left from our summer harvest. We plan to harvest several more lambs in November, but if you just can't wait, now's the time to secure some of our delicious lamb for autumn entertaining. Our lamb is extremely tender and mild—we've gotten rave reviews. The Lamb Share (20 pounds for $225 before wine or beef club discounts) includes half of a lamb, or approximately:
1 rack
1 loin, cut into 1" chops
Sirloin and shoulder chops
2 leg roasts
2 shanks
Riblets and stew meat
A few pounds of ground lamb in 1 pound packages
Rangeland Pick-up Party November 16
On Saturday, November 16, we will host our second annual Rangeland fall pick-up party at our home, the ranch headquarters. Come out to the ranch and pick up your November wine club or beef club shipment and enjoy some live music. We'll have some newly harvested lamb shares for sale as well. We'll be pouring wine, serving grass-fed beef chili or lamb stew (we just haven't decided), and will have plenty to nosh on—home baked cookies, local cheeses and other appetizers. If weather permits, you can tromp through the vineyards or visit our animals, but as farmers, we hope we get rained on and this drought becomes a fading memory. We look forward to opening our home and celebrating with our loyal club members.
July Shopping Coupon



To celebrate our new website we are offering a 10% off coupon. Take this opportunity to stock up your wine cellar or meat freezer with a 10% discount coupon on your order (in addition to your club discounts), good through July 31. Just type in the following coupon code when you place your order: july2013
Flora Rose' Special

We've had some record breaking heat in Paso Robles the past couple of weeks. Hot days and warm evenings have us reaching for our chilled Flora Rose' for a post-work drink or preferred wine with picnics, salads and fish. We're offering a Rose' special: 6 bottles for $80 or 12 bottles (full case) for $150, through July 31. Your wine and beef club discounts apply, so if you enjoy our Rose' this is really too good to pass up.

Day of Horseback Riding on the Ranch

One of the best ways to enjoy the scenery and splendor of our ranch is on horseback. Outback Trail Rides will be leading a day-long ride on Saturday, July 27. Riders will start with a beautiful trail ride through a portion of the vineyard, down through golden pastures to the freshwater farm pond, where you can fish, swim or just relax for a few hours. Enjoy a catered lunch by J&R Meats and sip on some of Paso Robles' finest from Rangeland Wines. All ages over 6 are welcome and wine is available for those 21 and over.

Limited spaces available, and a minimum of 6 people is required for event to be held. Price is $195/person. For more information call Outback Trail Rides at 805.286.8772, or visit the Outback Trail Rides website.

If you're interested in a horseback ride at the ranch but can't stay the whole day, you can schedule an evening horseback or wagon ride through the vineyard with Outback Trail Rides. An evening hour-long wagon ride with wine tasting costs $45/pp, and an evening 1 ½ hour horseback ride with wine tasting costs $95/pp. Contact Outback Trail Rides for more information.

Lamb Shares

We've harvested about a dozen more lambs this month and will soon have some additional lamb for sale. Our first lamb harvest sold out quickly to wine and beef club members. If you'd like to be on the Lamb Share wait list, go to the Lamb Share waiting list form. The Lamb Share (20 lbs, $225 before wine or beef club discounts) includes half of a lamb, or approximately:
• 1 rack
• 1 loin, cut into 1" chops
• sirloin and shoulder chops
• 2 leg roasts
• 2 shanks
• riblets and stew meat
• a few lbs. of ground lamb and/or sausage, in 1 lb. packages

Beef Club

June is a busy month at the ranch—we gather all of our cattle for branding, and sort and harvest our beef for the year's beef club boxes. We were able to add several new members to the Beef Club this year, but unfortunately there are many more people on the notification list than we have beef club boxes to share. We wish we could wave a wand and produce more home grown grass-fed beef, but there is no hurrying Mother Nature!
To be eligible for future membership in the Beef Club, fill out the form (including your credit card info) at: https://www.rangelandwines.com/clubs/ASR-Beef-Club-waiting-list. For this harvest and for the future, we will use this list on a first-come, first-served basis to allocate newly available Beef Club memberships. We expect our production to more than double in the coming years as our ranch-raised Angus herd grows, so we can likely satisfy all the current demand, given time. Being on this waiting list will give you a 10% discount on Adelaida Springs Ranch ground beef (we have plenty, available in 10 lb. and 20 lb boxes), Rangeland Wines, ranch events and everything we do here.
Beef Club boxes began shipping July 8, and Beef Club pick-ups are currently available at J&R Natural Meats at 3450 Riverside Drive in Paso Robles.
You know you want to
Sign Up For Our Newsletter
Keep up to date on the latest wine releases, events, and promotions and get 10% off your next order.