We had a rushed and exhausting harvest this year; it arrived early and was particularly relentless. In other years we've picked grapes for a few days, then had a few days "off," then picked some more--harvest usually strolls along like that for about 6 weeks. But this autumn, we picked day after day after day, followed by night after night in the winery. I hardly had time to feel sad about my youngest child's move to UC Santa Barbara. Thankfully she was very organized about gathering the essential goods and packing. We dropped her off on a stunningly warm and beautiful Sunday in late September.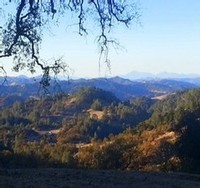 Angeline came home for the Thanksgiving holiday Tuesday night, and Wednesday afternoon we went for a long stroll on the west side of the ranch. We were searching for botanicals for the 2013 Flora Rose' label. We had a few plants in mind and set out to find some good samples to photograph. I had Laird's small Nikon and Angie had her trusty iphone. Last year's winning picture of Bay Laurel for our Rose' label was taken with her phone--technology is pretty amazing. We were hoping to get pictures of plants in the field and to collect some for more photographing against a white background at home.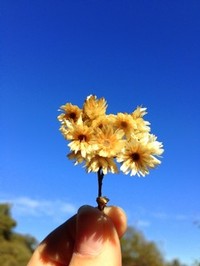 So about wine labels: every label must be approved by the federal government before it can be printed and applied to a bottle of wine. Naturally, organizing our work around the approval of the sluggish Bureau of Alcohol and Tobacco Tax and Trade (TTB) can be frustrating. Usually we set our two bottling dates (early April, late August) months in advance, and work backwards from there to get the label ready. There is often a backlog at the Bureau, anywhere from several weeks to several months, making label approval one more thing our winemaker Shannon has to worry about. For most of our varietals, the label changes are very minor: just updating the year on the front label, the percentage of alcohol, and the percentage breakdown of any blends. But with the Flora Rose' we change the picture and the description on the back label each vintage, and are almost always surprised that it is once again that time of year--a scramble to select a botanical for the label.
Throughout the year I try to take pictures of wildflowers so that we have plenty to choose from; we have a pretty good selection on the computer. But this year we had other plans. There aren't many flowering plants in the winter, but we knew of a few that we particularly love. Pearly Everlasting (anaphalis margaritacea) blooms in summer and bears many clusters of small white blossoms. They dry out in the fall and are a sturdy, pretty, cream-colored dry flower (hence the everlasting). They also have a distinctive butterscotchy, brown sugar fragrance when you crush the flowers in your fingers. It's a food plant for butterflies and was used by Native Americans as a salve for burns. Angeline and I found several specimens on the rocky, sagebrush trail to our springs. We experimented with photographing the plant as it stands, and holding it up against the blue sky.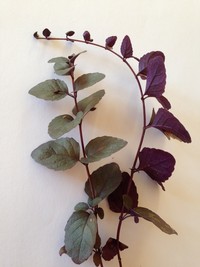 We were also looking for Yerba Buena (Clinopoduim douglasii), a native mint plant that grows under oaks and alongside shady creeks, low and runner-like in the rich soil. Yerba Buena is the common name, which means good herb in Spanish. The first we came upon were dried and gray; the drought has definitely affected the plant life on the ranch this year. But once we got to our springs, where the sunlight barely filters in and lush ferns and madrone grow, we found some beautiful samples. The leaves are almost heart shaped, and a vivid purple on the underside. The plant has a strong minty scent and was used medicinally by natives. Laird and Nathan had been cutting wood earlier in the week, beneath an oak, and Laird had waxed poetic about the cool sunny day, with the scent of crushed mint wafting up from beneath their boots. That's what gave me the idea to hunt this plant down and possibly feature it on our label.
While at the springs we checked the level of Lake Rufus, which was quite low. This lake (a small pond, really) was named after our now departed chocolate lab, who spend many summer up there while Laird and the boys developed our water system. Rufus was always game for a wet fetch or swim. The water level was way down, but even so Arrow, our tireless fetcher, could not be persuaded to get his pretty white feet wet. There were dozens of fat goldfish swimming around, the survivors of a bucket of cheap goldfish that Angie and her cousin doled out in every trough and pond one long ago summer. They are surprisingly hearty.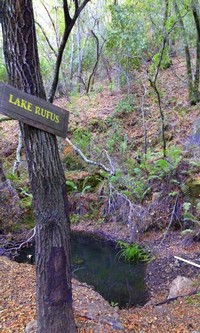 We tromped back to the car with our samples and Angeline held them carefully as we drove home. We hope you'll like our new label when Rangeland's Flora Rose' 2013 is released next spring.
This is a Foshay family favorite, and a perfect winter dish. It's also a really good way to use some of the tougher cuts of the beef: think chuck, clod, or round roasts, and boneless chuck steaks. If the roast is large enough, you can cube it and perhaps double the recipe--one for dinner, and one for the freezer. You can skip the chive crust and use a puff pastry sheet from your freezer; I almost always go that route. One sheet, defrosted and lightly rolled out, will cover a 9x13, making this dish even easier to assemble. If you do set one aside for the freezer, don't add the crust until you're ready to bake. Defrost the pie in your refrigerator for the day before you pop it in the oven.
http://www.myrecipes.com/recipe/beef-leek-potpie-with-chive-crust-10000001714572/
Free Shipping on Wine Orders
Your Rangeland Wines stock may be getting low and our next wine club shipment is about 2 months away. Now is the time to order some more wine! We're offering free shipping on Rangeland Wines orders (3-bottle minimum) through October 15. Just go to our website (www.RangelandWines.com) and place the order, no coupon required.
Early Harvest
We picked our first grapes of the season—Grenache and Syrah—on September 5, which is the earliest start to harvest we've had in several years. We've harvested almost every weekday since then. The winery is now packed with active fermentation tanks. With rainfall at 60% of normal, and this grape growing season the hottest on record, we're seeing a lot of early ripeness in the vineyard. Small grape berries are producing dark colors, tangy acids and grippy tanins that may make 2013 a particularly vivid vintage. We will likely be finished picking grapes by Harvest Festival (October 18-20), which will really put us in the mood to celebrate!
A typical harvest day begins with vineyard manager Nathan rolling out on clanking caterpillar tractor at 6:30 AM. He has a trailer with empty bins and a picking crew in tow. By mid-day, tons of fruit has been hand-picked by us or labor crews into lug boxes and then dumped into 1000 lb bins. We then truck the fruit, using the family pickup and a flatbed trailer, to nearby Thacher Winery, where we process our wine.
During the afternoon, the fruit is mechanically de-stemmed and then hand sorted by all of us on a vibrating stainless-steel table. It is then crushed by rollers into tall plastic tanks where fermentation can begin converting the sugars to alcohol. Winemaker Shannon oversees all the work: sampling the grapes, calling the pick, blending some lots at birth for co-fermentation, measuring sugars and acids, moving tanks into the sun to speed up fermentations or cooling them in the barrel room—and 100 other details on dozens of lots of wine. All these tanks are punched down manually two or three times a day, which can be a real test of endurance. After a couple of weeks "on the skins", the fermentations are typically complete and Shannon presses the wine with a hydraulic basket press and puts it in tanks, then barrels for aging. (We are pressing our first 2013 lot this weekend.) At the end of the day, often at sundown, we begin cleaning equipment for the next day's harvest. The next day we get up and do it again, amen.
Harvest Festival October 18-20
We will be pouring exclusively out at the ranch during Harvest Festival on Friday October 18 through Sunday October 20. We plan to offer tastes of our unreleased 2011 Rangeland wines along with freshly fermented samples from our 2013 vintage. On Saturday and Sunday only, we will also have grilled grass-fed beef and lamb sliders on hand for purchase. You're free to dine here on our sliders or bring your own picnic. If you've never been out to the ranch, this is a perfect opportunity to see where we grow our grapes and raise our cattle, sheep, and honey bees. Club members taste for free. If you join our wine club or beef club, you'll receive a 20% discount on all ranch products. Our gate will be open Friday-Sunday, 11-5 pm. Check our website for directions. We hope to see you then.
Lamb Shares Available
There are only a few lamb shares left from our summer harvest. We plan to harvest several more lambs in November, but if you just can't wait, now's the time to secure some of our delicious lamb for autumn entertaining. Our lamb is extremely tender and mild—we've gotten rave reviews. The Lamb Share (20 pounds for $225 before wine or beef club discounts) includes half of a lamb, or approximately:
1 rack
1 loin, cut into 1" chops
Sirloin and shoulder chops
2 leg roasts
2 shanks
Riblets and stew meat
A few pounds of ground lamb in 1 pound packages
Rangeland Pick-up Party November 16
On Saturday, November 16, we will host our second annual Rangeland fall pick-up party at our home, the ranch headquarters. Come out to the ranch and pick up your November wine club or beef club shipment and enjoy some live music. We'll have some newly harvested lamb shares for sale as well. We'll be pouring wine, serving grass-fed beef chili or lamb stew (we just haven't decided), and will have plenty to nosh on—home baked cookies, local cheeses and other appetizers. If weather permits, you can tromp through the vineyards or visit our animals, but as farmers, we hope we get rained on and this drought becomes a fading memory. We look forward to opening our home and celebrating with our loyal club members.
July Shopping Coupon



To celebrate our new website we are offering a 10% off coupon. Take this opportunity to stock up your wine cellar or meat freezer with a 10% discount coupon on your order (in addition to your club discounts), good through July 31. Just type in the following coupon code when you place your order: july2013
Flora Rose' Special

We've had some record breaking heat in Paso Robles the past couple of weeks. Hot days and warm evenings have us reaching for our chilled Flora Rose' for a post-work drink or preferred wine with picnics, salads and fish. We're offering a Rose' special: 6 bottles for $80 or 12 bottles (full case) for $150, through July 31. Your wine and beef club discounts apply, so if you enjoy our Rose' this is really too good to pass up.

Day of Horseback Riding on the Ranch

One of the best ways to enjoy the scenery and splendor of our ranch is on horseback. Outback Trail Rides will be leading a day-long ride on Saturday, July 27. Riders will start with a beautiful trail ride through a portion of the vineyard, down through golden pastures to the freshwater farm pond, where you can fish, swim or just relax for a few hours. Enjoy a catered lunch by J&R Meats and sip on some of Paso Robles' finest from Rangeland Wines. All ages over 6 are welcome and wine is available for those 21 and over.

Limited spaces available, and a minimum of 6 people is required for event to be held. Price is $195/person. For more information call Outback Trail Rides at 805.286.8772, or visit the Outback Trail Rides website.

If you're interested in a horseback ride at the ranch but can't stay the whole day, you can schedule an evening horseback or wagon ride through the vineyard with Outback Trail Rides. An evening hour-long wagon ride with wine tasting costs $45/pp, and an evening 1 ½ hour horseback ride with wine tasting costs $95/pp. Contact Outback Trail Rides for more information.

Lamb Shares

We've harvested about a dozen more lambs this month and will soon have some additional lamb for sale. Our first lamb harvest sold out quickly to wine and beef club members. If you'd like to be on the Lamb Share wait list, go to the Lamb Share waiting list form. The Lamb Share (20 lbs, $225 before wine or beef club discounts) includes half of a lamb, or approximately:
• 1 rack
• 1 loin, cut into 1" chops
• sirloin and shoulder chops
• 2 leg roasts
• 2 shanks
• riblets and stew meat
• a few lbs. of ground lamb and/or sausage, in 1 lb. packages

Beef Club

June is a busy month at the ranch—we gather all of our cattle for branding, and sort and harvest our beef for the year's beef club boxes. We were able to add several new members to the Beef Club this year, but unfortunately there are many more people on the notification list than we have beef club boxes to share. We wish we could wave a wand and produce more home grown grass-fed beef, but there is no hurrying Mother Nature!
To be eligible for future membership in the Beef Club, fill out the form (including your credit card info) at: https://www.rangelandwines.com/clubs/ASR-Beef-Club-waiting-list. For this harvest and for the future, we will use this list on a first-come, first-served basis to allocate newly available Beef Club memberships. We expect our production to more than double in the coming years as our ranch-raised Angus herd grows, so we can likely satisfy all the current demand, given time. Being on this waiting list will give you a 10% discount on Adelaida Springs Ranch ground beef (we have plenty, available in 10 lb. and 20 lb boxes), Rangeland Wines, ranch events and everything we do here.
Beef Club boxes began shipping July 8, and Beef Club pick-ups are currently available at J&R Natural Meats at 3450 Riverside Drive in Paso Robles.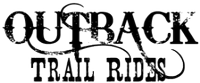 Join Outback Trail Rides on Saturday, July 27, for a fun-filled day on Adelaida Springs Ranch with Rangeland Wines. Start your day with a beautiful trail ride through a portion of the 40 acre vineyards nestled within a 1500 acre woodland valley. Travel your way though golden pastures to the freshwater farm pond, where you can fish, swim or just relax for a few hours. Enjoy a catered lunch by J&R Meats and sip on some of Paso Robles' finest from Rangeland Wines. All ages over 6 are welcome and wine is available for those 21 and over.

Your day includes:

•1.5 - 2 hour horseback ride through the Adelaida Springs Ranch vineyard
•Wine tasting from Rangeland Wines
•Catered lunch by J&R Meats
•Afternoon (2-3 hours) at the creek where you can fish or swim
•Gorgeous views only open to the public on this day!

Full day at the Ranch price: $195 per person

Want the horse ride experience but can't stay the whole day? Schedule an evening horseback or wagon ride through the vineyard.

Evening 1 hr Wagon Ride only price including wine tasting: $45/pp
Evening 1.5 hr Horseback Ride only including wine tasting price: $95/pp

Limited spaces available. Minimum of 6 people required for event to be held. For more information call Outback Trail Rides at 805.286.8772.
Visit the Outback Trail Rides website for more information.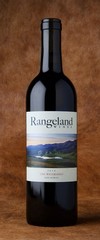 We are proud to announce that Rangeland Wines 2010 The Watershed won a gold medal and Best Of Class, with a score of 94 points in the limited production winery category for Bordeaux Blends at the Los Angeles International Wine & Spirits Awards. We are also proud that Justin Vineyards, won Best of Class in the same category for larger production wineries with their 2010 Isosceles, a wine which includes a significant fraction of wine from our Adelaida Springs Ranch estate vineyard. It's interesting to note that Isosceles (93 points) is priced at $62, while Rangeland The Watershed (94 points) is just $30. This double victory says a lot about the rising tide of Paso Robles Bordeaux wines and the major role that our estate vineyard is playing. Learn more about The Watershed : click here.
Late in the afternoon I decided to walk to our little rental house to check on the garden. I pulled my cowboy boots on (baby snake season!) called Silver the dog and we set off on our 2 mile jaunt. The clover and vetch on the way down to the lake was thick and buzzing with bees. We came right upon a huge ground squirrel mound with the squirrel sitting right at the "door". Silver couldn't quite believe his luck; in his second of hesitation the squirrel dove into his hole. Silver went after him, squirrel squeaking, Silver digging and tossing aside clumps of sod with his mouth. I kept on down the hill and finally had to call him off the hunt.
Right in the middle of the road I found two halves of a fragile, palest blue bird egg. I put a half on each of my thumbs, so I wouldn't crush them while I walked.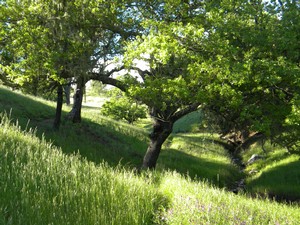 The grass on the flats was tall and green, and the wind was blowing slightly. I took a shortcut to the house across the field and over the little creek. The grasses were soft and waving in the breeze and came up to my thighs. I was reminded of the scene in Gladiator when Maximus is walking towards his home, through the golden grain fields, haunting music, his hand brushing the grass. It felt very sacred and still as I walked with my fingers spread. But with my thumbs up---the egg shells! At the little house the garden had gone wild with weeds; the roses, left unpruned this year, are going nuts too. Maybe the secret to the perfect garden is a little bit of neglect?
As I walked back home up the big, big hill, huffing and puffing a little, the rams and young male lambs in the pasture below the house greeted me. On the very last push, up the bank to the patio, I saw my one and only snake. A baby king snake about 6 inches long, starkly black with white bands, the width of a pencil. He squiggled up the hill as my shadow crossed his path.

We have harvested, dry-aged and boxed our first lamb crop from the Ranch. Based on early sampling, the meat is mild, lean and succulent. We are now offering our Lamb Shares (half a lamb). If you are a wine or beef club member, your 20% club discount will apply to each 20 lb. Lamb Share box ($225 list price), which will include:
1 rack
1 loin, cut into 1" chops
sirloin and shoulder chops
2 leg roasts
2 shanks
riblets and stew meat
a few lbs. of ground lamb and sausage, in 1 lb. packages
The lamb can be pickedup starting April 28 at Field Day and can be picked-up at J&R or shipped starting April 29.
A rich aspect of agricultural life is seasonality and the change of pace that comes with it. Wintertime brings shorter days, longer nights and soggy weeks. After 300+ days a year of sunny and often hot weather in Paso Robles, capped by the long days of the wine harvest, we gladly huddle indoors on occasion and enjoy an oakwood fire. There is more time for reading and indoor work on the business side of ranching and winemaking, as well as time to reflect.
I began my winter reading with Richard Rhodes' Arsenals of Folly, which recounts the history, proliferation and attempts to limit nuclear arms. It is a chilling ride that brings the Cold War to life and reminds us of the fundamental risks of modern life and technology. While reading that book in the deep of a November night (3:07 AM, actually), I was startled to see what I thought was a bright and persistent shooting star out my bedroom window. I went out on our south-facing balcony to watch it arc across the sky when I realized I was watching a missile launch, the ghostly trail of which lingered in the night sky as if left the atmosphere far out over the Pacific. This apparition had been a Vandenberg Air Force Base test launch of a Minuteman intercontinental ballistic missile (ICBM), whose designed purpose is to carry a nuclear weapon to the far side of globe. I was profoundly moved at the eerie coincidence. I have not been able to stop thinking about it for very long since.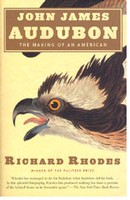 I was so impressed by Richard Rhodes writing that I sought out another of his books: John James Audobon: The Making of an American. This book provided a rich plunge into the world of early 1800s frontier America. It is, for me, a gripping tale of the great naturalist, artist and publisher spanning decades of misfortune, persistence and eventual triumph. Audobon's _Birds of America_ was the finest ornithological work of its time and his paintings set new standards for natural realism. His scenes have a wild, strange, sometimes violent quality that Rhodes summed up as "the concentrated essence of the wilderness". What really struck me in the book was the dramatic environmental changes already taking place in North America. Audobon observed that through deforestation and overharvesting of wildlife in 1830, "Nature herself is perishing".
Moving on in my literary journey, I read Wendell Berry's The Gift of Good Land. Nathan, our ranch manager, had recommended it to me and was so moved by the book that he read passages aloud to us. The Gift is a collection of essays on sustainable farming published in 1981 that is still strikingly relevant. Berry's prose is so thoughtful and beautiful that I found myself marking page after page with dog eared corners.
On the work of family farmers Berry comments: "The work of factory workers is ruled by the factory. Whereas the work of housewives, small craftsmen and small farmers is ruled by their own morality, skill and intelligence" and "society...may lose...efficiency and economy of scale. But it begins to gain...independence, pride, respect....love, reverence."
On cattle feedlots: "within the boundaries of the feeding operation itself a certain factory-like order and efficiency can be achieved. But [it] produces biological disorder, for we know that health problems and dependence on drugs will be greater among cattle so confined than among cattle on pasture. And beyond those boundaries, the problems multiply."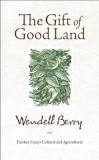 On life: "the world, the weather, and the life cycle have caused me no end of trouble, and yet I look forward to putting another forty or so years with them because they have also given me no end of pleasure and instruction. They interest me. I want to see them thrive on their own terms."
On farming: "Agriculture depends on nature and is contained in nature; if you want to understand agriculture, therefore, you must understand what preceded it."
So what does all of this reading and reflection have to do with growing (and enjoying) good food and fine wine? Everything.
You know you want to
Sign Up For Our Newsletter
Keep up to date on the latest wine releases, events, and promotions and get 10% off your next order.