Contents: 2 fer 1 Special, Beef Club, Burgers, Wine Tasting, July 4, Rental Cottage

Time to Play Favorites!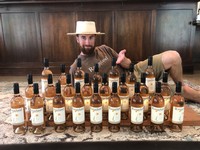 You all have been wonderfully supportive during this time of crisis. When you couldn't visit you ordered more wine and meat online. That was a lifeline for us. As we re-opened, you came back to the tasting room with smiles and gratitude. We are very grateful too and we'd like to show our appreciation with an extra special offer. Select your favorite wine, the one you'd like to drink every week. If you buy one case, we will double your order! We can't say free and we won't say BOGO, but you get the idea: 24 bottles for the price of 12. Your club discount applies, too. No mixed cases--you have to pick a favorite! But you can order more than one case of your favorite and have more than one favorite wine--two cases at a time. Limit 10 (20) cases. Time to stock up for the summer and for all of your celebrations, even if you're just celebrating a pizza on Tuesday night. Does not apply to 2016 Syrah Mourvedre, which is already on special for $240 per case. And no, there is no more 2016 Mistletoe. Order by email here. Check out all of our available wines here.
Beef Club On Deck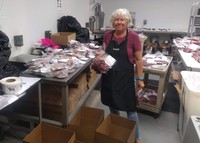 We are busy packing boxes for our beef club members and we know you're looking forward to your annual 25 lb. shipment. That's my meat packing mama Lisa in the pic. After a dryish winter, good March rainfall resulted in plenty of rich pasture feed--the beef is delicious! Another good Rangeland "vintage."
For those of you scheduled to pick up, boxes will be available at J&R Meats in Paso Robles beginning July 3. J&R Paso is open Mon-Sat, 8-5, closed Sundays. They will be open until noon only on July 4. Or you can make an appointment to pick-up at the tasting room. We will start shipping beef the week of July 13. Club members will receive an email about their box purchases (including extra orders), and information about shipping in the next week. If you're on the waiting list, you'll be hearing from us about availability after July 6.
Grass-Fed Beef Burger Weekends
Our mouth-watering grass-fed burgers will continue to be served at the tasting room every Saturday and Sunday, 11-4. Last orders at 3:30. Please make an appointment.
Wine Tasting Now Available
We are permitted to pour tastings (outdoors only) once again. Thank you, oh mighty governor! We are still encouraging appointments, especially on the weekends, to ensure that your group will have seating and adequate spacing. We look forward to seeing you!
We're Open 4th of July, 11-5
Since all the typical public parades and fireworks seem to be cancelled, we've decided we will be open 4th of July, serving burgers and wine on our patio and lawn. You're welcome to bring a picnic blanket if you prefer to sit on the grass. Families are welcome. Please make an appointment.
Vacation Rental
Our Vineyard View Cottage vacation rental is booking up fast--there is just one weekend available in July and two in August. There are a few weekdays available too. It's a really lovely, relaxing place to recharge your batteries and enjoy some quiet country living. The 3-bedroom house sleeps six--perfect for a family or 2-3 couples. To view the house and make a booking inquiry, go here.
Grass-Fed Burgers are Back! Starting this Weekend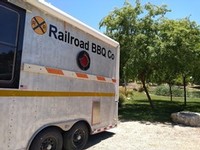 We've partnered with Railroad BBQ Company to serve our delicious Rangeland estate grass-fed beef burgers and tacos on Saturdays and Sundays going forward. We are starting this weekend May 30 and 31, 11am to 4pm. Please make an appointment. You can purchase a bottle of wine to enjoy onsite, but only if you purchase a meal at the same time. We are still not offering wine tasting flights, due to COVID-19 restrictions. It's a dream come true to serve our estate GFB (grass-fed beef) burgers at the Rangeland tasting room. Come out and enjoy a lovely lunch and a bottle of wine!
Father's Day Special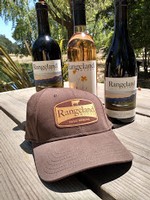 Since Dads are getting tired of mansplaining the intricacies of the pandemic and its regulatory backlash, they deserve a nice break this year, don't you think? We've got a special for Father's Day--3 bottles of wine (or more, your choice of wines) and a free Rangeland ball cap! $1 shipping applies, as do your club discounts. Father's Day is Sunday, June 21, and the deadline for shipping orders is Friday, June 12 If you're local or going to be in town, you can pick up your Father's Day order Thursdays-Mondays, 11-5. Order by email.

Beef Club Boxes Coming Soon!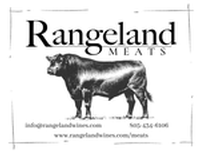 We've begun our annual beef harvest and Lisa (my wife and hands-on proprietress of this estate) will soon be packing beef club boxes for members. She gonna touch all yo' meat, so to speak. We'll get back to you about billing and shipping dates later this month.
We've added many new Beef Club members, so we may not have as much (if any) extra beef after club shipments this year. You can reserve additonal 25 lb. beef club boxes ($240 each, wine or beef club price). We also will have 10 lb. boxes of ground beef ($72 club price) and 20 lb. boxes of ground beef ($128 club) available while the supply lasts. You can add these to your Beef Club order or buy them separately as a wine or lamb club member. With inflated beef prices and poor supply in the grocery store, these deals are better than ever and you are getting 100% grass-finished beef from our estate pastures. Pre-order these products now by email.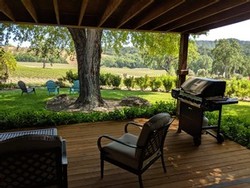 Our Vineyard View Cottage has a number of open dates available due to recent cancellations. The cottage is a great place for a family or friend group (3 bedrooms, sleeps 6) to isolate and restore with plenty of space and fresh spring air. We are offering 3 nights for the price of 2 for bookings through June 30. Price is $400/weekend night (Fri, Sat, Sun), and $350/weekdays. Club discounts apply. Book your stay here.

We started the Rangeland experiment twenty years ago by purchasing Adelaida Springs Ranch and planting our estate vineyard. I will never forget the first day I saw the ranch in March of 2000. It had been raining and was overcast. The lake was full, the cattle were lowing on the hills and rainwater was dripping from the mossy oak trees into the knee-deep grass. I was a goner. Love at first sight. So we left Silicon Valley and headed for the hills of Paso Robles.
Ten years ago, we started bottling a Rosé annually, featuring a local plant depicted in botanical label art, with some explanatory copy on the back label. We wanted to call attention to the natural beauty and rich diversity of the wild pastures and woodlands that surround our vineyard. The Flora Rosé, as we call it, has no direct connection with the plants on the label, but there is a profound symbolic and environmental connection between the landscape and our wines. The wild plants around us demonstrate the richness and diversity of our local soils and climate, much as our wines do. Did you know that California's oak woodlands are home to some 2,000 species of plants, 170 birds, 100 mammals, 60 amphibians and reptiles and 4,000 species of insects? Most of those live right here. We are doing our best to conserve this biodiverse landscape for posterity through a sustainable approach to our wine and meat businesses.
We also take inspiration from the simple beauty of the landscape, the animals and the plants. And we think the Flora Rosé crafted by winemaker Paul Hinschberger sings with aromatic fruitiness, while retaining a refreshingly dry, crisply acidic character. So, cheers to 20 years of Rangeland. Cheers to ten years of Flora Rosé. Cheers to a healthy posterity for our children and the generations to come. And cheers to you for helping make this possible. We are deeply grateful.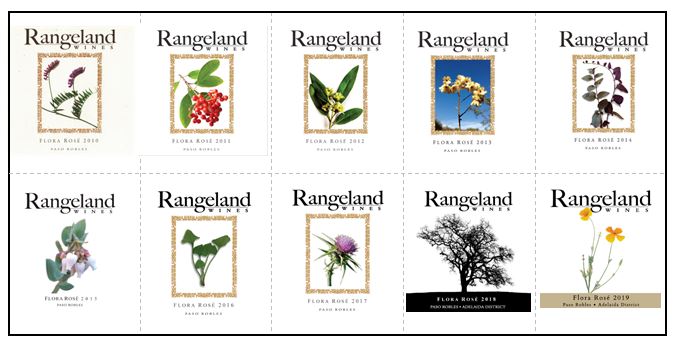 Contents: Spring Wine Club, Doppel Club offer, New Beef Sampler, Rental Cottage, Field Day Cancelled
Thank you for the tremendous support and good cheer we have received in the last couple weeks of crisis. We appreciate every order and sweet message we get, now more than ever. Our crew and their famiies are all well so far. We hope the same is true for you.
Spring Wine Club, Doppel Offer
Our spring Wine Club selection has some new releases, detailed below. If you are a six bottle or more club member, we are offering an additional 10% off with $1 shipping if you double your order. For example, a 6-bottle, 20% off Estate Club member would get a full case at 30% off, a savings of about $40 on that case of wine, plus shipping savings. If you would like to take advantage of this offer to stockpile a little wine for your sheltered existence, please email us.
We will start billling the wine club April 16 and your shipment will available for pickup starting April 20. We will ship wine club the week of April 29. Here are the wines we are planning to include:
2019 Flora Rosé* - new release! (or 2016 Ultramafic for reds only members)
2016 Cabernet* - new!
2017 Zinfandel - new!
2016 Petite Sirah*
2016 Syrah Mourvedre
2015 Watershed*
*denotes 4-bottle intro club selection.
Please let us know by email if you'd like to customize your spring shipment. All the available wines are listed here. Please update your credit card and shipping information, if necessary, at www.RangelandWines.com. You can use your email address to retrieve your password to login.
New Grass-fed Beef Sampler
Lisa and I went on a treasure hunt in our freezer and found enough steaks, roasts and other beef goodies to put together some 13 lb sampler boxes. Each $150 (club discounts apply) Grass-fed Beef Sampler box will include:
steaks (top sirloin, skirt, hanger, flat iron or flank), 2-3 lbs.
roasts (Sirloin, clod, brisket or round), 2-3 lbs.
ground beef, 2-4 lbs.
stew meat, kabobs, shanks, soup bone, etc., 3-5 lb
Order here.
Vineyard View Rental Cottage
Our Vineyard View vacation rental cottage includes 3 bedrooms ($400 per night) and is a great place for a family or friend group to isolate and restore with plenty of space and fresh spring air. Book here.
Field Day Cancelled
Uncertainty about the current COVID-19 restrictions has doomed our April 25 event. We will be issuing refunds for any tickets purchased and watching the calendar for a break in this hunkered down outlook. We look foward to celebrating the 20th anniversary of Rangeland with you, some time in the future.
After discussing the COVID-19 situation with my team and family and considering the official precautions about the virus, I would like to make the following announcements:
Rangeland wine tasting is suspended for the time being, until further notice.
Our tasting room will remain open for pickups, bottle sales, case sales and meat sales, Thursday to Monday, 11-5.
We are offering an additional 10% off and $1 shipping on all wine orders of six bottles or more. Please email us your order request so we can combine it with your club discount and other specials we are offering.
Our online meat sales have been brisk, but we have some ground beef boxes available if you would like to stock up on some delicious and nutritious meat. Order here.
Our tasting room grounds will be available for small group (less than 10 people) picnics with a fee of $10 per person. Please make an appointment if you are planning a picnic. Suspended due to shelter at home announcements.
We will not be serving grass-fed hamburgers this coming Saturday, March 21, as previously planned.
We have not yet cancelled our April 25 Field Day event. We will keep you posted about our plans for that.
Please accept our warmest wishes that you stay safe and healthy in this time of crisis. Eat well, drink well, and rest up for the better times ahead.
Contents: Ranch Report, Wine Specials, Beef Special, Club News, Field Day, More Events

Winter Spice
Winter is a time of preparation and variety both on the ranch and in the winery. Winemaker Paul Hinschberger has been topping and blending wines, preparing for spring bottling. Firewood has been cut (for bbq burgers!) and burn piles have been lit. Our new vineyard manager Eusebio Rico (formerly of Halter Ranch) has already pruned the vineyard and the trellis wires are postioned for the season. We are well ahead of last year's schedule, which was delayed because of heavy rain. Now that we're prepped--could we get some rain please? The rainy season has produced just 12 inches of precip, almost all of which came in December.

Fecund Spring: Ever Seen a Lambpede?
In central Calfornia, sprIng comes early. More than seventy lambs have been born in the last two weeks---major output for only about 50 eligible ewes. We have many sets of twins and even two sets of triplets! Ranch manager Dane Jensen has had the flock up by our house so we've been able to enjoy many sweet and hilarious moments with the babies. See a video. New calves are appearing as well, so spring has definitely sprung on the ranch.
Wine Special: Syrah Mourvedre
Our 2016 Syrah Mourvedre is a 50/50 blend that deftly expresses the elegant Rhone terroir of the Adelaida District. This wine is aromatically charged, with hints of grilled mushroom and hoisin. On the palate, dark, supple Syrah fruit is streaked with savory, umami-like tones from whole-cluster Mourvedre. Mouth watering acidity lifts the flavors. The finish is backed by crisp, lingering tannins. A hint of smoke from the 2016 Chimney Fire is Mother Nature's wicked kiss, providing you with opportunity to buy this very fine wine at a fire sale price: $30 per bottle (order here) or $240 per case of 12 bottles, before club discounts. Order here.
We are continuing our Mistletoe case special fire sale:12 bottles for $200 before club discounts, while the supply lasts. Order here.
Beef Box Special--33% off!
We have a few more 2019 beef club boxes available, featuring our tasty and nutritious grass-fed beef at a killer price--$200 before your club discount. Each 25 lb. box contains 6 lbs. steaks, 6 lbs. roasts, 8 lbs. ground, and 5 lbs. extras (stew, kabob, shank and soup bones). We can ship anywhere in CA, NV, AZ, OR and WA for just $1 through the month of March. Order here. Use $1ship coupon code!
Spring Club News
The Lamb Club will likely ship April 6. We will contact members before, as usual. The Wine Club will ship the week of April 27, with more details to come next month. The Beef Club will ship in late June.
Field Day, Saturday April 25, 12-3
You can sign up now for Field Day, our annual spring pick up party when we relax in the field, enjoy lambs and calves and listen to music. Of course we'll eat estate-grown beef, lamb and other goodies accompanied by our Rangeland Wines. Come celebrate our 20th anniversary as a ranch--we look forward to enjoying the day with you! Tickets are $50/person before club discounts. Open to everyone--you don't have to be a club member to attend. Space is limited, so buy your tickets now! Order here.
More events Through May 2019
Inagural Full Moon Wine Dinner, March 7
Sold out.
Vintage Paso Zinfandel Festival, March 20-22
We'll be releasing our 2017 Zinfandel and tasting a 2018 Zin barrel sample. We're serving our authentic, estate raised grass-fed beef and lamb hamburgers on Saturday only, 12-4. A burger, side salad and a Lisa cookie is $15. We also have charcuterie and cheese plates available for purchase all weekend.
Wine Festival, May 14-17
We're serving our famous grass-fed beef and lamb burgers on Saturday only, May 16, 12-4. Burger, side salad and a Lisa cookie is $15. We will also have charcuterie and cheese plates available for purchase all weekend.
Memorial Day Weekend, May 23-25
We're serving our famous grass-fed beef and lamb burgers on Saturday only, May 23, 12-4. Burger, side salad and a Lisa cookie is $15. We will also have charcuterie and cheese plates available for purchase all weekend.
We are always open Thursday-Mondays, 11-5. If you are in town on a Tuesday and Wednesday and would like to schedule a tasting, please contact the tasting room prior to your visit and we will do our best to accommodate you.
In this issue: 20th Anniversary, Wine Specials, Beef Special, Vacation Rental, Full Moon Wine Dinner, Link to Story by Laird, Event Calendar

Happy 20th Anniversary to Rangeland!
We opened our new tasting room at the corner of Vineyard Dr. and Peachy Canyon Road last January--and what a year it's been! We so appreciate your continued support of our family winery and ranch.
This year is also the 20th anniversary of us purchasing and establishing Adelaida Springs Ranch. We started this Rangeland enterprise--growing grapes, making wine, and raising grass-fed cattle and sheep--as complete beginners, fresh from Silicon Valley. Now, after 20 years of holding the agricultural cougar by the tail, we like to think of ourselves as advanced beginners. We just tasted through our 2018 vintage blending trials with Paul Hinschberger, our winemaker. They are tasting great: nicely fruit forward but nuanced. Last week we worked (dewormed and vaccinated) 140 head of cattle without any wrecks. We confirmed 59 pregnant cows, fat with calves for springtime. Most of these cows were bred by our lead Angus bull, Legend. No big deal in a world dominated by factory farms, but a far piece from our raw beginnings as ranchers and vintners.
With your suppport, we've been able to keep our pristine coastal mountain ranch intact, preserving the priceless scenery and habitat for future generations of wildlife, livestock and human visitors. Check out our photo album, where the landscape, the plants and the animals are the real stars of the show. We'll be celebrating this milestone in style at our Field Day party on April 25--make sure you check the next newsletter for more details and an opportunity to sign up. You won't want to miss this one!



Valentine's Bordeaux Special: $99 for 3 Bottles
We are featuring some very fine wine at a price lovers can love. Through February, we have lowered the price of our delicious 3-pack of Rangeland Bordeaux varietal wines. They are on sale for just $99 before your club discount. The pack includes our 2015 Cabernet, the delicious 2015 Watershed (Bordeaux blend), and our age-worthy 2015 Limestone Reserve. This is a killer deal--be a clever shopper and give your sweetheart something you can both enjoy! Order here. Use $1ship coupon code!
Mistletoe Case Special: $200
Our 2016 Mistletoe is still on special by the case at a fire sale price--just $20 per bottle or $200/case before your club discount, and $1 shipping through the end of February, our little Valentine's gift to you. Order here. Use $1ship coupon code!
Beef Special--33% off Beef Club Boxes!
We have some extra beef club boxes from our 2019 summer harvest--it stays wonderfully fresh in the vacuum packaging--no freezer burn at all. Each 25 lb. box contains 6 lbs. steaks, 6 lbs. roasts, 8 lbs. ground, and 5 lbs. extras, including stew meat, kabob pieces and shanks--plus a free soup bone. Normally priced at $300 before discounts, we're offering each box for $200. Club discounts apply. Supplies are limited, so order now! We can ship anywhere in CA, NV, AZ, OR, and WA for just $1 through the month of February. Order here. Use $1ship coupon code!
Inaugural Full Moon Dinner at the Ranch, Saturday March 7, 5 pm - 8 pm
We have noticed that we really enjoy our wines during the full moon--call us superstitious, call us perspicacious, call us prescient, or call us kwazy. Experience* has inspired us to throw our first Full Moon dinner--we hope to make this a regular thing. Join Lisa and me in our home on the ranch, along with winemaker Paul Hinschberger and Rangeland crew members, for a dinner catered by Thomas Hill Organics featuring our estate-grown beef and lamb, paired with a stellar line up of Rangeland Wines. Seating is limited, so reserve your space now. We look forward to dining, chatting and quaffing with you! $100 per seat before club discount. Purchase tickets here.

* Read about Laird's first epic full-moon wine experience in his blog post: One Bottle of Wine.
Vineyard View Cottage Special
Our Vineyard View Cottage is booking up, but we have a few weekends and many weekdays available this winter. We are offering 3 nights for the price of 2 for bookings through February 28. Price is $400/weekend night (Fri, Sat, Sun), and $350/weekdays. Club discounts apply. Book your stay here.
Calendar of Events Through May 2019
President's Day Weekend, February 15-17
We're serving our famous grass-fed beef and lamb hamburgers on Saturday only, 12-4. Burger, side salad and a Lisa cookie is $15. We also have charcuterie and cheese plates available for purchase all weekend. On Friday and Sunday, you're allowed to bring your own picnic. We charge a $10/pp picnic fee for nontasters--waived with a bottle purchase. For groups larger than 6, please call or email ahead so we can reserve you a table.
Vintage Paso Zinfandel Festival, March 20-22
We'll be releasing our 2017 Zinfandel and tasting a 2018 barrel sample. We're serving our famous grass-fed beef and lamb hamburgers on Saturday only, 12-4. A burger, side salad and a Lisa cookie is $15. We also have charcuterie and cheese plates available for purchase all weekend.
Field Day/ Rangeland 20th Anniversary Party, Saturday April 25, 12-3
We're partying out in the field again, with new wines to share, baby lambs and calves to enjoy, and grass-fed grilled lamb and beef to devour, along with other goodies. Enjoy a beautiful afternoon with music and friends, and help us celebrate 20 years of effort and enjoyment. Mark you calendar. Ticket info to come in the next newsletter.
Wine Festival, May 15-17
We're serving our famous grass-fed beef and lamb burgers on Saturday only, May 16, 12-4. Burger, side salad and a Lisa cookie is $15. We will also have charcuterie and cheese plates available for purchase all weekend.
Memorial Day Weekend, May 23-25
We're serving our famous grass-fed beef and lamb burgers on Saturday only, May 23, 12-4. Burger, side salad and a Lisa cookie is $15. We will also have charcuterie and cheese plates available for purchase all weekend.
When I went off script last fall in our Rangeland newsletter and told stories that go beyond our current winemaking and ranching operations, I was encouraged by a few customers to do more. This is gratifying to me, because I am an unfulfilled writer. When I bought our ranch in 2000, after 20 years of grinding start-up businesses experience, I was a burn-out. I was planning to come down here to Paso Robles from the Bay Area to get away from management, work outdoors, farm a little and write a little. As it turned out, I farmed a lot, started new businesses and wrote very little. I am, by temperament, a doer. I call this my constructive avoidance of art. Nevertheless, having reached the ripe age of 60, I am going to try to write a little. So, with that short prelude, what follows is a true story. Although this is a tale of bourgie (pronounced boo-gee) excess, there is also an element of timeless aspiration and serendipity--the full significance of which only recently dawned on me.
One Bottle of Wine
In the fall of 1996, my wife Lisa and I planned a short getaway from our 3 young children and daily cares, which included operating a small internet startup that, at the time, was losing millions of my investors' dollars. We set a high goal, to climb Mt. Dana (elevation: 13,061 ft.), near Tioga Pass in Yosemite National Park.
On the appointed date, we parked the kids with my sister, who was the ultimate auntie babysitter, rest her soul. With only one night to escape, we had an aggressive plan that would take us from sea level to the crest of the Sierra and on to a special dinner at the Ahwahnee Hotel in Yosemite Valley, all in twelve hours. We had, at that time, a little A-frame cabin in the Tuolumne County foothills not far from Yosemite. We purchased that cabin in the 1980s because we couldn't afford a Bay Area home. The price, including the lot next door (this will take you fellow boomers back and make the millennials weep) was $60,000. The cabin was situated in a modest little resort community called Pine Mountain Lake, which also included an airstrip. I owned a small, single engine airplane (Beechcraft A36), so we hustled to the San Carlos airport and set off for the Sierras. Flight time: approximately 1 hour.
It's hard to describe the exhilarating sense of escape and adventure that we felt when winging out of the Bay, over the golden hills on our getaways. I loved the rippled topology of the California hills and the geometric green weave of farms in the Central Valley as we headed for the high country. A few years later, I used that airplane to visit Paso Robles, eventually obtaining landing rights at the MacGillivray Ranch airstrip, which is now the home to Halter Ranch. At the time I started flying, older airplanes were affordable. I bought my first airplane (a sturdy Cessna Skylark 175, vintage 1960) for $10,000--which was totaled on my first flight by the previous owner "showing me how to do it." Lisa and I were in the plane at the time. No one was hurt. But that's another story, which I promise to tell one day.
When we arrived at Pine Mountain Lake, we put our light gear and dinner clothes in an old beater Subaru wagon we kept there. That was before the "Subaru is for lesbos" stigma. Not that there's anything wrong with that. :) We headed for Yosemite. Funny-tragic side story about airport cars: an earlier version of our airport jalopy was an ancient Honda Civic. We had trouble keeping the battery charged during long absences. Once, after arriving, getting a jump start and driving to our cabin, I left the car running to charge the battery. Wanting to boost the charge rate, I put a rock on the accelerator, left it running high and went in to change a diaper or something. When I looked out the window some minutes later there was a cloud of smoke rising from the engine. I hustled to inspect the damage. The distributor and most of the other plastic components had entirely melted onto the engine. Apparently, it had over-heated and I learned a valuable mechanical lesson. The battery was well charged but the car was totaled. Idiota! But I digress.
Back to the adventure. We drove an hour to the Park and turned left for Tioga Pass, which was still clear of snow. We reached Tuolumne Meadows around midday on a gloriously clear and warm fall day. The Mt. Dana trail requires no feats of mountaineering. You basically just hike a steep roadside trail from 10,000 ft up to the 13,000 peak in just 3 miles. It offers a big reward for such a short hike—if you can get enough oxygen. Having started at sea level that morning, getting enough oxygen turned out to be a challenge for our thirty-something lungs. So, we crept up the mountain, with frequent rests. Our struggles were overseen by bemused marmots, basking and smiling in the sun. Eventually we reached the top to soak in the view (see panorama) while gasping, both literally and figuratively, at the scene.
The Sierra is formed by the crushing forces of the Pacific Plate jamming into North America, subducting downward into the hot earthly mantle and literally bubbling up as a molten granite batholith (check this out), into this great snow-catching mountain range. Remnant glaciers, granite spires and sheared domes pock the view to the south, towards Mt. Whitney. The well-wooded, gradual western slope climbs for 60 miles and more from the Great Central Valley to these peaks, before steeply dropping more than 6,000 feet into the Great Basin in the next few miles. You are sandwiched by Greatness.
The crest of the Sierra Nevada is a sublimely barren and striking place. Natural history unfolds before you in all its bizarre grandeur. Looking eastward, the lunar beauty of Mono Lake and its companion cinder cones lie at the foot of the range. The volcanic living history of the place is highlighted by names like Pumice Valley, Crater Mountain, Obsidian Dome and The Devils Punchbowl. The landscape is dotted with coulees, fumaroles, tuff rings, rhyolite domes, lava plugs and other geologic bric a brac that confirm Mother Nature's majesty and still youthful menace. The Mono Craters are likely the youngest volcanic mountain range in North America, having formed as recently as 600 years ago.
Boundary Peak (13,146 ft. elevation), the highest point in Nevada, seems right across the valley but is 40 miles distant. Wave after wave of scattered but parallel mountains extend eastward across the desert, and eventually lapping at the feet of the Wasatch, 400 miles away on the far shore of the Basin. The signs of geologic decay also surround you, with shards of rock and great rivers of graveled talus skirting the time-worn peaks, abraded by ice and wind. Are the mountains still rising? Are they decaying? Both. And of what fleeting significance are we and our children in this great physical drama?
Did I say the western Sierra slope was well-wooded? Looking westward from Mt. Dana, the forest begins in the alluvium of Tuolumne Meadows, wrapping the feet of the peaks and collaring the Grand Canyon of the Tuolumne River around John Muir's beloved Hetch Hetchy. Eventually this great green carpet of trees emerges from the bare mountains and steep canyons, spreading wide to cover the entire western front of the Sierra, from Tehachapi to Lassen. The terrain is well drained, mostly granitic gravel, mineral rich, southwest facing to catch both abundant sunshine and the precipitation sweeping eastward from largest ocean on the planet. The Sierra is a natural plantation, California's true gem and one of the great forests of the earth. Trees tower up to 200 feet and are sometimes 10 feet across—not including sequoia gigantea. Ponderosa Pine, sugar pine, white pine, lodgepole, incense cedars, firs and several oak species extend north and south across this slope for 400 contiguous miles. If you are ever really stuck, you should seek these hills and take a walk, remembering Muir, who said "between every two pines is a doorway to a new world."
Back on Mt. Dana, the day is getting late and we have a dinner reservation to get to. We are so hungry, having completely consumed our pitiful ration of gorp, jerky and water, that we don't even consider missing it. Images of sizzling steaks and buttery potatoes swim in our oxygen-starved imaginations. So down the mountain we go on wobbly knees. We look at our watches anxiously and try to calculate our valley ETA, an hour and a half of driving time away. Racing down Tioga Road, we regret the chance to loiter over the view at Olmstead Point, rest on the warm granite at Tenaya Lake or, better yet, hike out to North Dome (our favorite) and stand before the towering face of Half Dome. But we only have one day and dinner beckons, so we wind our way quietly downward and leftward to the Yosemite Valley.
Arriving at the valley, we drive between the stupendous cliffs and towers that define the sacred space. As our anticipation, hunger and fatigue rise, the scene mesmerizes us: the wending Merced River, sere meadows, soaring pines and impossibly higher cliffs swim in the golden fall light. It is off season, but the vehicles and low bustle of the parking lots is a little jarring after only seeing one other hiker on the mountain.
The Ahwahnee, as the reader may know, is an old school national park hotel, a masterpiece of "parkitecture" style. In the 1990s, it still required men to don a jacket. So I slip out of the car, tug on some khakis over my mountain-begrimed (don't ask) tight-whites, right der in the parkin lot. I put on the white oxford button down and slip into my trusty old blue blazer, the one with the gold, vaguely nautical buttons. Ah tradition. Now, imagine, at the same time, Lisa stripping in the confines of the Subaru. Off come her pink, overall (hiking ?) shorts (for reals, see photos), sans knickers (for reals, no photos!) and tugging on a dress over her dried sweat and dust caked body. Far from being a gentleman, I was rivetted. What a woman. What a wife! Anyway, on with the story.
The Ahwahnee dining room is grandly large (seats 350) but seemingly organic in design, befitting the surroundings. Mortared stone columns rise to support an open beamed, peaked trestle ceiling more than 30 feet high. The most memorable features of the room are the sugar pine posts, each consisting of a fine tree trunk, naturally stained, about two feet in diameter with barely any taper as they rise all the way to the eaves. You feel as if you may be sitting in a great hall of Tolkien's imagining, hosted by the kings of men or elves or some such. But this is California, pure California.
Moving on to the dinner, there is a sharp squawk, as the needle scratches our recording and we are forced to consider the cuisine of the Ahwahnee. Having traveled far, ascended the mountains, sped to the valley and donned our best in the parking lot, we are now fucking famished. Nevertheless, I remember almost nothing of the dinner, except the beverage. This may be for the best. For any of you who have ever had a national park concession hamburger that tastes like canned dog food, no explanation is required. I vaguely recollect that dinner included some quite cold, but colorful and quite tasteless mixed vegetables, verily like those from a can. It may have been what they called "succotash" in the twentieth century. I won't even mention norovirus and current events.
In any case, we were there to celebrate, um, life. So, there must have been some rich, seared meat and it may have been warm. NEVER ORDER FISH IN NATIONAL PARK RESTAURANT. EVER. This sets us up for the beverage, which was to be wine, red wine of course, to pair with our possibly warm but certainly overcooked steak. Yes, I confess it was grain-fed, industrial beef for sure because I hadn't invented grass-fed beef yet. :)
As I eyed Lisa lecherously (a kind of love) through the dim, mock-candlelight of the great hall, I held in my hands the WINE LIST which, although written in English, was mostly Greek to me. We liked wine but were not aficionados by any means. Because it was an Occasion, my eye wandered down the list into the big leagues, where the prices grow in proportion to the name and the grandiosity of the tasting notes. I was way, way out of my depth but I pressed on, almost without hope of a making a sound choice. Then a couple of words caught my eye and resonated with meaning for me: Ridge Monte Bello. Monte Bello Ridge is a spur of the Santa Cruz Mountains. It is a high, broadly rounded hill that overlooks Cupertino and the entire South Bay Area. There is parkland and open space behind the ridge in the Stevens Creek drainage. As a kid, I had hiked that area with my brother, discovering salamanders, banana slugs and crawdads in the steep, laurel-shaded canyon. You could ride your bike from Palo Alto right up Page Mill Road past the world headquarters of Hewlett Packard and the Stanford Hills, past Foothill Park (a ranch donated to Palo Alto to become a city park that my family visited frequently when I was growing up) up to the Montebello area. I once hiked the ridge itself to the fence line to look through the fence at the vineyards and winery buildings.
Although I knew very little about it at that time, Ridge Vineyards was a fixture in the constellation of great California wineries and that reputation persists to this day. They are famous for cabernets made in a sustainable, natural, terroir-sensitive style and aged in American oak. I did not know it at the time, but Ridge Monte Bello was one of the California cabs that placed highly in a blind tasting in 1976, famously known as the Judgement of Paris (Good book: Judgement of Paris, by George Taber). I knew Ridge for their single vineyard zinfandels, including a Paso Robles, Dusi Ranch zin that they have been making for 50 years. Dusi Ranch Zin was our favorite at the time. So, I chose Ridge Monte Bello Cabernet Sauvignon, the most expensive wine I had ever ordered, based on my affinity for the place, the reputation and our familiarity with the brand. I do not recall the vintage and I wish I could remember the price. In any case, the memory is priceless.
Well, suffice to say that the meal, whatever the quality, was consumed with relish and the wine hit us like a giant slab of Yosemite granite, exfoliated from those majestic cliffs. I remember that the wine was not so fruity as their Zin but expressed layers of oaky and herbaceous complexity that kept emerging as we sipped. I was in awe of the whole situation: the wine, the room and the events of the day, but profoundly tired. Our heads were bobbing with exertion from our madcap, slightly silly day of overachievement. So, we retired from the dining room at dusk with our unfinished bottle.
Outside, the evening was Indian Summer calm and warm, although the temperature was dropping as the cool air drained from the spectacular high country around us. We began to revive a little in wonderment at the scene. We moseyed down to the riverside in the gloaming, hand in hand, to take in the view. We stopped on the bridge and listened to the water slip quietly downstream. Then we established ourselves on a beach of the Merced River (river of mercy, indeed), which was low and slow for the season. As we sat and hugged and sipped the remainder of our very fine wine directly from the bottle, the north canyon wall above the hotel began to illuminate. This interrupted our glugging and intimate groping for the moment. We stared in awe as the curtain of light began to steadily descend the wall and to reflect into the valley. Soon it began to cast shadows from the trees and the bridge and the landscape. It occurred to us to look over our shoulders for the source of the light. What we saw caused us to stand up with our mouths open, in a state of pure wonderment. The moon, of course, nearly full (waning gibbous by 1 day), was emerging from the living rock, rising directly over Half Dome.
Did you know that when the moon is full it rises just at sunset and sets at sunrise? I myself only learned that in the last year, but it is wonderfully satisfying and symmetrical natural fact. It had to be known to the native humans who lived in Yosemite successfully for 10,000 years before us, who stood in awe and danced and hunted and cooked in that sublime canyon for what must have seemed like all time.
Before long Yosemite Valley was entirely bathed in moonlight, and the deer walked out to browse in the meadows, under the arching oaks. It was so quiet you could hear the deer hooves crackle the twigs as they emerged from the forest, into the bright night.
We were done for the day in every possible way. We walked back to the car and made the long drive to our cabin, not speaking except to keep each other alert. I had forgotten these events until recently, when I was talking with a Rangeland customer about full moons. Lisa and I have noticed that our wines often taste more vivid, fruity and supple on full moons. We'll sometimes comment to each other about how expressive they are, next level. We've learned to say, oh yah, full moon! I'm looking forward to hosting some tastings and dinners on full moons to see if this tendency holds up under collective scrutiny. Should be fun.
On that fall day in 1996 we were in the moment. We didn't have a crystal ball to foresee that our struggling internet startup would succeed modestly and make our investors some money. Or that it would provide us some resources to buy a ranch and start a new stage of life in Paso Robles. I want to be careful about drawing too heroic or predestined a picture about what happened for us that day in Yosemite and in the years since. Ranch life for us has not been easy, more like touch and go for 20 years. We are not killing it. Like our life before the ranch, we have spent most of the time failing on our way to occasional success.
Nevertheless, this story has a point, even a moral. That day on a mountain top in Yosemite, that one bottle of Ridge Cabernet in the Valley, they were not an epiphany for Lisa and me. But they were very special. Maybe even a subconscious tipping point towards fine wine and a life spent—at least partially—working out of doors. What better tipping point than the crest of the Sierra Nevada, the Range of Light? That day, that one bottle, they are emblematic of an approach to life that I highly recommend. Put yourself out there. Stay in the moment, when it is offered. Go for it and keep going for it.
In this issue: Thanks, Wine Specials, Beef Specials, Used Barrels, Wreath Event, Holiday Hours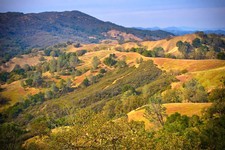 It has been a huge year for Rangeland. We opened the tasting room in January, launched our vacation rental (Vineyard View Cottage) in June, and completed our first harvest in our home winery this fall. We're so thankful for your enthusiastic support. Lisa and I turned 60 this year, and we decided we are in it for the long haul to conserve our beautiful ranch for posterity. So enjoy your Rangeland wines and meats for the holidays, gift them generously, and savor the thought that you are helping preserve the wild, beautiful hills where they grow.
2016 MISTLETOE CASE FIRE SALE--THE PERFECT HOLIDAY GIFT
Admit it, you've been good this year. So take advantage of this amazing deal and give yourself a case of 2016 Mistletoe at a fire sale price. At just $200/case (that's before your club discount), you can also take care of everyone on your Christmas list. Mistletoe makes a wonderful gift and is a perfect accompaniment to your holiday meals. $1 shipping (use coupon code $1ship). Order here. To read more about the Chimney Fire that gave the 2016 Mistletoe a smoky hint, read my blog post Legacy of Fire.
BORDEAUX SPECIAL: THREE 2015 CABS FOR $110
We love Cabernet, and we especially love it in the winter, when it pairs so beautifully with rich hearty meals. We're offering a special on our Cabernet-based wines: 2015 Cabernet, 2015 Watershed, and 2015 Limestone Reserve Cab for just $110--save $20 before club discounts and just $1 shipping (use coupon code $1ship). Order here.
ROSÉ SPECIAL: $200 PER CASE
We are down to the last dozen cases of our nicely fruity but entirely dry 2018 Flora Rosé. So if you'd like to have some for the holidays (it pairs nicely with turkey) or your cellar, take advantage of this killer offer: $200 per case before club discounts and just $1 shipping (use coupon code $1ship). Order here, while they last.
BEEF SPECIAL: $1 SHIPPING
Hard-to-shop-for, but important people on your holiday gift list? How about a 10 pound box of grass-fed ground beef ($110), or 20 pounds ($190), or a 25 lb. beef club box of mixed cuts (steaks, roasts, ground and extras, $300)? You're giving the gift of health--delicious, nutrient-rich grass-fed beef--and a gift that will be enjoyed well into 2020. Club discounts apply. $1 shipping (use coupon code $1ship). Place your order here.
USED OAK BARRELS FOR SALE
We have a few retired oak barrels still available. Our used oak barrels are marked down to $50 each before club discounts. Place your order here. Supply is limited. They must be picked up at our winery, adjacent to our tasting room in Paso Robles, by appointment.
WREATH WORKSHOP SATURDAY DECEMBER 7
We have a couple of spots left in this annual workshop, taking place at the tasting room from 10-12. Lisa will guide you through making a fresh wreath with greens from the ranch. Bring garden shears, if you have a favorite pair, but that's all you'll need. Dress warmly, as we may be outside. For $50 you'll leave with a gorgeous wreath you made yourself, and a bottle of Mistletoe. Sign up here.
THANKSGIVING HOURS
We are closed Thanksgiving Day, November 28. We'll be open Friday Novebmer 29 through Monday December 2, 11 to 5 as usual.
CHRISTMAS HOLIDAY HOURS
We are closed Christmas Eve and Christmas Day, and New Year's Eve and New Year's Day. We'll be open for business the rest of the holiday, our regular hours, 11-5 Thursday - Monday. If you have a group larger than 6, please call or email to make a tasting appointment.

You know you want to
Sign Up For Our Newsletter
Keep up to date on the latest wine releases, events, and promotions and get 10% off your next order.