In this issue: Thanks, Wine Specials, Beef Specials, Used Barrels, Wreath Event, Holiday Hours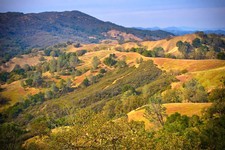 It has been a huge year for Rangeland. We opened the tasting room in January, launched our vacation rental (Vineyard View Cottage) in June, and completed our first harvest in our home winery this fall. We're so thankful for your enthusiastic support. Lisa and I turned 60 this year, and we decided we are in it for the long haul to conserve our beautiful ranch for posterity. So enjoy your Rangeland wines and meats for the holidays, gift them generously, and savor the thought that you are helping preserve the wild, beautiful hills where they grow.
2016 MISTLETOE CASE FIRE SALE--THE PERFECT HOLIDAY GIFT
Admit it, you've been good this year. So take advantage of this amazing deal and give yourself a case of 2016 Mistletoe at a fire sale price. At just $200/case (that's before your club discount), you can also take care of everyone on your Christmas list. Mistletoe makes a wonderful gift and is a perfect accompaniment to your holiday meals. $1 shipping (use coupon code $1ship). Order here. To read more about the Chimney Fire that gave the 2016 Mistletoe a smoky hint, read my blog post Legacy of Fire.
BORDEAUX SPECIAL: THREE 2015 CABS FOR $110
We love Cabernet, and we especially love it in the winter, when it pairs so beautifully with rich hearty meals. We're offering a special on our Cabernet-based wines: 2015 Cabernet, 2015 Watershed, and 2015 Limestone Reserve Cab for just $110--save $20 before club discounts and just $1 shipping (use coupon code $1ship). Order here.
ROSÉ SPECIAL: $200 PER CASE
We are down to the last dozen cases of our nicely fruity but entirely dry 2018 Flora Rosé. So if you'd like to have some for the holidays (it pairs nicely with turkey) or your cellar, take advantage of this killer offer: $200 per case before club discounts and just $1 shipping (use coupon code $1ship). Order here, while they last.
BEEF SPECIAL: $1 SHIPPING
Hard-to-shop-for, but important people on your holiday gift list? How about a 10 pound box of grass-fed ground beef ($110), or 20 pounds ($190), or a 25 lb. beef club box of mixed cuts (steaks, roasts, ground and extras, $300)? You're giving the gift of health--delicious, nutrient-rich grass-fed beef--and a gift that will be enjoyed well into 2020. Club discounts apply. $1 shipping (use coupon code $1ship). Place your order here.
USED OAK BARRELS FOR SALE
We have a few retired oak barrels still available. Our used oak barrels are marked down to $50 each before club discounts. Place your order here. Supply is limited. They must be picked up at our winery, adjacent to our tasting room in Paso Robles, by appointment.
WREATH WORKSHOP SATURDAY DECEMBER 7
We have a couple of spots left in this annual workshop, taking place at the tasting room from 10-12. Lisa will guide you through making a fresh wreath with greens from the ranch. Bring garden shears, if you have a favorite pair, but that's all you'll need. Dress warmly, as we may be outside. For $50 you'll leave with a gorgeous wreath you made yourself, and a bottle of Mistletoe. Sign up here.
THANKSGIVING HOURS
We are closed Thanksgiving Day, November 28. We'll be open Friday Novebmer 29 through Monday December 2, 11 to 5 as usual.
CHRISTMAS HOLIDAY HOURS
We are closed Christmas Eve and Christmas Day, and New Year's Eve and New Year's Day. We'll be open for business the rest of the holiday, our regular hours, 11-5 Thursday - Monday. If you have a group larger than 6, please call or email to make a tasting appointment.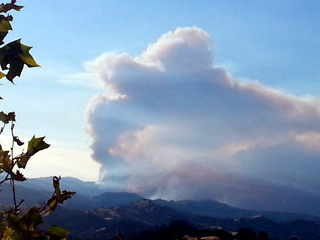 With all the fires in California in recent years, some of you may have forgotten the Chimney Fire, which lasted for several weeks in August of 2016, eventually burning 46,344 acres. The fire started near the southwest shore of Lake Nacimiento, at the base of the Santa Lucia coastal range, burning homes, brush, oak forest and everything else in its path. As it moved slowly southeast toward us during the first few days of the fire, it came within 7 miles of our ranch and vineyard. We watched nervously from our back terrace as the towering pyro cumulus smoke cloud rose to 15,000 feet and more, while fire bombers circled and dove around the inferno like furious wasps. Mornings on our ranch were sometimes shrouded in smoke, with visibility reduced to just a few hundred yards. We started trimming trees and tilling firebreaks around our house. An army of firefighters (more than 4,000), trucks and equipment set up camp at the Paso fair grounds and battled the blaze at all hours. Several days into the fire, we were relieved when the winds shifted and started to drive the fire away from us and into the coast range, eventually threatening Hearst Castle. Many people were not so fortunate: 49 homes were destroyed in the inferno.
Our harvest began the day the fire was fully contained: September 6, 2016. As we fermented, aged and blended the wine, we tasted carefully for hints of smoke taint but found none. After bottling, however, a different story emerged and some of our 2016s, especially the Mistletoe blend, sometimes exhibited a notable smoky aroma and taste. At other times it is mysteriously smoke free—which has us wondering whether it is bottle variation or due to changes in storage or tasting conditions, like barometric pressure, temperature, or even lunar cycles. Whatever the cause of these variations, we are aware that this wine is flawed and not entirely as we intended. Al-though we are still enjoying it ourselves and consider it a good deal better than just "drinkable", we are offering it at a very drinkable "fire sale" price: $20 per bottle and $200 per case, before club discounts. So Mother Nature's fiery wrath took our 2016 Mistletoe up the Chimney (Fire), but Santa is coming down the chimney with an affordable case of Mistletoe—just in time for the holidays.
Harvest Wine Weekend: Grass-fed Burgers on Saturday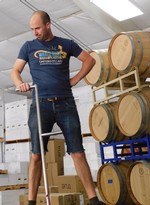 Harvest is in full swing and the fruit flavors of our new wines are alluring. Looks and tastes like a good vintage. Winemaker Paul Hinschberger is working hard and is a proud father of his new son Walter--born last week. He's also putting the hot in them Huckleberry shorts of his (#HuckleberryShorts).
Paso Robles Harvest Wine Weekend is October 18 to 20 and we'll surely still have grapes fermenting, so come see us at the tasting room and winery at 6996 Peachy Canyon Rd. We will be open for tasting and free winery quick tours, Thursday to Monday 11 to 5. We'll be serving grass-fed beef hamburgers on Saturday only, October 19, from noon to 4pm.
Fall Wine Club Details
Our fall wine club will begin shipping the week of November 11. You can pick-up starting now. We are excited about the lineup, which includes several delicious new releases.
2015 Cabernet Sauvignon*
2015 Watershed (new release)*
2014 Limestone Reserve Cabernet (92 points, Vinous)*
2016 Mistletoe
2016 Petite Sirah (new release)
2018 Sauvignon Blanc (new release), or 2016 Zinfandel for reds only*
*Intro club selections
Please let us know by email if you'd like to customize your fall shipment. All the available wines are listed here.
Also please update your credit card and shipping/pickup information, if necessary, at RangelandWines.com. You can use your email address to retrieve your password to login. Or email us wth any questions.
Beef and Lamb News
We're getting ready to bill our Fall Lamb Club (October 16) and ship it the week of October 21. Please let us know if you have any account or shipping information changes by email.
We have healthy grass-fed lamb and beef available for sale in boxes of ground or assorted cuts. Of course your wine or meat club discounts apply. These would make a great holiday gift for the meat lovers in your life. See our selection and place your order here.
Pickup Party Saturday, November 9
Our fall pickup party, free to all club members plus one guest, will take place at the tasting room and winery on Saturday, November 9, from 12 noon to 2:00 pm. We will feature grass-fed beef chili, lamb skewers, local sausages and Rangeland Wines, as usual. Attendance is limited so, reserve your place now.
Wreath Making Workshop-with Wine!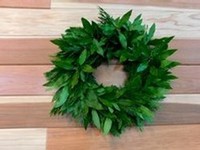 Lisa has been making Christmas wreaths from ranch greenery since we moved here in 2001 and our Rangleland workshop last year was a hit. Join us for a wreath workshop at the tasting room on Saturday, December 7 from 10am-12pm. You'll learn how to make a wreath, enjoy snacks and beverages, and leave with beautiful handmade fresh wreath AND a bottle of 2016 Mistletoe! If this doesn't get you into the holiday spirit, we can't help you.

Bring a friend (and your favorite garden clippers if you like), and we'll supply the rest. You do not have to be crafty--it's impossible to make an ugly wreath! Cost is $50 each before club discount. Space is limited, so sign up now.
LAIRD'S "PORSCHE CONVERTIBLE" WINE PRESS
As a young man I lusted after the high performance, sleek lines and devil-may-care appeal of a Porsche 911 cabriolet. I still do, even as I realize that my fantasy may never be realized. Now, to be honest, I've never driven a Porsche. But there was a local Porsche dealer where I grew up in Palo Alto and I used to bicycle past it every day as a teenager on my way to the muni golf course. That's where I spent all my time as an employee and golf addict. I was always hot for the Porsche ragtop, even as a callow golf nerd in plaid pants and poly polo shirt.
The closest I came to owning a Porsche was the time, in my twenties, when a millionaire divorcé took me to that very same dealer and offered me one, hoping to permanently ensare my youthful vigor in her amorous web of riches. Strange as it may seem, I was a desirable young thing when I had hair. Despite the beautiful matron's generous offer, I fled. True story brah.
The highest performance car I ever owned was a BMW station wagon, which I lovingly ordered and picked-up from the factory in Munich. It seems like a very long time ago that I enjoyed such heady consumer indulgences. That German junket was a business consulting trip during which I gave a talk on the wonders of online publishing to a fascinated throng of Teutons. Following my lucid presentation, a beautiful German maiden approached me and my Biaritz Blue BMW (it was a looker) and said, right to my face, "I'm so hot for the Internet!" I took that personally, but fled again. Sad thing is, that BMW eventually ended up in a swimming pool on Adelaida Road, after which I dubbed my son an honorary captain in the Bavarian Navy. That's another true story. I'd like to tell you that one in detail, but I digress.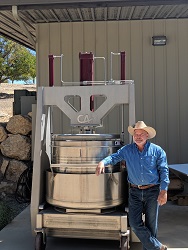 After the BMW in the pool fiasco I realized that I needed a more practical conveyance to fit my new ranching lifestyle so I spent the insurance money on a diesel pickup truck, whose battered remains I own to this day. I still held out hope for the Porsche, but as we slid further down the slippery slope of the wine business, it became clear that we couldn't borrow or rent other people's winery equipment forever. I thought we were doing great when we bought a set of used equipment for about $25,000, Problem is, it was lacking a wine press and all wines need to be pressed off their skins prior to barreling--unless one is making "free run" wine for sissies. Despite my desperate search for a used wine press on the cheap, there was none to be found, so I took the plunge on a new press for about $50,000 in borrowed money. About this time I was at my daughter's soccer game, drooling over a gleaming white Porsche cabrio in the parking lot when its owner walked up with a satisfied smirk on his face. I asked him, "What did this baby set you back?" He told me he got a killer deal on it, slighty used, for about $50,000. I flinched and walked away. Right then I knew, there would always be some other practical wine making object (not to mention tractors) that would come before my hedonistic dreams of the open road in the Porsche. So I named our wine press, a hulking chunk of stainless steel and hydraulic power, the "Porsche Convertible" of winemaking. Apparently you can't always get what you want, but you can, sometimes, end up with a wonderful wife and everything you need to make beautiful wines. And with your help, we'll hopefully we'll sell enough wine to conserve our beautiful ranch for posterity.
HARVEST UNDERWAY IN NEW DIGS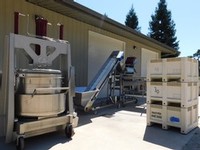 Harvest started last Friday when we received some Sauvignon Blanc to our new winery. Unlike most years, however, we did not pick grapes at our estate vineyard over Labor Day weekend. Mother Nature has a way of reminding us who's in charge. A long wet winter and cool spring, combined with a mild summer, has pushed harvest back a couple of weeks. We'll be picking Merlot and Zinfandel for our 2019 Flora Rose' this week and probably Syrah next week. The Cab will likely follow that soon. Let the games begin!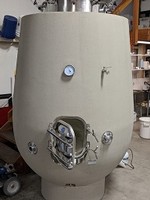 It's a landmark year for us--the first in our new winery--which is just down the hill from our tasting room, past the old barn. We're pleased to be making wine at the same location we are pouring it so you can get a better feel for what we do and how. Winemaker Paul Hinschberger spent the summer outfitting the winery for action: overseeing some new plumbing and electrical, setting up a small laboratory, and $hopping! for equipment, tanks, barrels and supplies to outfit our new home. Paul is especially proud of his "sexy" Italian concrete fermenation and aging tank. While visiting the tasting room this fall, ask if Paul's available to show you our new home. From now to Halloween is a good time to see wine fermenting and other doings in the winery.


MIXED CASE WINE SPECIAL
Order any 12 bottles of wine, and you'll receive 10% off (in addition to your club discount), for a mixed case of your choosing. And we'll ship it you for just $1! It's a perfect time to stock up for the upcoming holiday season. To order cases, please email me, because we have to manually enter the discount to achieve this special price. This deal cannot be combined with other specials. Offer good through September 30, 2019. For a full list of our current and library wines, go here.
ROSÉ CASE SPECIAL
While the weather is still warm, now is the time stock up on our Rosé. It is a wonderful accompaniment to Thanksgiving dinner, fish and poultry in general. It also makes a great, affordable gift. Price is $240 before your club discount with just $1 shipping! Offer good through the September 30. To order, use the coupon code $1SHIP, and go here.
UPCOMING EVENTS
We hope you'll make it to one of our fall events--it's a busy and beautiful time to visit wine country. We look forward to seeing you!
Harvest Festival, Friday October 18 through Sunday, October 20
We'll be open 11-5 for Harvest Festival, which is our favorite...because of the usually wonderful weather and culmination of our farming efforts! On Saturday only, from 12-4, we'll be grilling our famous grass-fed beef burgers at the tasting room and selling lunch plates that include a salad and a Lisa cookie. Because we'll be in the thick of harvest, there may be just-pressed wine or barrel samples to taste, and as always, a stellar lineup of Rangeland wines to savor. We hope to see you.
Rangeland Club Pick Up Party, Saturday November 9, 12 - 2 pm, Save the Date!
Come pick up your wine, beef or lamb boxes and enjoy some treats from the ranch. And some wine of course! We'll be gathering in our new winery, with the scents of harvest all around. As usual, we'll be serving grass-fed beef chili, some delicious lamb dish, as well as charcuterie, healthy sides and some freshly baked cookies. Free to club members, although space is limited. Mark your calendars and be on the lookout for a sign up email in October.
Wreath Workshop, Saturday December 7, 10-12, Save the Date!
Lisa will be leading our second annual wreath workshop--last year's was a sell out! Attendees will learn how to make a wreath (yes, you can do it!) with greens from our ranch, while enjoying a sip of wine or hot cider and some holiday goodies. You'll leave with a lovely fresh handmade wreath AND a bottle of our 2016 Mistletoe. This should really get you in the mood for the holidays! Bring a friend (and your favorite garden clippers if you like) and we'll supply the rest. Have no fear, you do not have to be crafty. Cost is $50, and space is limited, so be on the lookout for an email next month to sign up for this fun morning.
VACATION RENTAL
Our charming 3-bedroom vacation rental has quickly booked for the fall, but have one weekend free in November and two in December. And the new year is wide open for anyone wanting a quiet, peaceful place to read, relax, sip wine and ease into 2020. Winter is a lovely time to visit Paso Robles. To view the calendar for availability, go to rangelandwines.lodgify.com.
Rangeland Referrals: Wanted
Most of our customers find us through word of mouth. Your referrals are the lifeblood that keeps our vineyard and ranch going. That helps us conserve this wild and naturally productive landscape. We so appreciate your loyal support and enthusiasm that we're now offering a reward for sending new club members our way: $25 in credit towards Rangeland purchases.
Do you know anyone who may be interested in joining our wine or meat clubs? Anytime a new club member lists you as their "referred by" contact, you will receive a $25 credit applied to your account. Think of them as Ranch Bucks. You can use that credit on RangelandWines.com or in the tasting room for wine, meat, merchandise, events, our vacation rental---anything we do except club shipments. So tell a friend about Rangeland!
Used Rangeland Barrels for Sale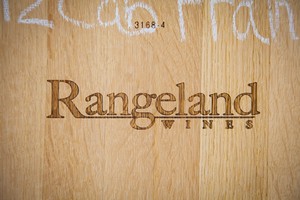 We're getting ready for harvest, and that means our winemaker Paul Hinschberger is up to some serious housekeeping--cleaning and moving equipment, and outfitting for the first season in our "new" winery. Beautiful new French oak barrels have begun arriving, so we now have beautiful old Rangeland barrels for sale. You can do a little DIY woodworking or just place a barrel or two in your garden, a reminder of your favorite Rangeland wines. The used oak barrels are $70 each before club discounts. Place your order here. Supply is limited. They must be picked up at our winery, adjacent to our tasting room in Paso Robles, by appointment.
Book 2 nights, get a 3rd night free, through September 30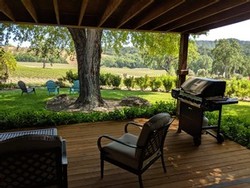 Take advantage of our summer special and enjoy a stay at our relaxing Vineyard View Cottage, located at our tasting room property in the heart of Paso Robles westside wine country.
Perfect for a family or small group, our 3 bedroom, 2 bath house offers a spacious open living area, fully equipped kitchen and dining room, gorgeous outdoor views with a private deck, lawn, hot tub and bbq. Comfy bedrooms sleep 6, including a king, a queen and twin beds. Hike the 50 acre property and take in the sweeping views from the top of walnut orchard ridge. Or amble over to the tasting room, just a few steps away, for a complimentary taste of our fine wines.
We also now sell individual portions of estate-grown grass fed beef at the tasting room, making it easier for you settle in, eat well and enjoy the beautiful views and the peaceful quiet. For more info, photos and booking go to rangelandwines.lodgify.com.
Rates: $350* weekday (mon-thurs) / $400* weekend (fri-sun)
*Prices before club discount.
*Holidays = weekend pricing
Beef Club is Coming
We're busy packing 25 pound beef club boxes this month. Our cattle had an outstanding feed year, thanks to abundant (42 in.) rainfall. The meat looks marvelous. Beef club boxes and ground beef boxes will be available for pick up at J&R Meats at 3450 Riverside Ave. in Paso Robles starting on Friday, June 28. You can also pickup at the tasting room by appointment. We have to transfer the meat there due to limited storage. so we need at least a two day's notice. Beef club shipping will begin the week of July 8. If you're a beef club member, please update your credit card and shipping addresses, if necessary, by logging in at RangelandWines.com.
Beef and lamb is also available for sale to wine club members too--your club discount applies. Non-members can purchase our meat at the listed priice. We know you're going to enjoy this vintage. Order here and be sure to login first to have your discount applied. Or email us with your orders and questions.
Steaks for Sale in Tasting Room
We now have individually packaged steaks, ground beef and ground lamb available for purchase in the tasting room for the first time--a small selection of New Yorks, ribeyes, and filets, and our delicious ground beef and ground lamb (in 1 lb. packages.) Next time you're visiting, consider rounding out your Rangeland wine purchase with some meat-- it pairs beautifully!
Wine Specials
We have a couple of wine specials that offer more Rangeland at better prices:
2018 Flora Rosé Case Special: 12 bottles of our finest Rosé yet for just $240, before club discounts. Order here.
Bordeaux Special 2014-2015: This 3-bottle special includes our 2015 Cabernet Sauvignon, 2014 Watershed (Bordeaux style blend of Cab, Cab Franc, Merlot and Petit Verdot) and 2014 Limestone Reserve Cabernet (92 pts) for $110, a $20 savings before club discounts. Order here.

Vacation Rental Available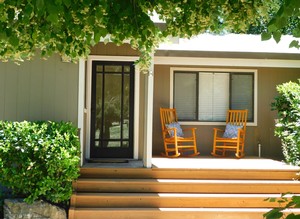 Our newly available Vineyard View Cottage, at 7210 Vineyard Dr., adjacent to our tasting room, has had several visitors already and it is starting to book up for the rest of the year. If you're seeking a peaceful place to stay in the heart of Paso's westside wine country, look no further. The three bedroom/two bath house has beds for 6, including a master suite and two smaller bedrooms, perfect for 3 couples or a family to enjoy. The cottage has a fully equipped kitchen, and a gas grill and hot tub on the back deck, overlooking the surrounding countryside. A complimentary bottle of Rangeland wines awaits. You can buy some meat from the tasting room and grill it that evening on the BBQ on your back porch. Wine country lifestyle right there! More photos.
Our weekday rates (Sun-Wed) are $350/night, and weekend rates (Thurs-Sat) are $400/night, before your club discount. Two night minimum, and unfortunately, we can't allow pets. We will soon have a booking system online. In the meantime, our intrepid tasting room manager Hayli Macomber will field your email and let you know about availability.
Vineyard and Ranch Report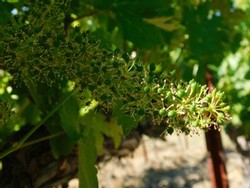 Our vineyard has been mostly mowed and tilled and it's now setting fruit after a glorious bloom, with shoots topping the stakes already. After a wet winter and spring, we're just running our first irrigation--so we're well down the road toward harvest, which will likely start in September. Our new vineyard manager Adam Campbell-Taylor has been working long hours, supervising work crews and logging some serious time on the tractor, when he's not fishing in our ranch lakes or at the coast!
The long winter has also helped keep our livestock herds healthy too. Both cattle and sheep are enjoying (putting up with) their new offspring and wading through rich grasses. Ranch manager Dane Jensen just brought our sheep back to the ranch--they spent "spring break" at the tasting room property, mowing much of that property.
Wines and the Winery
We just finished bottling the last of the 2017 wines, which exhibit opulent fruit aromas and flavors. We've moved the last barrel out of Denner, where we've been making wine for the past three years, and are currently in the process of equipping our new winery. Winemaker Paul Hinschberger is busy with plumbers, electricians and more. We are really looking forward to making our wine at our new home this fall. It will be fun to share the excitement of processing fruit and winemaking with our visitors, which we have rarely been able to do in the past.
We will be closed July 4.
Vineyard View Cottage Available for Rent!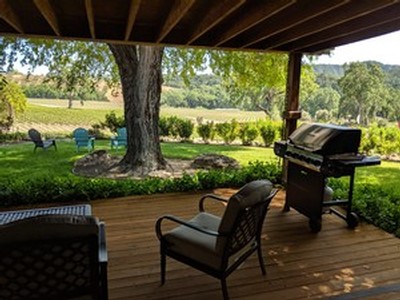 Our private, quiet cottage (3 beds, 2 bath), just steps away from Rangeland's tasting room, is now available for rent. Vineyard View Cottage is located at 7210 Vineyard Drive, at the intersection of Peachy Canyon Road, deep in the heart of the Paso Robles' westside wine country.
This charming home has everything you need--fully equipped kitchen, large dining room, comfy living room, two full bathrooms and three bedrooms (one king bed, one queen bed, and two twin beds). The large back deck overlooks Opolo vineyards and the local mountains. The home includes a BBQ and a hot tub--it's the perfect place to relax after a day of wine tasting. Rambling rights on 50 acres of orchard, fields and sweeping hilltop views are included with the stay. Suitable for a small group of friends or a family wanting to explore our beautiful Central Coast. View more photos of Vineyard View cottage.
Weekend rates (Fri-Sun nights): $400/night + taxes, 2 night minimum
Weekday rates: (Mon-Thurs nights) $350/night + taxes, 2 night minimum
$100 cleaning fee
One bottle of Rangeland wine included.
Your Rangeland club discounts apply, of course.
We look forward to sharing this special place with you. Please email us to inquire whether your requested dates are available. It's time to plan a trip to Paso!
Rangeland Field Day, Saturday, April 27, 12pm to 3pm--Tickets on Sale Now!
Experience Paso Robles springtime in our pasture. The tasting room will be closed on April 27 and we will be enjoying the afternoon in the adjacent field at 6996 Peachy Canyon Rd. Your Rangeland Field Day ticket covers wine tasting, including the newly bottled Flora Rose', as well as a BBQ lunch featuring our beef and lamb, local sausage and other treats. There will live music and livestock displays, including cows, calves, sheep, lambs and horses. You'll get a chance to hike or take a hayride to the top of the property, which has stirring views of the surrounding countryside. Your spring wine or lamb club shipment will be available for pick up that day as well. Attendance is limited. $50 per person, and club discounts apply. For this event, no dogs allowed. Purchase tickets here.

Spring Wine Club Details
Our spring Wine Club selection is full of new releases and will be ready for pickup starting April 26 and will ship the week of April 29. Here are the wines we are planning to include:
2018 Flora Rosé - new release! (or 2014 Limestone Reserve Cabernet for reds only members)
2016 Syrah/Mourvedre - new!
2016 Ultramafic (100% Merlot) - new!
2016 Zinfandel - new!
2015 Cabernet Sauvingnon- new!
2014 Watershed
Intro Club (4 Bottle) Selection:
2018 Flora Rosé - new release! (or 2014 Limestone Reserve Cabernet for reds only members)
2016 Syrah/Mourvedre - new!
2016 Ultramafic (100% Merlot) - new!
2015 Cabernet Sauvignon - new!
Please update your credit card and shipping information, if necessary, at www.RangelandWines.com. You can use your email address to retrieve your password to login. Also please let us know by email if you'd like to customize your spring shipment. All the available wines are listed here.
Spring Lamb on the Way
We're readying the spring Lamb Club for shipping in April, in time for Easter. Lamb Club members should be on the lookout for an email about their shipment in the next few weeks. Wine club members can also order the 20 pound box, which sells for $300 before your club discount. The Lamb Share box includes a rack of ribs, loin chops, 2 small leg roasts, shoulder chops, riblets, stew meat and/or shanks, and 1 or 2 pounds of ground lamb. We'll also have 10 lb. boxes of ground lamb available again. Order lamb here.
Private Winemaker Tastings
Private tastings are available by appointment with our winemaker Paul Hinschberger. He will guide you through a selection of wines (current, library, or not-yet-released), sharing his knowledge about grape varieties, vintages, source location and the wine making process. We hope you'll come away with a new appreciation of winemaking styles and the unique properties of our vineyard and Paso's westside. By appointment only, the price is $50/person before club discounts, and each pair of guests leaves with a bottle of wine. Minimum party of 4, and allow at least 1 hour for the tasting. Request a tasting by filling out our appointment form.
Boom Boom Superbloom
Like all of California, we've had abundant rainfall this winter, already totalling 40 inches, or about 120% of average for our ranch. The rain was generally steady, without damaging gully-washers. We did, however, have some booming thunderstorms and microbursts--intense downdrafts from towering cumulus clouds. These stormlets featured screaming surface winds and hail that rattled windows ferociously and took out many trees. So the chain saws have been busy keeping roads clear and fences whole.
Bud break (emergence of green leaves) in both the grapes and oaks has been deferred versus recent years by the cool, wet weather. Kind of feels like old times, as the metronome of climate change ticks cooler under the influence of a mild El Nino. This wet winter sets the stage for a colorful spring wildflower bloom. It also foretells an abundant year of livestock forage and likely a good wine grape crop--assuming we have good weather at bloom time (May) which allows the grapes to "set" properly. We'll keep you posted as the vintage develops.
You know you want to
Sign Up For Our Newsletter
Keep up to date on the latest wine releases, events, and promotions and get 10% off your next order.