Beef Club is Coming!
We gathered our cattle recently and, after some good March rainfall and a late spring, the herd is looking fat and healthy. Our annual beef harvest is now underway, the meat is aging on the rail and we should have our club boxes assembled and ready for pick up July 2 at J&R Meats in Paso Robles, Monday to Saturday, 8 to 5. If you would like to pick-up beef at our Templeton tasting room, please make an appointment with at least two days advance notice, so we can have the meat there for you. If you are a shipping customer, we plan to start shipping the week of July 9. You will receive an email about your actual ship date the first week in July. If your shipping information has changed or your credit card needs an update, please login to RangelandWines.com and update your info. If you are not a Beef Club member but would like to place an order you can do that here or send me an email.
Flora Rosé Sale
Our pale, dry 2017 Flora Rosé is the perfect crisp summer companion, and we have an excellent deal on it right now. You can buy six bottles for $100 (retails for $24 per bottle). That's a killer savings of $44 before your club discount. Order two for a full case or as many as you like. It will likely sell out this summer, so get your order in now. If you are able to save wine (or forget where you stored it), we have found that our Rosé is a great accompaniment to Thanksgiving dinner or nice plate of fish this winter. This year's blend is 40% Grenache, 40% Merlot, and 20% Mourvedre. Order here.
Summer Tailgate Wednesdays with a Featured Wine Every Week
If you are fortunate enough to live on the Central Coast, you may already know about the Wednesday concerts in the park in Templeton during the summer. They started June 6 and carry on every Wednesday through August 22, except July 4. Our tasting room will be open every Wednesday from 4:30 to 6:30pm, so you can pick up some wine and sliders or nachos for your picnic in the park. Or you may just want to hang out on our garden patio. We'll be featuring a different wine each week, specially priced. If you're planning a visit to the area, consider arriving on Wednesday to take part in these relaxing summer evenings. We hope to see you there!
Summer Tasting Room Hours
Now through August 22, our summer tasting room hours will be:
Wednesdays, 4:30 - 6:30 pm, grass-fed beef sliders and nachos available for sale
Thurs - Sat, 11 - 5,

Grass-fed beef sliders and nachos available Friday and Saturday, 12-4

Sundays, 11-3, kitchen closed, but grab and go case and grocery store open
Spring: Flingin' and Flailin'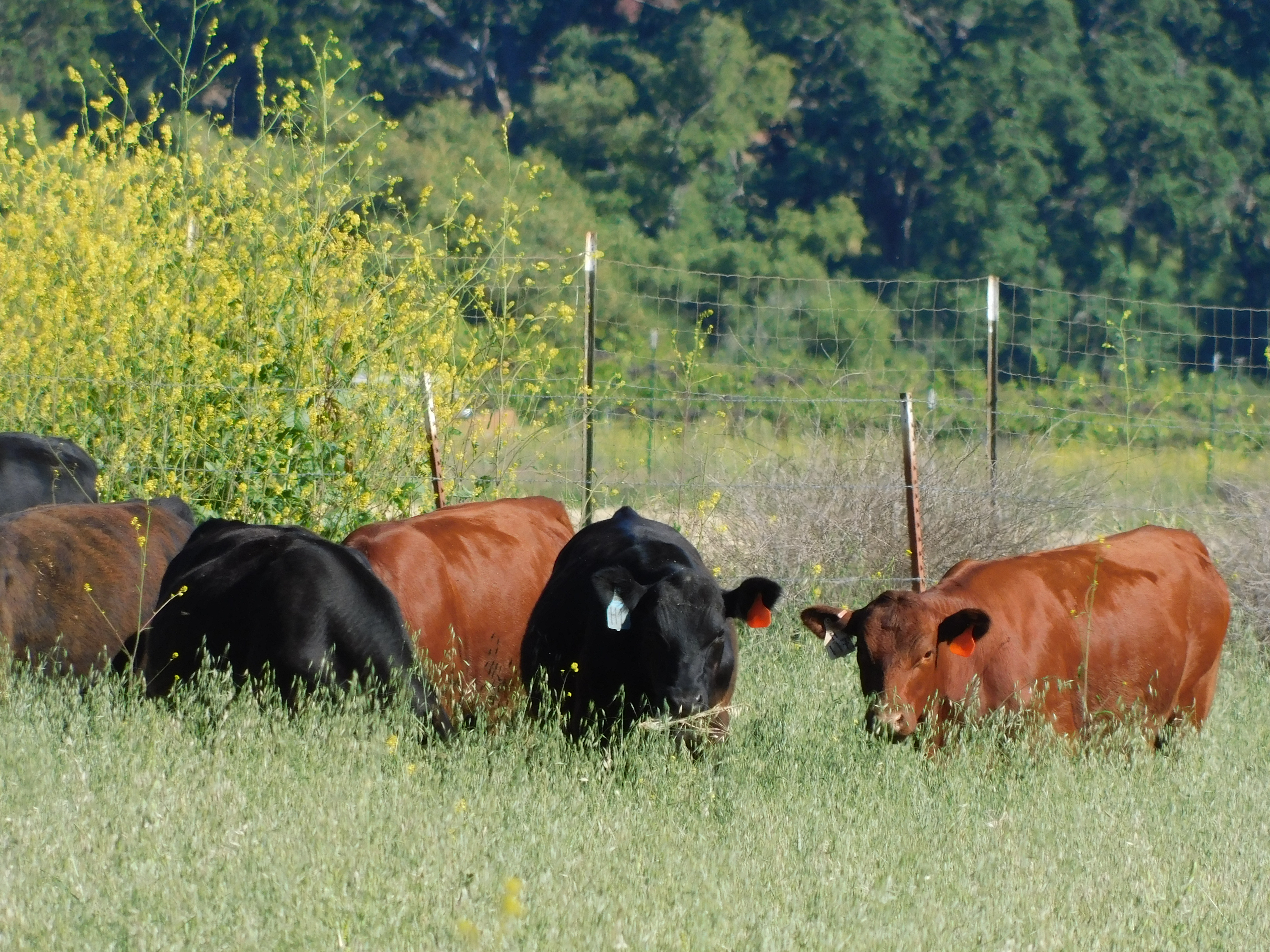 There is always something to do on the ranch but spring is a an especially busy as well as beautiful time. The beauty peaks around June 1, when the vineyard is in bloom and the subtle but heady scent of the grape flowers mingles with the heat and is really intoxicating. There is not too much time to smell the flowers however, as our little team is engaged in a swirling mix of tasks that keep them constantly moving.
Vineyard manager Patrick has managed the labor crews through 40 acres of shoot thinning, and has spent countless hours mowing and tilling on the tractor.
Winemaker Paul has been running the irrigation sets and sussing out the early season, when he's not tending or selling the wine. Paul also supervised the May bottling of our exciting 2016 vintage with our fantastic volunteer crew--they will do anything for free wine and a lunch!
Ranch Manager Dane has gathered the cattle and sorted the fatties for harvest. We also moved 40 yearlings to a leased pasture on Vineyard Drive. Not to mention the sheep and guardian doggies, which require steady movement and husbandry.
On the commerce side of things, where you get to enjoy what we do as customers, there are wine club orders, pickup parties, festivals and holidays to fill the calendar. Tasting Room manager Hayli Macomber, our newest team member, handles all that with energy and aplomb.
The manager title around here is obviously honorary, since these four talented young people are working hands-on most of the time. People often ask Lisa and I what our favorite part of the job is. The answer is always the same: variety. We try to roll with busy seasons and keep it all moving forward. Sometimes it's a bit much but we try to keep a sense of humor. We are so gratified to be living with nature and providing you with fine wine and food. Your support is really appreciated here.
Vintage Paso Zinfandel Weekend, March 16 - 18
Join us for Vintage Paso--we still call it Zin Fest--at our Tasting Room in charming and historic downtown Templeton (225 S. Main Street). We'll be pouring a vertical selection of Zinfandels: 2014, 2015, and 2016 (a sneak peak at this new bottling). Of course we'll be pouring a few other reds and winemaker Paul Hinschberger's impressively balanced Chardonnay. We're serving grass-fed beef sliders, nachos and deli platters on Friday and Saturday, 11am to 3pm. Our hours for the festival weekend are:
Friday and Saturday: 11am - 5pm, Grass-fed Beef Sliders and Nachos served 11am to 3pm
Sunday, 11am - 3pm, no food served (but grab and go snacks available)
Zin Special--2 Bottle Vertical for $50, Free Shipping for a Case
To celebrate Zin Fest, we're offering a 2-bottle Zinfandel vertical (2014 and 2015) for just $50--that's before your club discount. If you make it a case (6 specials = 12 bottles for $300, before club discount), shipping is free! It should be fun to compare these two vintages. The 2014 vintage is complex and refreshing, with interesting earthy notes--a Zin for Pinot lovers? The 2015 Zin is wonderfully fruity, with a rare lightness and balance for Paso Robles. Order online here.
Spring Lamb on the Way
We're readying the spring Lamb Club for shipping later this month, in time for Easter. So Lamb Club members should be on the lookout for an email about their shipment. Wine club members can also order the 20 pound box, which sells for $200--20% off. The Lamb Share includes a rack of ribs, loin chops, 2 small leg roasts, shoulder chops, riblets, stew meat and/or shanks, and 1 or 2 pounds of ground lamb. We'll also have 10 lb. boxes of ground lamb available again. Order lamb here.
Spring Wine Club to Ship in May
Our spring Wine Club selection will be ready for pickup starting May 3 and will ship May 9. Here are the wines we are planning to include:
2017 Flora Rose' (substitute 2015 Mistletoe for "reds only")
2015 Zinfandel
2015 Syrah Mourvedre
2014 Cabernet
2013 Watershed
2013 Limestone Reserve Cabernet
Please update your credit card and shipping information, if necessary, at www.RangelandWines.com. You can use your email address to retrieve your password to login. Also please let us know by email if you'd like to customize your spring shipment. All the available wines are listed here.
Wine Club Pick up Party Sunday May 6, 12pm-2pm
All club members (Wine, Beef and Lamb) are welcome to our spring pick-up party! You can taste the wine club line-up, pick up your wine, and enjoy some delicious grass-fed beef tacos, assorted salads and desserts in our garden setting at the Tasting Room. Ground lamb and beef boxes will be available for sale. This event is complimentary to club members and a guest. Space is limited, so reserve your spot now by clicking here.
Rangeland's New Tasting Room Associate
We're pleased to introduce our new tasting room associate, Hayli Macomber. A Templeton native, Hayli recently returned to the Central Coast after several years in New York. We feel very lucky to have her. Please stop in and welcome her to the Rangeland family!
Bottle Beasts, Busy Boys, Crazy Ladies and Horny Pets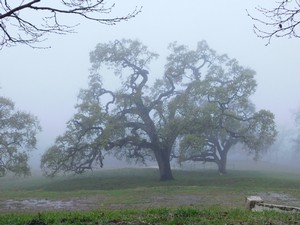 It's been a crappy winter on the Ranch, rain-wise, so our pastures are struggling to stay green. March, however, has come in like a lion and shows some promise of rescuing us with rain last week and more in the forecast.
Nevertheless, we are staying busy in good weather and bad. Winemaker Paul Hinschberger and a crew of volunteers bottled 800 cases of wines in February, including some 2016 reds, the 2017 Rosé and our first ever Savignon Blanc. The volunteers included the "Bottle Beast" Jeremy Thompson, a local club member who has lifted literally every Rangeland bottle onto the line for the last five years. His diligence and strength have been rewarded with Rangeland Wines, of course.
Vineyard Manager Patrick Hamilton guided a small army of contract laborers through 40 acres of pruning last month and the sheep are happily grazing the vineyard cover crop he planted last fall. Now, If only Patrick could keep his midget dog Rebel from trying to copulate with our Great Pyrenees teenager Daphne. At one point Rebel drove her, (or did she lead him?) on a wild escapade miles off the ranch, which ended with them both in the San Luis Obispo county humane society penitentiary for deliquent horny pets.
My adorable, hardworking but wacky wife Lisa often feels like singing "It's the most wonderful time of the year" in March, when there are baby lambs and calves being born every day on the ranch. But all this livestock and the drought conditions make work very lively for Ranch Manager Dane Jensen. He has to move the animals and feed them hay much more frequently in a drought. Dane still manages to look like Clint Eastwood, even as a couple of hundred sheep scatter wildly through my household landscaping and a geyser of water rises from the irrigation pipe they just broke off. Just another day at Adelaida Springs, aka Calamity Ranch.
Slider Saturdays in Templeton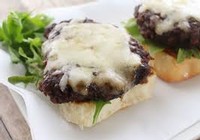 We're happy to announce grass-fed beef Slider Saturdays at our Templeton tasting room, beginning January 13 from 12 noon to 3pm. Start your Martin Luther King weekend off with a tasting of our wines, accompanied by grilled sliders (3 for $10). We are partnering with our neighbor Nature's Touch to make food available in the tasting room. They will be cooking delicious grass-fed ground beef sliders from our Adelaida Springs Ranch, served open-faced on a sliced sourdough baguette topped with artisan aioli, local greens and a Kosher pickle. Local cheese platters, organic side salads, and chili will also be available for purchase from Nature's Touch. Join us on the patio in sunny weather, or sit at the bar and enjoy our tasty, nutritious little burgers.
The Rangeland tasting room is open Thursday through Saturday, 11-5 at 225 S. Main St, Templeton. We are serving sliders on Saturdays only for now (12 to 3pm), but the other grab and go food items should be available every day at Nature's Touch. We look forward to seeing you soon!
Wine Specials: including our friend "Pete Sirah"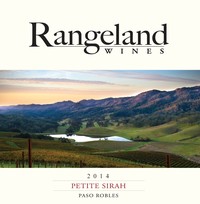 Dark and smoothly tannic, but balanced enough to invite to dinner, Rangeland Petite Sirah is one of our most popular wines. Can't remember the last time we offered a deal on this wine, but here it is:
3 bottles 2014 Petite Sirah for $120, more than 10% off before your wine or meat club discount); order here.
Case (12 bottles) of 2014 Petite Sirah, 20% off or $36 per bottle, before club discount; order here.
Cabernet Sauvignon is the heart of what we do here at Rangeland, comprising 20 of our 40 planted vineyard acres. We've had some "wow" moments lately featuring our Cabernet and Watershed with holiday meals or sipping in front of the winter fire. Our Bordeaux special includes the 2014 Cabernet Sauvignon, which is a nicely fruit forward but still balanced rendition. This 3 bottle selection also includes the 2013 Watershed (Cab, Cab Franc, Merlot and Petite Verdot) and 2013 Limestone Reserve Cabernet, for $110--that's a savings of $20 before your club discount! Order here.
A Fresh Start on Winter
After a record dry December that reduced our pastures to a crusty gray, January has started in a much more promising and seasonally wet vein. Three inches of rain in the last week has soaked the ground with almost no runoff due to the sere, absorbant conditions. While the vineyard sleeps. leafless for the winter, we have some new baby lambs kicking and many cows looking very heavy in calf. Let the storm door swing wide open and keep this winter rolling, so all these plants, animals and caretakers can thrive in the coming year.
Is Winter Coming?
Despite some frost in the canyons this morning, we've had a mild fall with just a few spritzes of rain. We are grateful that green grass has started in most places on the Ranch but we're worried about the relatively dry, unseasonably warm weather. At Woodstock back in '69, young people in a drug-addled frenzy chanted for "No Rain." Here, now, in the Adelaida hills, we old farts, somewhat wine-addled, are definitely chanting for MORE RAIN! We'd even take snow at this point, like we received in February of 2006.
Holiday Gift Specials
Whether you are appreciating your loved ones or treating yourself this holiday season, think about our vivid Rangeland Wines, the goodness of our grass-fed meats and the pristine slice of old California that we are conserving here at Adelaida Springs Ranch. For delivery by Christmas, place out of state orders by December 15. California, Nevada and Arizona are served by Golden State Overnight, so we should be able to fulfill Christmas wine orders to these states up until December 19.
Mistletoe Specials: Two Bottles for $50 or 20% off by the Case
We are offering a Mistletoe special this month; 2 bottles of 2015 Mistletoe for $50, a $14 savings before your club discount. This 2015 vintage includes Cabernet Sauvignon 46%, Syrah 27% and Tannat 27%. The Tannat seems to give this wine a spicy complexity and tart vivacity that pairs wonderfully with rich foods, which--at this price-- includes your favorite night pizza any night of the week. You can place multiple orders to different addresses to knock out your holiday gift list. Order here.
Order a full case of Mistletoe and get 20%, on top of your club discount. This lowers the price below $20 per bottle for wine or meat club members, so stock up now.
Bordeaux Special: 3 bottles for $110
We've updated the Bordeaux special to inlude the 2014 Cabernet Sauvignon, which is a nicely fruit forward but still balanced rendition. The 3 bottle selection also includes the 2013 Watershed (Cab, Cab Franc, Merlot and Petite Verdot) and 2013 Limestone Reserve Cabernet, for $110--that's a savings of $20 before your club discount! Order here.
Free Shipping for December Beef Orders
For California, Nevada and Arizona shipping addresses we have begun to use Golden State Overnight for meat shipping. We have 25 pound Beef Intro boxes of mixed cuts, as well as 10 and 20 pound boxes of ground beef. Order now and shipping is free. We are out of lamb while we wait for our 2017 lambs to fatten for the spring.
Tasting Room Now Open
Our tasting room is now open at 225 South Main in Templeton, Thursday through Saturday, 11 to 5. You can pickup wine there during business hours or just drop in for a tasting, complimentary to club members and their guests. You can also pickup our meats there by appointment or arrange an off-hours tasting.
Fall 2017 Wine Club
We've got a great line-up for our fall wine club, laddering wines from the 2013 to 2016 vintages. There's a Cabernet vertical (2013 and 2014) which offers an interesting comparison. Both wines were grown during the historic drought but the newly released 2014 Cabernet is already more drinkable and fruity, if less textured than the powerfully tannic 2013. Also included is our nicely balanced 2016 Chardonnay (unless you've requested reds-only), which would be a wonderful companion to your Thanksgiving dinner.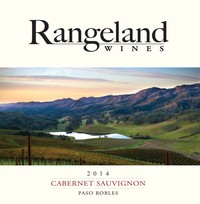 The wine club will be shipping the week of November 13, and available for pick up beginning November 9. Here's what you'll be receiving:
2013 Cabernet Sauvignon
2013 Watershed
2014 Cabernet Sauvignon
2014 Petite Sirah
2015 Mistletoe
2016 Chardonnay
As always, if you'd like to customize your wine club you can do so by email. And if you need to update your billing and/or shipping information, you can do it online at www.RangelandWines.com. All you need is your email address (which serves as your user name) and you can retrieve your password to login. Please let us know by November 6.
New Rangeland Tasting Room Opens November 2
We are excited to announce the opening of our first ever tasting room, located in charming and historic downtown Templeton! We'll be in the northwest corner of Nature's Touch Nursery and Harvest, at 225 S. Main. We'll have a tasting bar indoors and outside seating for tasting in a nice garden setting, as weather permits. Initially, our hours will be Thursday - Saturday, 11 am - 5 pm. These hours may expand as demand grows. We're pleased to share the space and have been welcomed into this family business with open arms. Nature's Touch owner Melanie Blankenship was the first person to purchase and sell our grass-fed beef, way back in 2010. Nature's Touch has a commercial kitchen, so we're expecting that once we get rolling, we'll be able to serve grass-fed beef and lamb sliders every weekend.
Pick-Up Party Saturday November 11, 1 to 4 pm
Our favorite party of the year is at our new Templeton tasting room. We love to pour wines and share good local food with our loyal customers--and you'll be among the first to enjoy our new location. All wine, beef and lamb club members are welcome to attend with a guest. We will be serving up our grass-fed chili as well as J&R sausages and Adelaida Springs Ranch grass-fed beef and lamb kabobs cooked on an oakwood grill. And we'll have salads and sides made by Nature's Touch. Don't worry, there will be cookies by Lisa! You can pick up your wine or meat club, and we'll have some barrel samples from the 2017 harvest for you to taste. We'll also have Beef Club boxes and ground beef/lamb boxes available for purchase. RSVP soon, as attendance is limited. Only two attendees per club membership please. We look forward to seeing you!
Fall Lamb Club
The fall Lamb Club should be available beginning at the pickup party November 11. You can also pick-up at J&R in Paso starting November 13, or we will ship that week. Our lamb supply is tight so we are not sure whether we'll have extra lamb shares for sale. We'll announce availability if we do.
Harvest: Heat, Lull, Freeze, Rain
We finished picking on Thursday, October 19 and woke up to the first hard rain shower of the fall on Friday morning. This vintage was also marked by extreme heat that reached 110 degrees in late August and a frosty morning last week that zapped some the of the unpicked, low-lying vineyards in Paso Robles. Thankfully our Adelaida Springs Ranch estate vineyard was undamaged, since it sits at the very top of the Jack Creek watershed, allowing cold air to drain freely. The heat took a toll at the beginning of the harvest, however, shrivelling maybe 10 percent of the fruit, baking our team and frazzling nerves as some our early varieties (Merlot, Syrah, Grenache) poured into the winery around Labor Day. Then the weather cooled off and some timely irrigation refreshed the vines and stalled sugar development. So we had a September lull for a couple of weeks. Come October, harvest revved-up to a more normally intense pattern, with a steady stream of fruit over the last few weeks. We had a good crop, reduced by the heat spike but more than double the drought years of 2014 and 2015. Fruit flavors and fermentation aromas from vintage 2017 are generally outstanding. My thanks to winemaker Paul HInschberger, vineyard manager Patrick Hamilton and harvest intern Lindsay Reed. Also to the dozen or so contract laborers who helped us pick 90 tons of grapes by hand. And not least of all to my wife Lisa, who picked, processed, cooked meals and wrote checks at a furious pace through the whole season. We count our blessings and send our best wishes and sympathies north to the fire stressed vintners and residents of Napa and Sonoma, et al, remembering our own near-miss from the Chimney Fire of 2016.
SUMMER CASE SALE CONTINUES --20% OFF BEFORE CLUB DISCOUNT!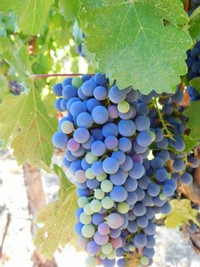 We are continuing our wine case special through the summer, until September 21. You can get 20% off--in addition to your club discount--for any full case (12 bottles) of a single wine or any 12 bottle combination of 2013 Bordeaux varietal wines: Cabernet, Watershed or Limestone Reserve Cab. These Cabernet-based wines are really hitting stride and will age for years. It's a perfect time to stock your cellar for the fall holidays and parties. For example, if you are an Estate Wine Club member and you purchase a case of our delicious 2014 Zinfandel, which retails for $420, your price is $252--a nearly $170 savings, or 40% off. To order cases, please email me, since we have to manually combine the discounts to achieve this special price. Sorry to say we are sold out of our 2016 Flora Rose. However, our delicious 2016 Chardonnay is available and should get you through the hot weather and enhance your Thanksgiving dinner too! For a full list of our current and library wines, go to www.Rangelandwines.com/wines.
BEEF BOXES IN STOCK
Our annual beef club has been packed and shipped. Lisa, our meat packin' mama, says "phew." We have some additional beef club boxes this year, available to all. Your beef, wine or lamb club discount applies to this purchase: $200 for club members, $250 for non-club members. The 25-pound box contains 6 pounds of steaks, 6 pounds of roasts, 8 pounds of ground, and 5 pounds of extras (think stew, kabobs, shanks or shortribs). We even toss in a soup bone or marrow bone package after reaching the 25 pounds. Our steers fattened beautifully on this spring's abundant grasses, and the meat is delicious. Not to mention being a nutrient-dense, anti-inflamatory superfood. To order a beef box, click here.
FREE SHIPPING FOR 20 POUNDS GROUND BEEF
Our tasty ground beef is hard to beat--mouth watering and healthy! We cook it every week--for tacos, burgers and sliders, spaghetti sauce, meatloaf and shepherd's pie. We are offering free shipping on our 20 pound boxes of ground beef (a $32 savings!) during summer, through September 21. Order here.
CATTLE WORK
We had our annual cattle branding last month and now have 54 spring calves on the books. It's a long, hot, two-day process to work all 175 of our cattle, but also a great opportunity to see the herd and assess health. The cattle benefited from our bountiful rainfall and forage this year. We are seeing more red calves from our Red Devon bull, aptly named: Red Bull. Most of the red calves were heifers, many of which we will keep for breeding. So those well-muscled genetics will expand through our herd. At any given time we have three bulls, and every few years we sell our oldest bull and procure a new one, to keep our herd healthy and diverse.
VINEYARD UPDATE
We are glad to report the vineyard is in good health with a moderate crop. This represents a nice recovery from the stressy drought years in which our crop dropped by 50%. Veraison (color change and sugars rising) is rolling through the vineyard. Vineyard manager Patrick and winemaker Paul are dropping some late ripening fruit, getting equipment ready and just starting to test grapes for sugars and pH. Soon they will be planning the first picks. We expect to start picking fruit right around Labor Day, as usual. Harvest should last 5 or 6 weeks.We always look forward to this exciting time of year, when our small, hard working crew is really put to the test of effort and judgement. It still amazes me that each annual harvest launches a wine vintage, and tells a story, that we will enjoy for many years to come.
New Wine Case Special -- 20% Off Before Club Discount!
For the first time ever, we're offering an additional 20% off any full case (12 bottles) of a single wine that you order--that's in addition to your club discount. It's a perfect time to stock your cellar for the summer parties, graduations, reunions and BBQs on your calendar. The savings are really signficant. For example, if you are an Estate Wine Club member and you purchase a case of our delicious 2013 Cabernet which retails for $480, your price is $288--a nearly $200 savings, or 40% off. To order cases, please email me, since we have to manually combine the discounts to get you this special price. Please note that the 2013 Petite Sirah (now $75) and 2013 GSM (now $65) are both almost gone, so the price on those wines has increased to library levels. The 2016 Flora Rosé is going fast, so re-order now if you want more. For a full list of our current and library wines, go to www.RangelandWines.com/wines.
Beef Club Shipping July 10
We are busy preparing for our annual beef harvest and club offering. This year's heavy rainfall resulted in abundant forage and happy, grass-fat cattle. In the next several weeks we will be harvesting our two year olds, hanging the meat for about two weeks and then cutting the beef, packing the cuts into club boxes, and shipping to our club members. We will release the beef club for pick up on July 1, with shipping starting July 10. Keep an eye on your inbox for emails regarding the billing and shipment of your club box. We still have some room in the beef club, so if If you'd like to join, sign up here.
The Spring of Springs at the Springs Ranch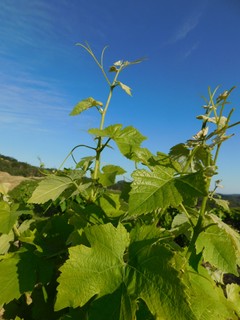 Spring has always been a busy time Adelaida Springs Ranch, but this one has been wild! We had over 58 inches of rainfall since the season started last fall. The result has been a glorious green spring and continuous work getting the vineyard mowed, tilled, weeded, sprayed (for mildew prevention), pruned and thinned. Our new vineyard manager Patrick Hamilton has logged countless hours on the tractor and in the rows with our labor crews, getting the vineyard in shape. Winemaker Paul Hinschberger is in field, troubleshooting the irrigation system and directing the work. Ranch Manager Eddie Burch has been fixing mowers, chainsaws and tractors as fast as we can break 'em, when he is not tending livestock and fixing fences.
Our vines are showing a lot of health and fruitfulness. The graceful tendrils at the shoot tips are really stretching out, reaching for the sun. If we can get through the current bloom and the fruit sets successfully in June, we expect a return to normal grape yields this fall. That means more delicious wine for all of us. After 5 years of punishing drought, it is a huge relief to see the spring verdure and vigor return to the vineyard, grasslands and woodlands; really the whole landscape. Despite the ceaseless work that the ranch requires, Lisa and I feel the unremitting stress of dryer times falling away.
Tasting Room Update
Since our winery permit was set back in February, we've been working on opening a tasting room in Templeton. We hope we are near to finalizing a deal and will keep you posted as this develops. We expect to have something open this fall. In the interim, winemaker Paul Hinschberger has been conducting tastings in the barrel room at Denner (by appointment with us), where we make our wines. He's been enjoying meeting customers in his "office" and it is a fun experience to be in the barrel room, around the delicious aromas and ambiance of a large winery. Nevertheless, we have missed being able to host you at the ranch and our arms are getting tired throwing Arrow his ball! We continue to work on our long-term goal of having a tasting room and winery on the ranch, possibly using an alternate access road. We so appreciate your ongoing support as we work through these changes.
Spring Changes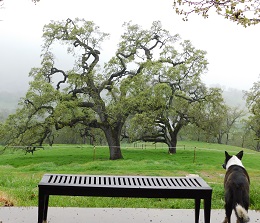 As some of you know, we have been pursuing an estate winery and tasting room permit for several years. We are still working on that but for now, as a result of increased county scrutiny, we are sad to report that we can no longer host wine tastings, tours or events on the ranch. You can imagine how frustrated we are with this situation. We will particulary miss your visits to our home and all the encouragement and generous support you have provided. What will Arrow and the Kitty (the Adorable Madness) do without your constant attention?
On a positive note, we are now offering tastings by Rangeland appointment only at Denner Vineyards' beautiful facility, where we make our wines. (Please do not call Denner for a Rangeland appointment.) Winemaker Paul Hinschberger, whose mastery is reflected in our lastest releases, will host these tastings in the barrel room. I know you will find Paul an engaging and informative host. Also, we are working on a Rangeland tasting room off of the ranch. More to come on that later.
Club News
Our spring wine club will ship and release for pickup on April 25. Here are the wines we are planning to include in this shpment:
2016 Flora Rose' (our most crisp, dry and light wine yet)
2014 Zinfandel
2014 Syrah Mourvedre
2013 Watershed
2013 Cabernet (really starting to come out of its shell)
2013 Limestone Reserve Cabernet (for aging!)
Please update your billing and shipping information, if necessary, at www.RangelandWines.com. All you need is your email address and you can retrieve your password to login. Also please let us know by email if you'd like to customize your spring shipment.
We are planning to ship and release our spring Lamb Club starting April 3, so club members watch your email for related news.
The annual Beef Club shipment is scheduled for early July and we have room available in the club. Each club box includes 25 lbs of beef including steaks, roasts, ground beef and other assorted cuts. Sign up here.
Field Day
Due to county restrictions, this April 29 event has been cancelled.
Drought Buster!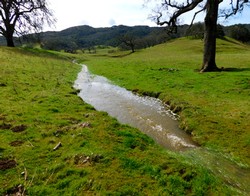 As many of you soggy fellow Californians already know, we can call an end to our historic, 5 year drought. This stressful event included what may have been the driest 4 year period (2012-2015) in more than 1,000 years in Central California. We've now had over 50 inches of rain here at Adelaida Springs Ranch this season, including an astounding 40 inches since January 1. With two months left in our rainy season, this winter will likely become a local legend.
Our lake, which we use for vineyard irrigation and livestock water, is filled to the brim. For the first time since 2012, it's spilling into lively Jack Creek that courses through the ranch on its way down the canyon to the Salinas River and Monterey Bay, 100 miles distant. From the back terrace of our home, we can hear the steady, low roar of many creeks and freshets. Our pastures are saturated and once the sun comes out in force this spring, we expect an abundant grass and wildflower year. As history buffs and weather weanies, we're excited to witness these extraordinary events. As farmers, we'd appreciate less drama in our weather. We are getting tired of rescuing soggy, chilled lambs, clearing fallen oaks and adding to our list of road repairs for the spring. But really, despite Mother Nature's whipsaw from searing drought to flood, we are not complaining about the rain! It bodes very well for the health and fertility of our grapevines and livestock in the years ahead.
Club Updates
Our Lamb Club members will be getting their next shipment (half a lamb, 20 lbs, $200) at the begining of April; so be on the lookout for email regarding shipping dates. Easter is late this year (April 16) so you will definitely have some delicious lamb for your spring celebrations.
Although our half lamb share supply is tight, we expect to have some extra 10 pound boxes of ground lamb available for all--a really delicious, flavorful ground meat. Order now for April delivery.
Our Spring Wine Club will be available at the end of April--contents as yet undetermined, but it will definitely include our newly bottled Flora Rose', always a summer favorite and a perennial early sell-out. Our next newsletter should have the spring line up, and as always, you can make any adjustments (and additions) to your club order by emailing us then. If you can't wait until April for more Rangeland wine, then order some now. Our Bordeaux Special features three great 2013 Cabernet-based wines that are really coming into their own--all for $110 before your club discount. Order here.
Our annual Beef Club will be available the first week in July. We have just a few 2016 club boxes left if you want to reorder now. 2017 should be a great year for our grass-fed beef herd. Plenty of rain and sunshine results in lots of rich, thick grasses and forbs like wild rye, clover, vetch and filaree. Our cattle have spent the winter at a neighboring pasture (Halter Ranch), and will be heading back to Adelaida Springs Ranch in the next week or so. We have already seen a few early calves and should be in full calving mode by March.
Ground Beef Special: 20 lbs for $100
We have some ground beef left over from 2016--here's a great opportunity to fill your freezer for the spring and summer BBQ season at our best-ever price. We're offering our 20 lb boxes of ground beef for just $100 ($5/lb.) --and that's before your club discount. We can ship to your home or office, or you can save the shipping costs and pick up here at the ranch or at J&R Natural Meats in Paso Robles. Order today while supplies last!
Vintage Paso Zinfandel Weekend, March 17-19
We'll be doing tastings by appointment only during Paso's annual Zinfandel Festival, March 17-19, although no food will be served. You are certainly welcome to bring a picnic. Please make an apppointment.
Field Day April 29
Our annual Field Day is scheduled for Saturday, April 29. It should be another fun, relaxing afternoon with a home cooked lunch featuring grass-fed beef and lamb sliders, plus live music, livestock displays, a ranch tour, and wine! This event sells out quickly, so mark your calendar and keep an eye out for more information in our next newsletter. It should be a beautiful spring this year--we expect lots of grass and wildflowers. We hope you can join us!
New Faces
We've had some personnel changes on the ranch--you may have already met some of our new folks. Eddie Burch has worked for us for a couple of years now, doing the bulk of the vineyard tractor work and fixing just about everything. He is now our Ranch Manager, handling all ranch operations, repairs, and overseeing our livestock crew. He hired Alex Karol to take over our lamb program. Alex also helps with our cattle. Alex has been very busy this season with daily rotational grazing and taking care of all our baby lambs and their mothers in very tough winter conditions. Our most recent addition, Patrick Hamilton, joined us in January as Vineyard Manager after previously holding that position at Flowers Winery in Sonoma County. Patrick will manage the farming of the vineyard, working closely with winemaker Paul Hinschberger and our seasonal crews to ensure the health, vigor, and productivity of the vineyard. We're excited to have the extra help, expertise, and energy. Be sure to say hello as everyone will be working at Field Day. To see pictures and read more about our Rangeland crew, go here.
Wine Harvest Update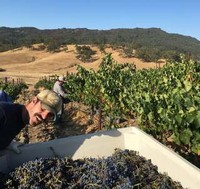 As the smoke cleared from the local Chimney Fire, we began picking grapes before Labor Day. The fire came within 5 miles and charred more that 46,000 acres of rugged coastal mountain terrain and dozens of lakeside homes at Nacimiento. We had no damage on the ranch--except to our nerves. Our heartfelt wishes go out to those who lost much more. Many thanks to the thousands of firefighters, who operated planes, helicopters, dozers, fire engines and shovels to get this monster contained.
Harvest accelerated as September raced by, peaking this week as we picked most of our cabernet after a hot, hot weekend. We have a slightly larger harvest this year, rebounding from last year's drought shortened crop. Our syrah, merlot, petite sirah and zin are already in the tank. Fruit flavors, sugars, colors and aromas are all promising after a good, intermittently hot growing season.
Winemaker Paul Hinschberger has as many as 20 fermenters "cooking" 30+ tons of hand picked wine grapes in our space at Denner Winery. He has just pressed off the first wines to barrel. As many of you know, the photosynthetic power of the green grape leaves generates sugars that accumulate in the fruit over the course of the growing season. In the winery, these sugars are converted by native yeast into alcohol, along with the alluring flavors and aromas of fine wine.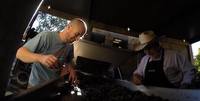 Paul is all over the place: tasting fruit in the vineyard, scheduling picks, overseeing the processing, and taking care of the wines as they ferment. This is the time when a winemaker's experience and artistic vision are really put to the test, setting the course for how the wine will taste in the bottle, many months hence. Vineyard Manager Nathan Stuart is just as busy, keeping up with labor crews, constant tractor movement and trucking fruit. We all help where we can, even as the livestock grazing and wine tastings continue as usual on the ranch. We appreciate the enthusiastic hard work of our folks during this fruitful time. Not to mention the contract labor crews who pick most of the fruit. See more harvest photos on our Facebook/Rangeland Wines page.
Harvest Festival October 14-16
Harvest Festival is right around the corner, and we will be open by appointment Friday, October 14 through Sunday, October 16, from 11 am to 5 pm. We'll be serving grass-fed beef and lamb sliders on Saturday only. All weekend we'll be pouring some new releases and may have some barrel samples on hand as well. To make an appointment for Harvest Festival, click here. Or call and schedule your appointment (805.674.9232). We look forward to seeing you!
Lamb Club and Other Meats: Free Shipping on 20 lbs. Ground Beef
Our fall Lamb Club should be shipped or available for pick up by October 24. Lamb shares are also available to wine and beef club members, even if you don't want to join the Lamb Club for regular shipments. Order here.
Lamb Club members receive two shipments a year, in October and March, for $200 per box (20% off). Each 20 pound box (half a lamb) includes:
Rack of ribs
Loin chops
2 small leg roasts
Shoulder chops
Stew meat and/or shanks
Riblets
1-2 pounds ground lamb
Lamb Club members can apply their 20% discount to all Rangeland products, including our estate wines, grass-fed beef, and events. And Lamb Club members taste Rangeland wines and tour the ranch for free. If you've had the opportunity to taste our delicious sliders on festival weekends or at other Rangeland events, you know how succulent and tasty our lamb is. To join the Lamb Club, click here.
We also have 10 lb. boxers of ground lamb, 25 lb. beef boxes and ground beef in 10 and 20 lb. boxes available. We are offering free shipping on 20 lb. boxes of ground beef. Shop here or send me an email with your order.
Wine Club
Here is the selection for our November 2016 wine club shipment:
2012 Limestone Reserve
2012 The Watershed (Bordeaux blend)
2013 GSM
2013 Petite Sirah
2014 Mistletoe (Cab/Syrah, new release)
2014 Zinfandel (new release)
If you'd like to customize your wine club selection, send me an email with your preference. Clubs will be available for pick up in November, and will be shipped starting November 9. Please update your address and credit card information at www.RangelandWines.com, if necesary. You can use your email address as your user name and retrieve your password that way too. You can also call me (805-674-9232) or email me with your account information changes.
If you are running short of Rangeland Wines and want to restock before the November shipment, you can order here or send me an email.
Pick-Up Party Saturday November 12, Drop-in between 12 - 4 pm
Our favorite party of the year! We love to pour wines and share good local food and visit with our loyal customers. All wine, beef and lamb club members are welcome to attend (with one guest). As usual we will feature our grass-fed beef chili, sausage from J&R Natural Meats, a delicious lamb dish (TBD), and assorted other goodies. You can pick-up your wine or meat club and we'll have some barrel samples from the 2016 harvest for you to taste. We'll also have Beef Club boxes, lamb shares and ground beef/lamb boxes available for purchase. RSVP soon, attendence is limited.
You know you want to
Sign Up For Our Newsletter
Keep up to date on the latest wine releases, events, and promotions and get 10% off your next order.